Paid Interior Designer vs. Free In-store Design Services

Sasha Spencer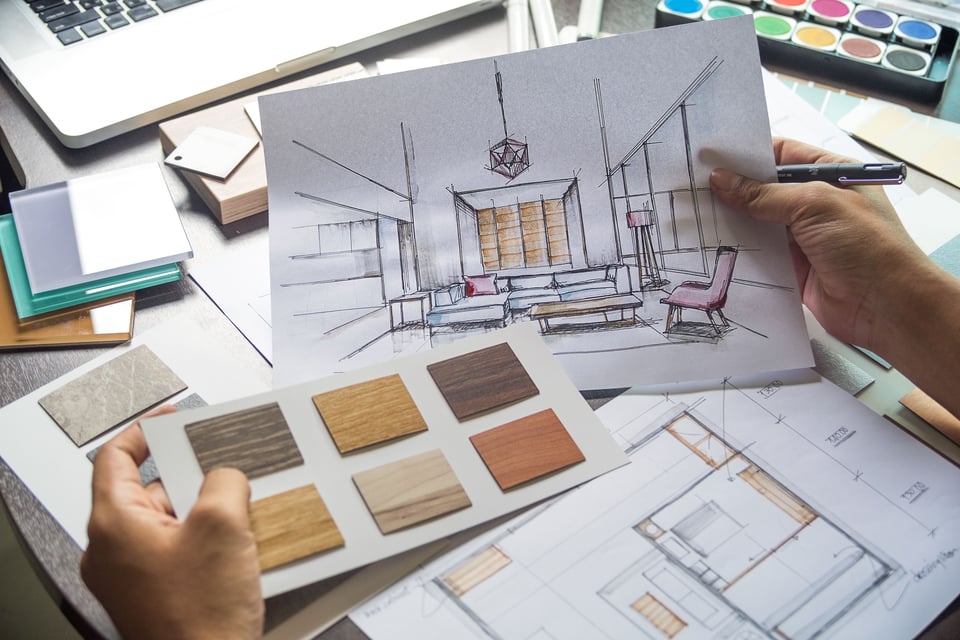 One thing is for sure for you, you're in need of some assistance when it comes to furnishing and designing a room – perhaps an entire home! Hey, we're not all born with a keen sense of style or flair for interior design. And even if you feel like you can pull a look together, maybe you just don't have the time!
There are people out there who can help you – it's literally their job. And whether you go with an interior designer or the complementary services offered by a store, you're bound to get some valuable help on your next project.
Since we began in 1994, McElheran's Furniture + Design has helped many interior designers bring together looks and concepts for their clients. We also offer our very own complementary design services with our Design Guides. Our Design Guides have over 60 years of combined experience in design and have helped hundreds of customers find the best furniture and décor for their homes.
With one of our Design Guides, Kirsti, we'll take a look at the differences between paid and free design services. They both offer a lot, but there are a few things to watch out for, too, and we'll explore those in this article.
Before we really get going, it may be helpful to address what each role is qualified to do and the differences between the two.
What is the difference between a paid interior designer and a free in-store designer?
An interior designer is a licensed and accredited job. They are often hired at the very beginning of a build or renovation and assist in the planning of the structural layout of a space. Interior designers also have the knowledge and expertise to help with paint colour, flooring selection, fixtures, accents, furniture, and décor.
An in-store designer is more focused on the furnishing and décor of an area. These designers offer a complementary service that is an extension of the store they work at, specializing in the products they can provide. They may not be licensed as an interior designer, but most have the knowledge and tools to give you meaningful suggestions to help you with your design project.
Both types of designers are there to assist you by identifying your style and designing a space that complements your personality - and is also functional and makes sense for your life. An interior designer and complementary in-store designer can work within your budget to create a beautiful space that works for you.
Advantages of a paid interior designer
Industry connections
Particularly if you're dealing with an interior designer that has been on the scene for a while, they'll likely have existing relationships with builders, carpenters, contractors, and retail stores that they enjoy working with.
That cuts down on your workload immensely since you don't have to go around filling these other positions to complete your project. The interior designer can work within your budget and interests to hire the appropriate people and suggest the right suppliers.
Project and time management
Because of their industry relationships, an interior designer can help with the overall organization of your build or renovation. Interior designers understand what jobs should be done first and how to keep things running efficiently. As much as you're getting another person involved, hiring an interior designer actually saves time because they can push to keep your project on schedule.
Special rates
Interior designers are sometimes eligible for special rates on certain items for you, like furniture or fixtures. It's not always a huge discount, but a few dollars off here and there can really help to stretch a budget.
They can help you shop at various locations
Interior designers work for you, right? And if you're looking for inspiration from a variety of different stores, an interior designer is there to either shop for you or bring you along with them.
Full-scale design services
As mentioned before, an interior designer is licensed to get really involved in your build or renovation, if that's what you need. A paid interior designer can create entirely new rooms, extend spaces, put in windows, and add that cute little powder room off the kitchen that you've always wanted. Interior designers are there to help you with both the structural and decorative elements of your home.
Disadvantages of a paid interior designer
They can be expensive
Depending on who you're hiring, you may end up dropping quite the pretty penny on a designer. And even if they're not overly expensive, rates and pricing are often tough to find, making it hard to get a feel for what kind of financial commitment you're getting into.
Of course, you can contact an interior designer, but if you're looking for a quick, easy way to find the information, at no obligation – it's not always available.
Some interior designers will give a free initial consultation and others will charge anywhere from $150 to $800 and up, just to get started.
After that, interior designers base their price by project, on a fixed rate, or by the hour. Hourly rates often range between $100 to $200 (or more!)
Hiring an interior designer may seem quite pricey, but when you consider the expensive mistakes they can help you avoid, it ends up being a worthwhile investment.
They may not be the right fit for you
Think about it: you're hiring someone that's helping you build your perfect sanctuary, which is a pretty personal thing. And you're likely going to spend a lot of time with this interior designer – you gotta like them!
Finding a designer that you like and feel comfortable with may take some time and research. And the unfortunate thing – and we've seen it happen – is you don't always know that it's not a good fit until you've already spent a considerable amount of money on their services.
Then, a few hundred or thousand dollars later, you're back to the drawing board. And now you either have to find another interior designer, try to do it all on your own, or maybe free in-store design services are the next best step.
Advantages of free in-store design services
Very cost-effective
If you're looking at this strictly from a financial standpoint, then obviously, a major advantage to an in-store design service is… it's FREE.
And sometimes that's enough for you to decide on something, but there are more advantages below.
They know their own inventory
An in-store designer has an intimate understanding of their store's inventory, fabrics available, customization options, and contact information of the vendors the store uses. And if that's the store you're primarily getting your furniture from, that extensive knowledge is really going to come in handy.
The in-store designer can create entire looks for you, based on the availability of the furniture and décor you're interested in.
Saves time
If you're able to sit down with an in-store designer and explain your vision and budget, they can get started on a plan for you! Here's how you can prepare for that in-store consultation, too.
Once they have an idea of your style and what you like, they'll end up saving you time by picking out furniture for your consideration. Plus, most of the pieces will likely be from the same store, so again, you're saving yourself time because you're not driving around to different businesses.
Space planning
If a store has given its designers the appropriate training and tools to do their jobs, they should have the ability to help you with space planning. In-store designers can offer suggestions on how far your coffee table should be from your sofa (by the way, it's 18 inches), and they can also use programs, such as Planner 5D, to help you visualize your layout.
Getting assistance – even just a second set of eyes – will help you avoid The 3 Common Mistakes of Space Planning.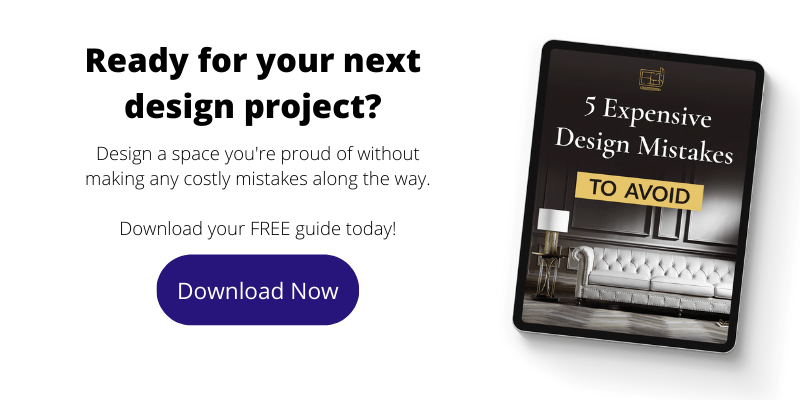 Disadvantages of free in-store design services
Limited selection
Shopping in a furniture store and using their free design services can limit your options to what is offered at that location. A designer could potentially suggest where else to go, but generally, their extensive knowledge is based on the store they're at.
Décor focused
Usually, the designer helping you as part of a free in-store service is not licensed to suggest structural design changes in your home. So, if you're looking to knock down walls or want tips on window placement, that's not really in the scope of an in-store designer.
Their main focus is to enhance your existing space through furniture and décor.
Perhaps that's a bit of an advantage, though, since your in-store designer can put more time and energy into furniture and design, instead of worrying about the physical construction of the space.
How do I decide between a paid interior designer and free in-store design services?
This article has given you a few things to think about when it comes to both options. And one of the main factors is definitely cost!
Have you created a budget yet? If not, check out How to Budget for Furnishing Your Entire Home, and see if an interior designer can fit into that.
And if you find that you need a more cost-effective option, McElheran's Furniture + Design offers free in-store design services and we can do in-home consultations, too (also for free!) Schedule a visit with one of our Design Guides to get you started.