How to Budget for Furnishing Your Entire Home

Sasha Spencer
This is exciting - you're getting ready to furnish and decorate your home! Whether you've recently moved into a new place, or it just seems like a good time to change things up, figuring out your furnishing and redecorating budget is the perfect place to start – but it can also be a bit of a daunting task.
Not everyone likes to talk about their budget. It's this weird, societal thing that makes us uncomfortable, but the bottom line is that it can't be ignored. And if you're furnishing your entire home, cost is bound to come up eventually. Having a price point in mind will make everyone's lives easier because there's at least a starting point.
At McElheran's Furniture + Design we've built our business around furnishing homes that you're proud of - and that you want to share with your loved ones! Every home tells a story, and McElheran's is here to help with that narrative. Our Design Guides have a long history of taking a client's budget and creating a beautiful space, regardless of the final price tag. A budget offers a guideline to work within, which saves everyone time and will get you into your treasured space faster and with fewer headaches.
In this article, McElheran's owner Jeff McElheran, and the Design Guides will break down what you should be aware of when creating a budget, how much money you can expect to spend, and how to divide up that money, room by room. So, let's get the tough question out of the way first…
How much money should I spend on furnishing an entire house?
Unfortunately, there isn't really a cut-and-dry answer to this, but we can offer a little bit of clarity. Based on what we've seen, 5-15% of the value of your house is a good benchmark for budgeting your entire home.
For instance, a furnishing budget between $40,000 and $120,000 thousand would be appropriate for an $800,000 home. That's assuming that you're basically starting from scratch when it comes to furnishings.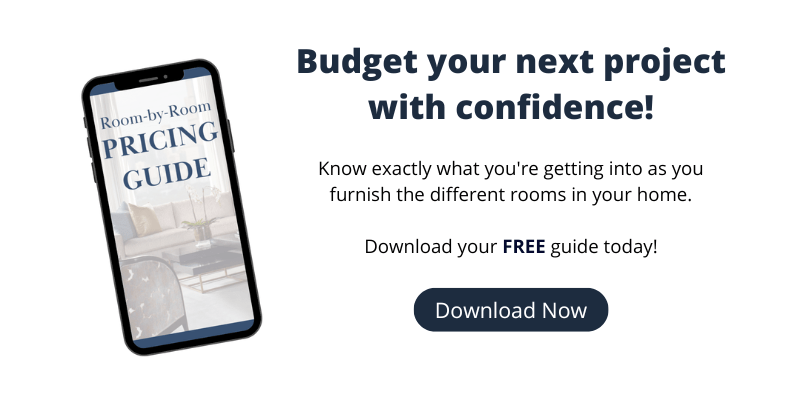 What steps should I follow when creating a budget for new home furnishings?
1. Create a wish list of items for your home
Take stock of your current situation and ask yourself what you need to fill the space to create the home of your dreams. How many rooms do you have? How often are these rooms being used? Are you truly starting with nothing, or do you have a few existing pieces that you can live with for a bit? Take note, so you can keep track of how many items you may need.
2. Prioritize that list

It might be easier to divide your list up into desires and needs. Think about the furniture that makes sense for your life now, and what items can be put on the backburner. It can also be helpful to get your main pieces first (sofa, bed, dining table) and then live in your space for a bit. That way, you can see how the room works and how the traffic flows in and out. Then, you can plan the rest of your purchases accordingly.
3. Decide what items are non-negotiable and what items have flexibility

You may have a couple of items on your list that are "must-haves." If the cost of those pieces are higher than expected, it helps to be able to take some money from another project or item on the list. For instance, if you're dead set on an end table that will cost you $1000 more than you thought, can you take some money from your accessories budget?
Actually, that's a good point for flexibility, too. Accessories and area rugs are a great thing to include in your budget because the price ranges can be so extreme.
For example, if you planned for a $4000 area rug, but needed to move a couple of thousand dollars out of that budget, you would still be able to find a gorgeous rug for $2000 – same with art and décor. This 'give and take' of your budget will allow for more flexibility as you move ahead with your projects.
4. Recognize that it doesn't all have to be done at once
And furthermore, enjoy the process! Furnishing a new home should be exciting – it's an extension of you and your family. And it's not something that should be rushed anyway, because it's better to do something right – the first time. So, if it takes months (even years) to accomplish an entire redecoration, that's okay!
5. Manage your expectations by doing some research
It does help to have a general idea of what is going on in the furniture industry, like extended lead times and the different factors that can increase the cost. It's also important to look at the value you're getting out of higher ticketed items and almost think of it like "cost per day" or "cost per use." Now a $5000 sofa looks pretty reasonable considering multiple people use it every day, and you'll probably own it for around 15 years.
How should I split up my budget for the entire home?
These rules aren't hard and fast, but again, having a general idea of how to distribute funds is a good starting point. And keep in mind that every home is different, just like every household is different! You may be asking for different things out of certain rooms, which also affects the function and structure of the furniture within it.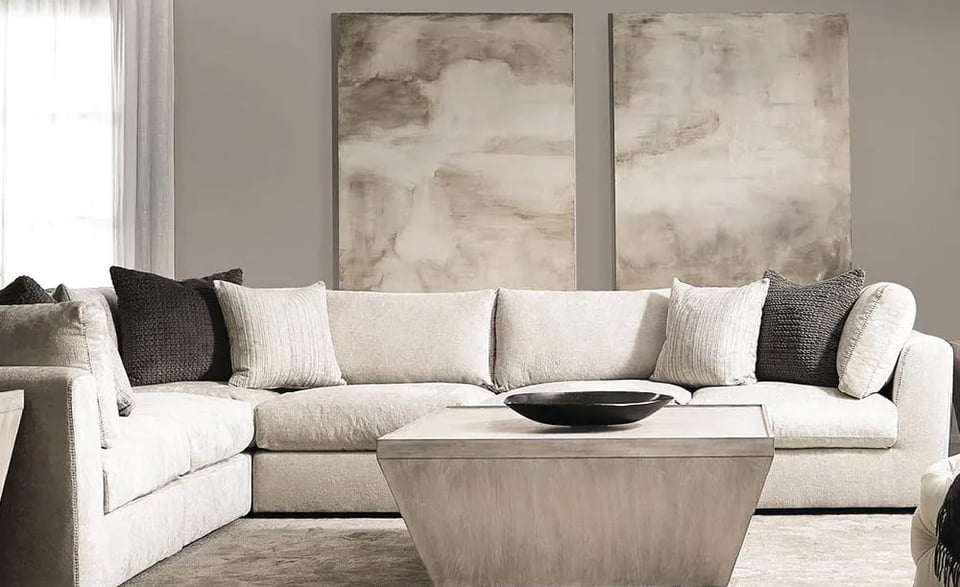 Living Room - 30%
The living room is likely where you'll spend most of the time in your home, so it only makes sense to allocate a good portion of your budget there. It's also the room that garners the most attention – more people use it, or at the very least, see it. And since the living room is where most people gather, it usually requires the most furniture, which definitely brings up the cost.
Dining Room - 20%
Your budget can definitely fluctuate for a dining room, considering not all homes have a formal dining room anymore. So, is this space more for formal occasions, or is it an everyday eating area? Knowing this will likely affect the size of the table and the number of chairs required.
Speaking of chairs, those can add up quickly, costing more than the table. But setting aside an ample budget for dining chairs will ensure the integrity and quality you need for something that will get a lot of use.
And you might be able to stretch your budget a bit more with the dining room, since big, heavy, China cabinets are not as common. Now, you can put that money towards a serving or buffet table or maybe into a different room altogether.
Master Bedroom - 20%
Much like the living room, you will likely spend quite a bit of time in the master bedroom. Be prepared to put a reasonable portion of your budget into it. In the same vein, we spend so much of our lives sleeping – so finding a good quality mattress is not something you want to skimp on.
The nice thing about budgeting for bedrooms is that most new home builds include built-in storage. Large walk-in closets with shelving are very common now, eliminating the need for dressers and armoires. (Which opens up your budget more – yes!)
Secondary Bedroom(s) - 10%
If you'd like a reference point, furnishing secondary bedrooms generally cost 50-70% of the master suite. There's usually less space to fill, there isn't always a need for two nightstands and - particularly if it's a guest room - storage is not as high of a concern.
Bonus Room - 10%

Bonus rooms are kind of "up in the air" when it comes to budgeting because it's one of those rooms that is used very differently household to household. And not everyone has a bonus room, either. Understanding the bonus room's function is a good start when determining your budget. Perhaps it gets more use than your living room, then it's maybe worth increasing your budget to reflect that.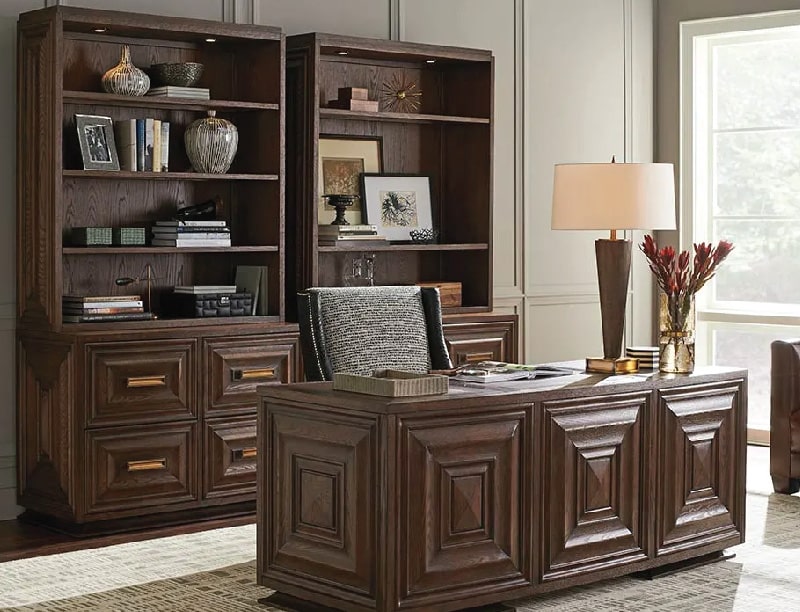 Office - 10%

Not every home has the space for it, but at-home offices are definitely more a part of a furnishing plan than ever before. With many of us working from home, or at least needing the ability to, we're looking for an appropriate area to work and the budget should reflect that.
What's next after creating a budget for new home furnishings?
Now it's time to enjoy the process of finding new furniture and décor! And with a budget, you're well on your way to having an extremely helpful in-home consultation with one of our Design Guides.
If that's what you're looking for - someone to help put your budget to work - here's how to prepare for an in-home design consultation.
You've got a lot of shopping to do! Drop by our showroom in Edmonton today to find exceptional new pieces for rooms you'll love - and love to share.