What to Look For in a Designer

Sasha Spencer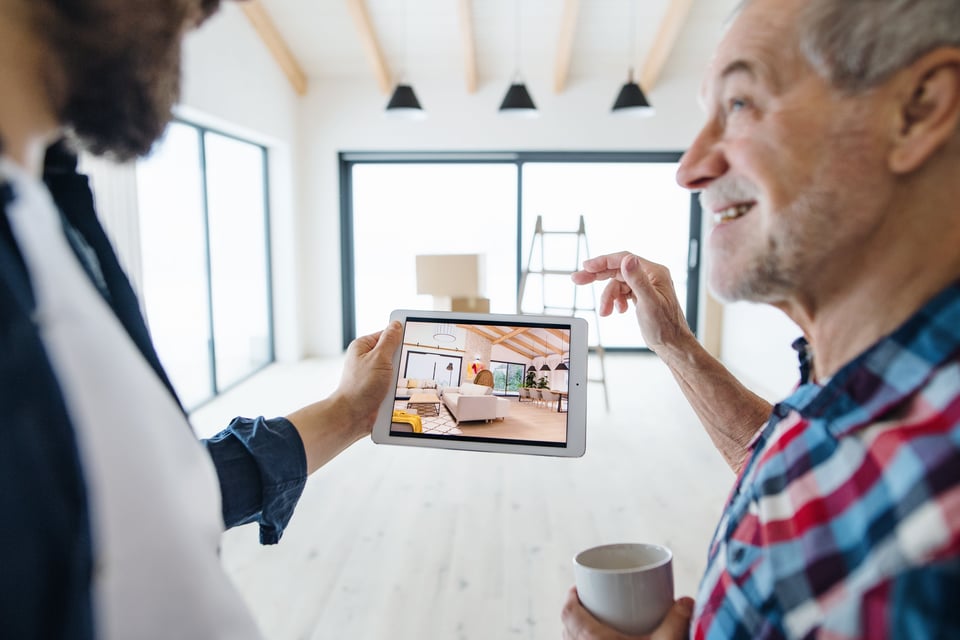 Decorating, designing, and furnishing a space can really be an adventure, especially if you're up to the task of doing it on your own. However, if there's a little voice in your head saying, "Umm, I don't know if I can do this on my own." There's no shame in that – asking for help is a great step in creating the space of your dreams! Plus, having a second set of eyes on something will give you that extra assurance you need to ensure you won't make any expensive design mistakes.
At McElheran's Furniture + Design, we offer high-quality furniture and complimentary design services to all our customers. Because furniture and design really do go hand in hand! There's no sense in dropping thousands of dollars on a beautiful new sofa if it's not going to look right in your home. We've assisted customers in finding those pieces that are beautiful and work in their space since 1994.
With the help of our in-house designers, known as Design Guides, we'll explain what to look for in a designer. And yes, we offer this kind of service at McElheran's, but there are certainly other options out there. We just want to make sure you know what to look for in a designer – any designer - because that's an important relationship you're looking to form!
Now, there are a couple of options out there when you're choosing to work with a designer. You could go the paid interior designer route or look for a store that offers complimentary design services. Regardless of the direction you go, it's important to make sure that this person has your best interest in mind and this article will help you determine that.
What should I do before I start looking for a designer?
First of all, you'll want to think about the type of help that you're looking for.
From finding an area rug for your dining room to renovating your entire home, different types of designers do different things. For instance, a licensed interior designer has the ability to change the physical structure of your home. They can move walls and advise on constructing entirely new spaces. A decorator or in-store designer, on the other hand, would be better suited for a redecoration project and helping you find new furniture.
Clearly identifying what you want will save you from hiring someone that, well, just isn't suitable for the job.
Check out Paid Interior Designer vs. Free In-store Design Services to see more of how the two roles compare.
Meet with the designer before making a commitment
PHOTO CREDIT: wavebreak3/Adobe Stock
You're looking for a partnership, right? Hiring a designer is not unlike dating.
And that first meeting is kind of like a first date! This is your chance to get to know them and for them to get to know you. Ask questions and gauge their responses to get a feel for how compatible the two of you are.
You're looking for someone that will support you and nurture your vision until you're satisfied. You need someone that listens to you, too! (Someone who listens?! This actually sounds WAY better than dating!)
And when you meet with a designer for the first time, go with your gut. Isn't it amazing how sometimes you just click with someone? It's a mystery of human chemistry, but if your gut is telling you that the person you've met is a perfect match, it's probably a partnership worth exploring!
Factors to consider when hiring a designer
Experience
Are you getting ready to do a pretty big project? You might be more inclined to work with someone with a bit more experience and a proven record of managing larger jobs. And usually, a designer that has been in the game for a while will have a network of contractors, a list of stores, and other contacts and information that can come in handy if your project requires additional help.
A more experienced designer should have a portfolio that you can take a look at, too. This will give you a pretty good idea of the type of work they're capable of, and you can see their range.
Has the designer worked with a gamut of different styles, or are they kind of just hitting one note? Not that that's necessarily bad. I mean, if you're going for an industrial look in your home, and that's the one note the designer hits, they're probably really good at it!
As for the less experienced designers, well, everyone has to start somewhere, right? And inexperience doesn't have to be a negative thing. Working with a 'green' designer is often a more cost-effective way to go. Plus, they might be more available for morning shopping trips or lunch-time discussions if they're not overwhelmed with a bunch of other clients.
Up-to-date
A designer should stay up to date on design trends and cycles so that you don't end up spending thousands on an outdated look or something that's the "flavour of the week."
And being up-to-date isn't just a matter of style, either. Your designer should have a good idea of what's going on in the design and furniture industry and stay up to date on appropriate business practices, as well.
Good listener
A designer is meant to work for you and guide you in refining your own style. If you feel right off the get-go that your opinions don't matter and you're not being heard, that's probably not the greatest fit for you.
A designer should keep your best interests top of mind and never impose their own style on you. That's actually a pretty big difference between a designer and a good designer. Their main priority should be listening to you and bringing those thoughts and ideas to life – if they make sense.
This brings us to another point about being a good listener.
A designer should absolutely take in what you're saying, but that doesn't mean they have to agree with everything. As much as they want to appease you, a designer should know when to push back if they truly believe that your idea may not help you reach your desired look.
Communication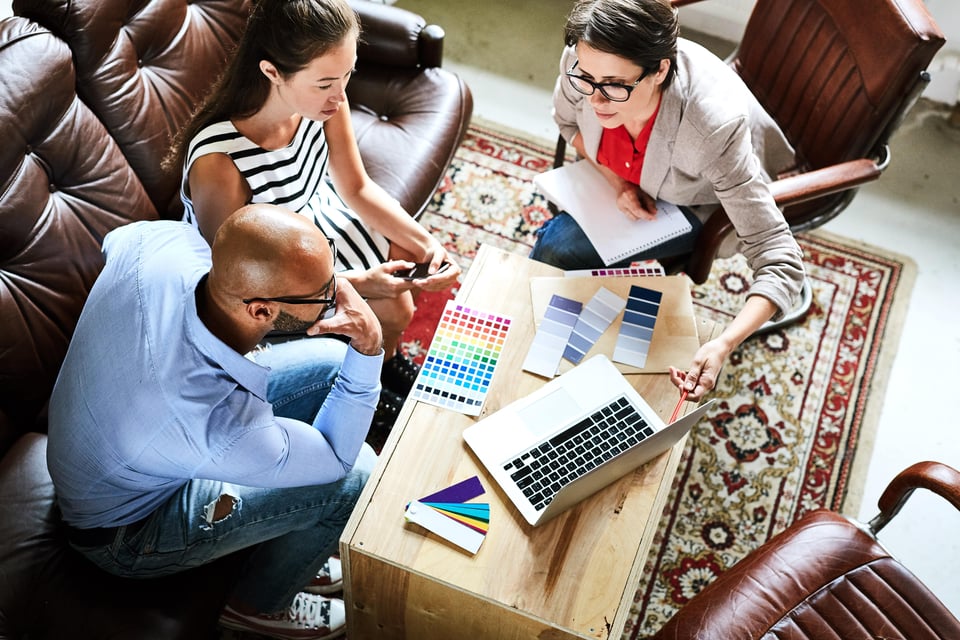 PHOTO CREDIT: pressmaster/Adobe Stock
This is something that you may be able to tell right away as you search for the right designer.
If you've contacted some designers and have only heard back from a small few, you're already well on your way to determining a good fit for you. After all, do you really want to go with a designer that can't email you back? What's that going to look like months down the road when you're looking for an ETA on that accent chair you ordered?
Both you and the designer should have an open line of communication, too. You should clearly lay out the expectation of the relationship and the design process. Different designers work differently – YOU operate differently than other clients, too. It's critical that everyone understands how to contribute to the overall project.
We've seen this happen a few times at McElheran's. Customers working with an outside designer have come into our showroom and purchased something without the approval of their designer.
And if the designer has given carte-blanche for the client to buy things on their own – great! But if the arrangement is that the designer is supposed to help with selection, that piece the client bought could potentially throw off the whole plan.
And plans can change, too - actually, that's almost a guarantee. But as long as you feel like you can openly communicate with your designer (and they can contact you, too), those changes shouldn't prevent you from completing your project.
Respect
Respect is a two-way street with a designer. When you consult with a designer, that's a time commitment on both ends. Respecting each other's time and being efficient with your appointments is a good way to show that you value and appreciate each other's commitment.
A designer should respect your budget, too. Designers are trained to know where your budget can have a little flexibility – where you can save and where you should spend a little more. And they should be honest and upfront with you if what you're expecting is simply not feasible.
And if you're constantly feeling like you're getting pressured to spend more than you'd like, that's a clear indication that your designer isn't respecting your budget.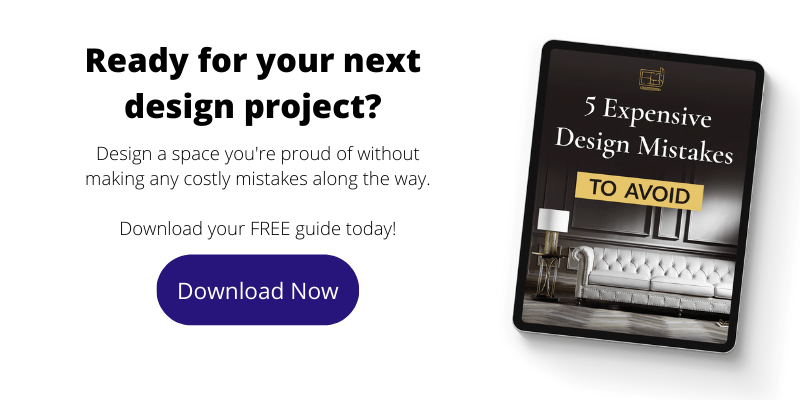 Don't be afraid to look elsewhere
Have you ever had a friend recommend something to you, like a hot new restaurant in town?
"Oh my gosh, it's the best! You just HAVE to go."
And you end up going and… it was pretty underwhelming. Dare I say that you were even disappointed?
What may work for your friend won't always work for you! The same goes for designers. Just because someone had a wonderful, life-altering, 10/10 experience with a designer does not necessarily mean that it will happen for you.
And that designer may be amazing, too! But if your personalities clash and you just can't seem to gel with someone, that's going to affect the entire process.
What kind of designer is right for me?
As mentioned earlier, depending on the scope of the project, you do have a couple of options with designers. To help narrow it down, check out Paid Interior Designers vs. Free In-store Design Services.
And if you're ready to have that first date with one of our Design Guides to see who you click with, schedule a visit so we can get you started on your next design project.