The Best Interior Designers in Edmonton: Updated for 2023 (Ratings and Reviews)

Sasha Spencer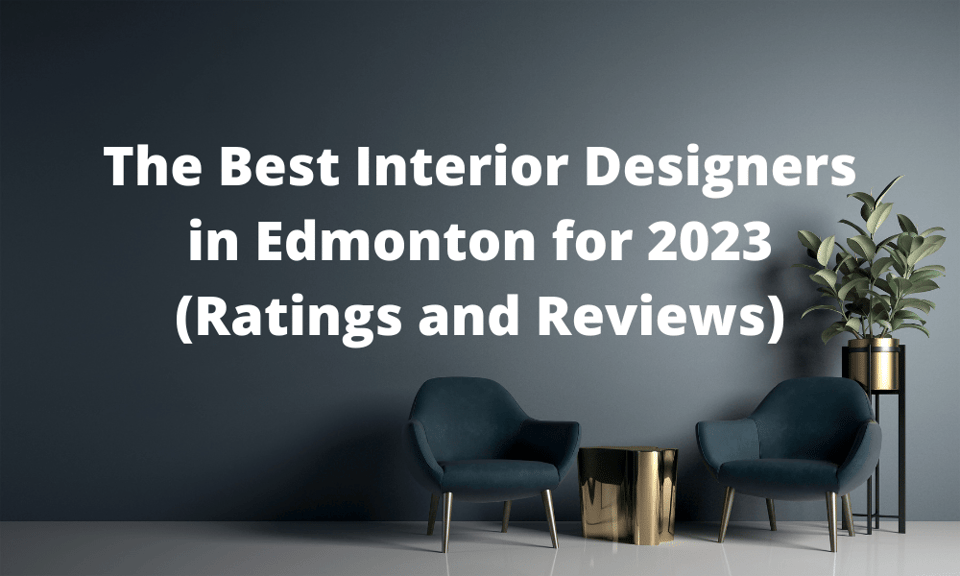 You're debating over hiring an interior designer, but before you officially make that decision, you want to see who's out there and what they can offer.
And you're doing exactly what you should right now – you're doing your research!
Choosing a designer to work with isn't the type of decision you make on a whim. You're looking to partner up with someone that is helping you create your dream space. It's an intimate and personal affair, one that you need to be mindful of. And if that requires taking a little extra time to find the right fit – so be it!
As much as you're taking the time to find the right interior designer, they put that same care and attention into selecting the right products for you! And because of our selection and the quality we offer, we've had many interior designers come through our doors at McElheran's Furniture + Design. For as long as we've been around (since 1994) we've worked with some of the best designers in the area because we all have the same goal: to help you create the best possible living space in your home.
We haven't worked with all of these designers in this article, but we've seen their impressive work on various projects throughout Edmonton. And this will give you a comprehensive look at who's out there and what kind of work they can do for you. We've looked at Houzz reviews, Google and Facebook reviews, experience, reputation, and recognition in the design community to determine the top 10 designers in Edmonton (in no particular order).
The best interior designers in Edmonton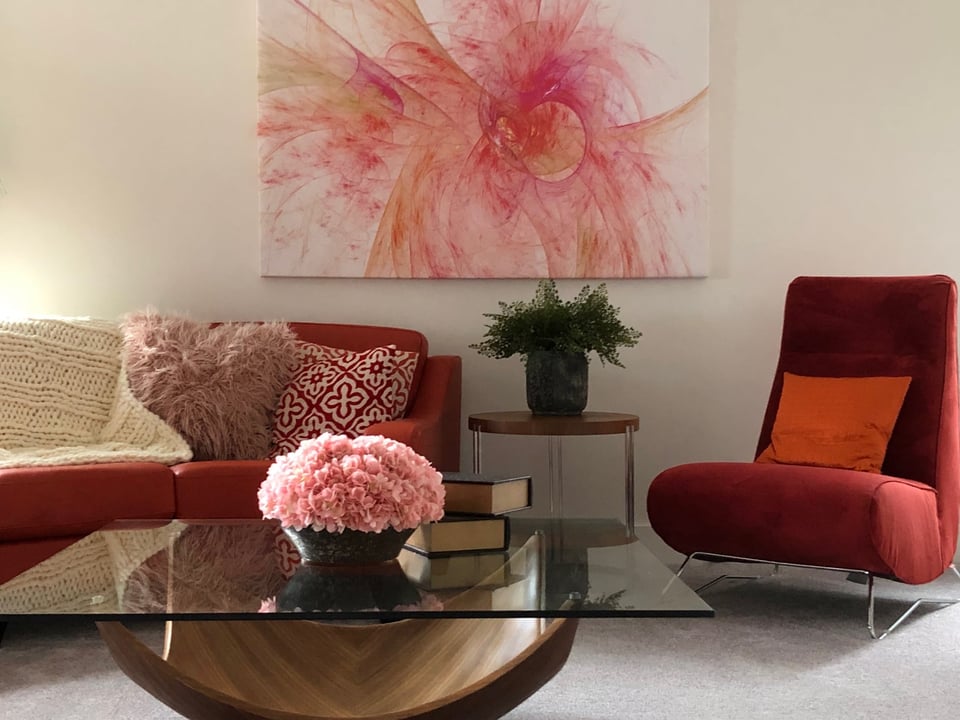 PHOTO CREDIT: https://www.facebook.com/interiorsbydesignab
You're really getting the full meal deal with Marie Hebsen, if that's what you're looking for. InteriorsBYDESIGN specializes in interior fit and finishes, furnishings, new construction, and remodels. They can look after every aspect of your design from conceptual mood boards to entirely new builds. Marie Hebsen can even help you with those small, final touches that can really finish off a project.
Marie Hebsen's design process is built on three main pillars of success:
Good design is personal

Good interior designers are practical

Interior design is affordable
A big advantage of hiring an interior designer, especially one as experienced as Marie Hebsen, is that you're more likely to have access to other firms that could help with your project. In this case, Rock-Solid Construction is a division of interiorsBYDESIGN.
Rock-Solid Construction provides carpenters, drywallers, and other contractors. Rock-Solid, as well as interiorsBYDESIGN, is committed to bringing you the best quality and value by prioritizing your wants and needs.
Services Available:
Interior design

Concept development

New construction
Renovations

Re-design

Custom

Professional drafting
Here's what Marie Hebsen's and interiorsBYDESIGN customers are saying:
"Working with Marie has been a pleasure. She has brilliant ideas and presents thoughtful options that truly fit with our style, while gently pushing us out of the ordinary. There is always meticulous attention to detail, her honest opinion and respect for the budget. We think she has done an amazing job on our home!"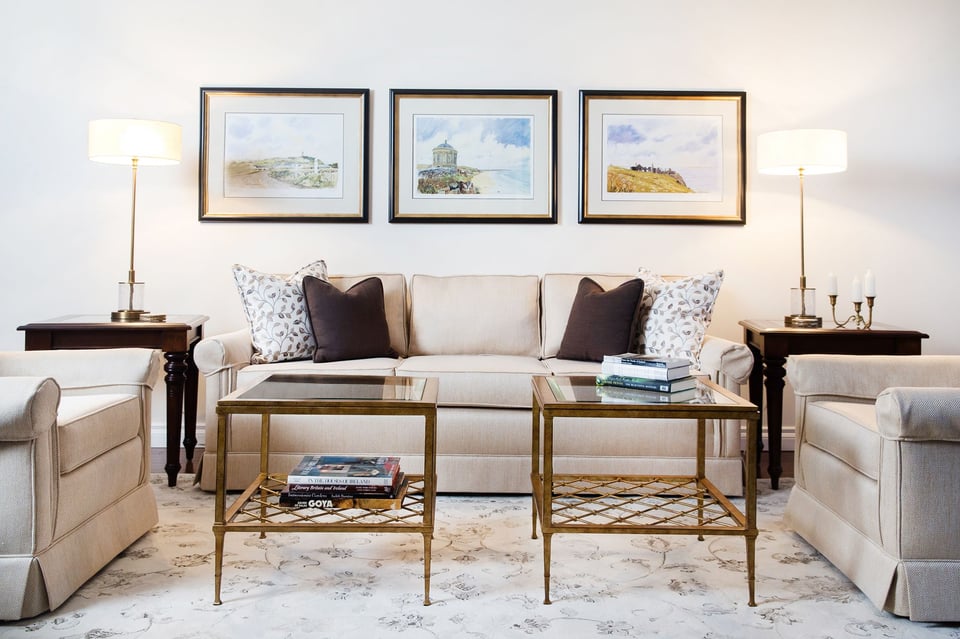 PHOTO CREDIT: https://www.facebook.com/LoriElmsDesignGroup
Founded in 1988, Lori Elms and her Design Group have built their business on the foundation of providing design solutions to their many clients.
With Lori Elms, you'll be introduced to innovative and inspiring designs while receiving the highest level of service and guidance.
Her motivation? To draw inspiration from the things that matter most to you and make coming home the best part of your day. Lori Elms Design Group offers exceptional, distinctive, and uniquely personal designs with you, the client, as their primary focus.
Services Available:
Conception to completion of interior design

Custom window coverings and bedding

Furniture layout and space planning

Selection of interior finishes

Renovation services
Custom cabinetry and millwork

Furniture and upholstery
Here's what Lori Elms Design Group clients are saying:
"My first project with Lori Elms involved renovation and redecoration of our family home. She provided advice and guidance that went far beyond wall color and flooring. Furniture selection was based not just on appearance, but also on scale and traffic flow. She custom-designed our kitchen island and entertainment unit to perfectly fit our needs!"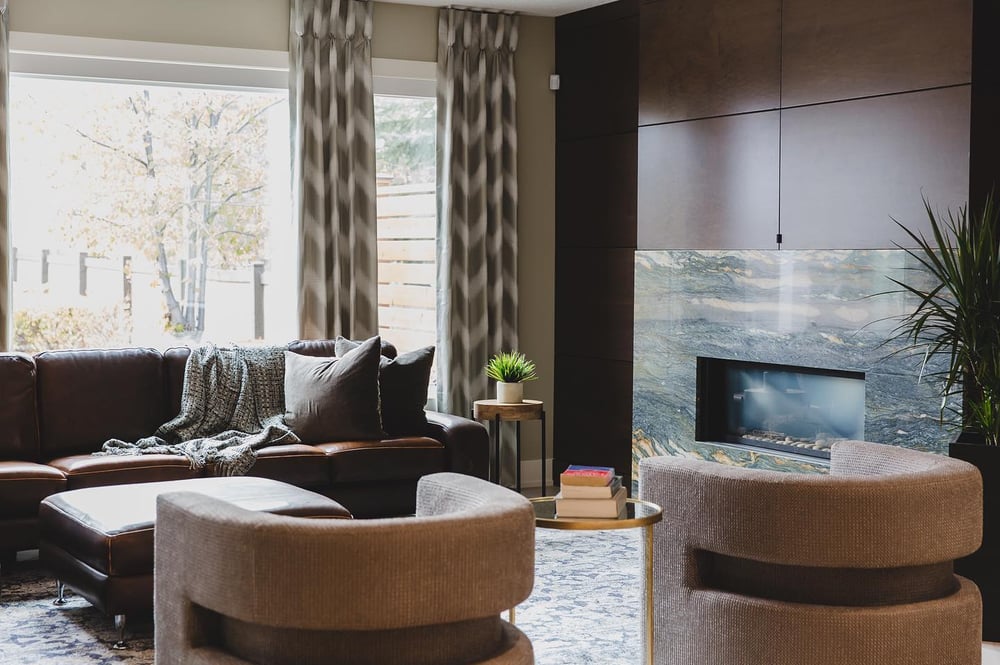 PHOTO CREDIT: https://www.facebook.com/FlawlessInteriorsInc
Lead by husband-and-wife team, Keith and Tracy Fortin, Flawless Interiors promises a seamless and stress-free experience right from the start of your partnership. With over 15 years in the design industry, Flawless Interiors offer an upfront and honest approach to design. You know exactly what you're getting into – and that's a space that is perfectly built with your needs and budget in mind.
Flawless Interiors' commitment to giving their clients top-tier service is reflected by their availability. Keith and Tracy only take on a select number of projects each year so they can give their clients undivided and special attention.
Services Available:
Colour consultation

Custom shades and blinds

Custom furniture

3D rendering

Custom walk-in closets
Downsizing

Drafting

Interior design

Space planning

Remodeling
Here's what Flawless Interiors clients are saying:
"Totally nailed our style and we were more than pleased!! The following year we connected again for a kitchen remodel. Overall, we were totally impressed and have recommended them to all our friends and family!"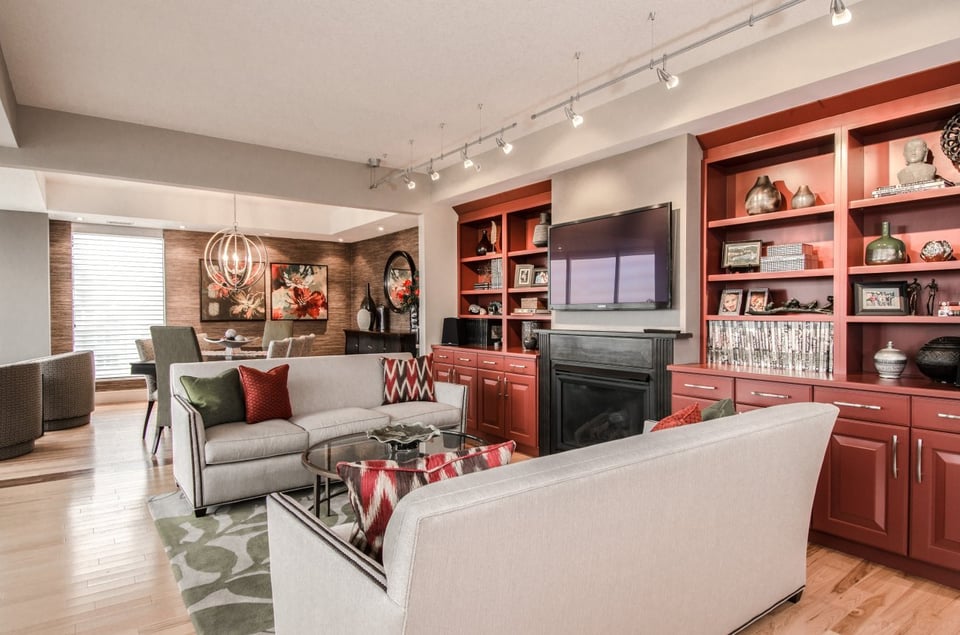 PHOTO CREDIT: https://www.karlabilleydesign.com
Karla Billey has been "making homes happy" for over 20 years. She's mastered custom interior design and is trained in all design styles. Karla Billey realizes that your home is more than just a place, it's a feeling – and you want to feel comfortable and happy in your home.
Karla Billey can take on your home's interior or exterior, whether it's a brand-new build or an existing home. As you work with her, you'll go over blueprints and floor plans and are free to make any revisions, as per your request. Regular site visits are a part of the process, to ensure everything is going off without a hitch.
Based in the Edmonton area, Kara Billey has also worked in other parts of the province, BC, and even Toronto, and will consider other locations depending on the scale of the project.
Services Available:
Custom blinds and shades

Custom furniture and rugs

Kitchen remodeling

Downsizing

Drafting
Floor plans

Wine cellar design
Here's what Karla Billey's clients are saying:
"Karla and I have worked together for many years. Over this time, she has always listened to my needs and worked to find solutions that work for my space and budget. Our most recent project was working on a new clinic. Karla provided the same diligence and insight that she always does to make the end result better than I could have imagined."

PHOTO CREDIT: https://www.dragonseed.ca
It's all in the details, right? And that's what Jacqueline Wedman at Dragon Seed specializes in. Jacqueline is there to listen to you – and listen carefully because that's the only way to create a design that will suit your needs!
​When you work with Dragon Seed, you're also getting access to the connections Jacqueline Wedman has made over the years. These contractors, suppliers, and artisans show as much pride in their work as the team at Dragon Seed.
There is a clear commitment to creating a stress-free environment during your design process. Stress-free and fun! And with Dragon Seed at the helm, you'll have more time to focus on yourself and the other important things in your life. ​
Services Available:
Concept and design development

Interior and exterior finish selections

​Architectural plan review 
Space planning

Electrical plans and lighting

Furniture selection

Window coverings and installation

Art and decor
Styling (general, seasonal, special occasions)
Here's what Dragon Seed clients are saying:
"I have worked with Jacqueline Wedman since 1995.  We have worked together on 6 home projects including a vacation condo.  From full house renos to small projects, we have done it all.   Jacqueline is very easy and fun to work with and has a passion for her trade.  Whether you don't know where to start or you have your distinct vision, she can help you to create your dream home."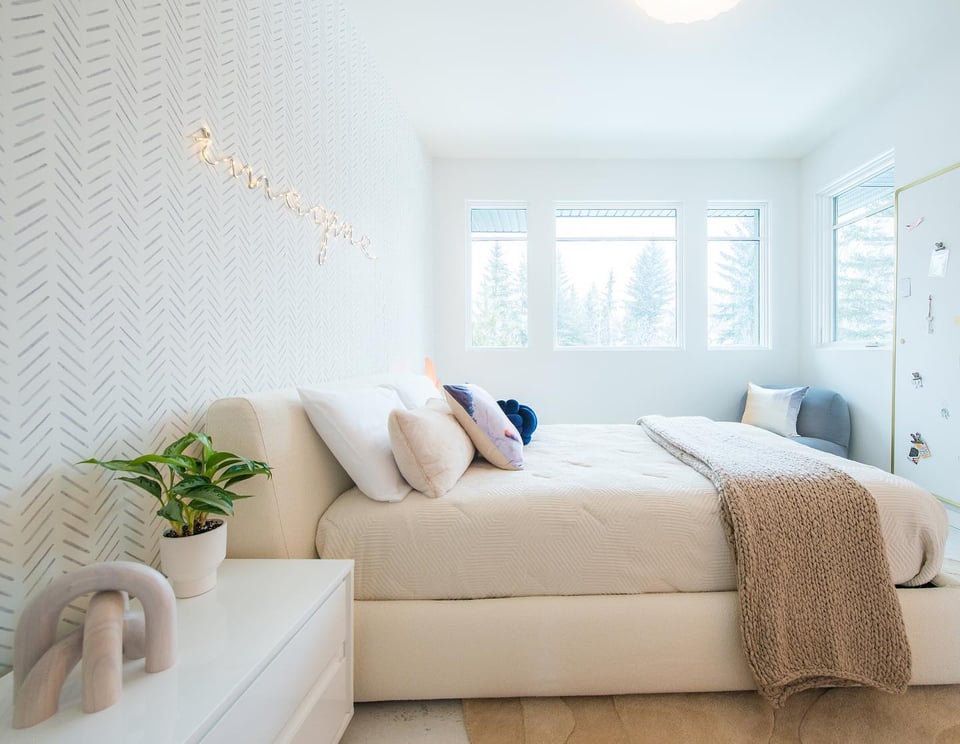 PHOTO CREDIT: https://www.facebook.com/moderneradesign
Since earning her certificate in residential interiors, Modern Era Design's Jehan Hamdan-Fayad found herself gravitating toward modern design. She gives her clients the high-quality products they expect while understanding the need for family-friendly and functional design concepts.
Modern Era gives you a few different options depending on how much help you're looking for. Because some of us just want a little nudge in the right direction, while others want to completely hand the reins over to a professional!
Jehan Hamdan-Fayad definitely has the experience and knowledge to handle your project from start to finish – and there's no shame in getting that kind of support - that's what interior designers are there to do.
But if you're a DIY'er at heart and you want to take on the task of doing most of the design on your own, Modern Era Design will get you started with a specifically curated inspiration or product board.
Services Available:
Concept design

Inspiration and product boards

Furniture and accessory selection

Personal shopping
Project coordination

Colour scheme and lighting suggestions
Here's what Modern Design clients are saying:
"I contacted Jehan at Modern Era Design when I decided to redecorate my home. I had many "ideas" in my mind and felt overwhelmed with the endless possibilities. Jehan was a true professional from the first day I reached out to her. From responding to emails and phone calls promptly to giving me an overview of all the services she was able to provide. Jehan helped me to focus and visualize exactly what can be done and her expertise and knowledge surpassed any expectation I had. Thank you Jehan for creating a space that my whole family can enjoy."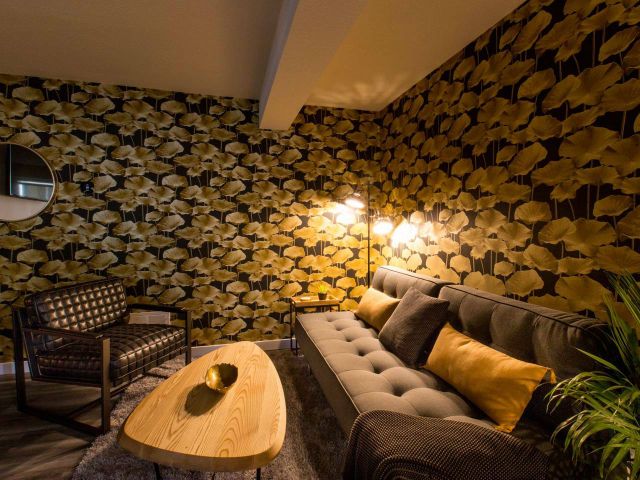 PHOTO CREDIT: https://www.mojodesigninc.com
No two design projects are alike. Some are big, some are small - some require a few more hands and a lot more time than others! Regardless of the type of project, Mojo Design Inc. is ready to take it on and help you achieve the exact look you're going for.
Managing design projects in the Edmonton area for 12 years, Mojo is available to help with your new build or renovation. They can take your vision – even if it's not fully fleshed out yet – and turn it into something amazing.
Don't ever feel like your project is insignificant with Mojo Design Inc., either. Even if you're stuck on deciding which paint colour to choose, you can book a consultation with Mojo to get the ball rolling on your design project.
Services Available:
Interior design and decorating

Renovations, including sourcing product

Paint consultations

Floor and space planning, 3d renderings
Custom furniture and upholstery

Blinds and custom draperies

Custom wallpaper and wall murals

Home staging and styling
Here's what Mojo Design Inc. customers are saying:
"Mojo designed our living room and we absolutely love the result. They were a pleasure to work with, excellent communication especially considering our first meeting was over Zoom! They arranged all of the work with very skilled and professional contractors (carpenter, painter, electrician). Overall, they did an excellent job, ensuring our renovation proceeded smoothly and we are very pleased with the result. "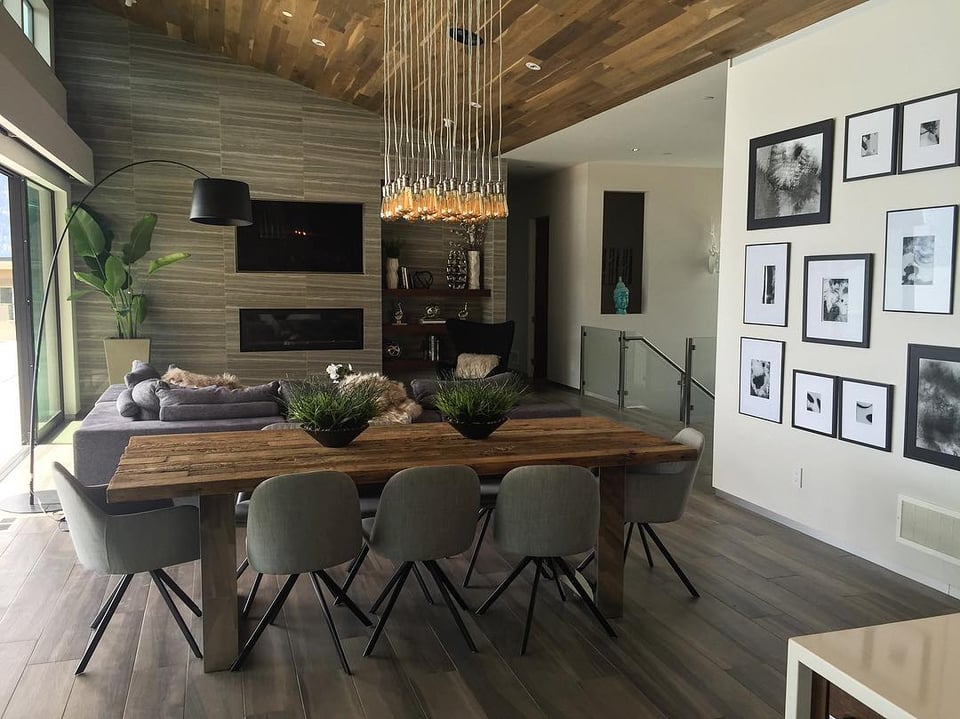 PHOTO CREDIT: https://www.facebook.com/nikiflisinteriordesign
For over ten years, FLIS Interior Design has been one of Edmonton's most respected interior design practices. Serving clients in Alberta and BC, FLIS projects include private homes, townhouses, apartments, and penthouses.
Clients are kept at the forefront of any design project. Niki Flis of FLIS Interior Design is adamant about creating looks for YOU and no one else. She draws from the seven elements of interior design to build you a functional and beautiful space: space, line, forms, lights, colour, texture, and pattern.
Niki Flis has a fresh take on design, bringing in traditional and contemporary elements. She is not afraid to mix different styles and textures, if that's what you want, of course. FLIS Interior Design is accommodating and easy-going, all in the interest of getting to that shared goal of creating a perfect space for you.
Services Available:
Flooring

Wall coverings

Window treatments

Renovations

New home builds
Furniture and accessory selection

Colour consultation
Here's what FLIS Interior Design clients are saying:
"Niki was a pleasure to work with. She showed great professionalism, respectfulness, and expertise all throughout. She was flexible and adapted to every new concept I decided to incorporate down the road, all while providing timely communication and a keen eye for detail.
The final result was fantastic. I highly recommend Flis Interior Design for all of your business and home design needs."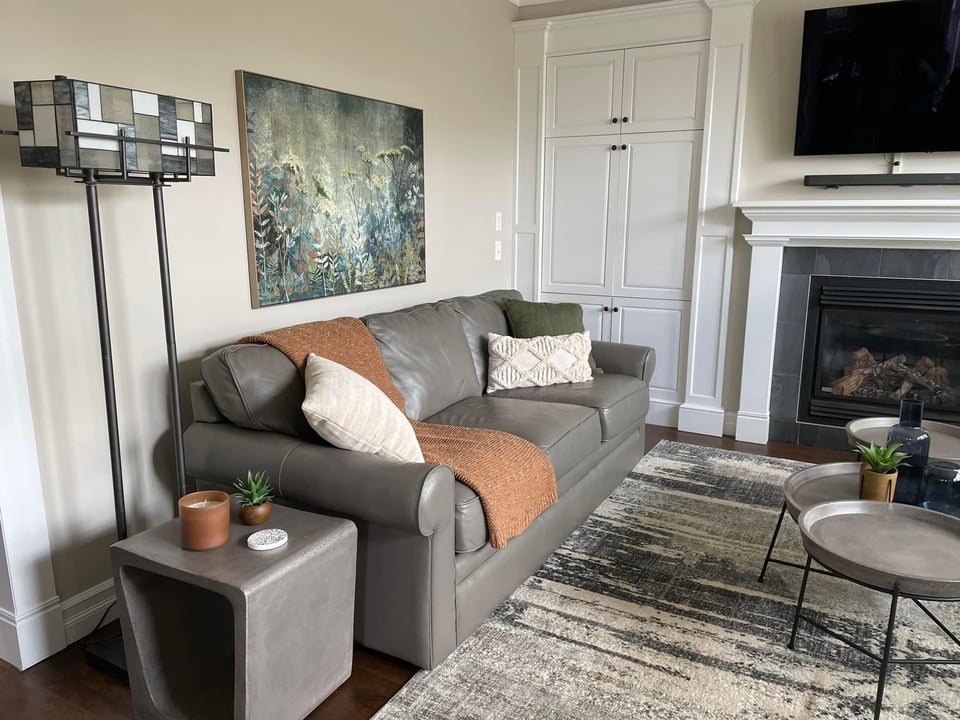 PHOTO CREDIT: https://www.facebook.com/FreshLookDesign
Fresh Look Design caters to those in the Edmonton and St. Albert area. Your home is where you spend so much of your time – it's where you hang out with your friends and family and decompress after work. So, it just has to work for you. Lori Drinkwater of Fresh Look Design understands that.
Lori started up her business in 2004 as a way to share her artwork and accessories to get people to "liven up their living spaces" and she has continued to help people do just that ever since.
Through the process of finding your inspiration, researching, and coming up with a plan… right down to the actual installation of your new design, Fresh Look has a guarantee for you: They will decorate your home how you like it!
Services Available:
Paint consultation

Custom blinds/drapery and bedding

Room re-design
Space planning

Interior design

Real estate staging

Furniture and accessory selection

New home finishes (cabinets, flooring, backsplashes, paint, countertops, carpeting, lighting)
Online design services (coming soon)
Here's what Fresh Look Design clients are saying:
"Lori successfully created a space plan for our basement so that it would be more functional.  She used furniture from other rooms and three households.  Now the basement is more stylish and we are using it more often.  She hangs pictures too!  Very pleased."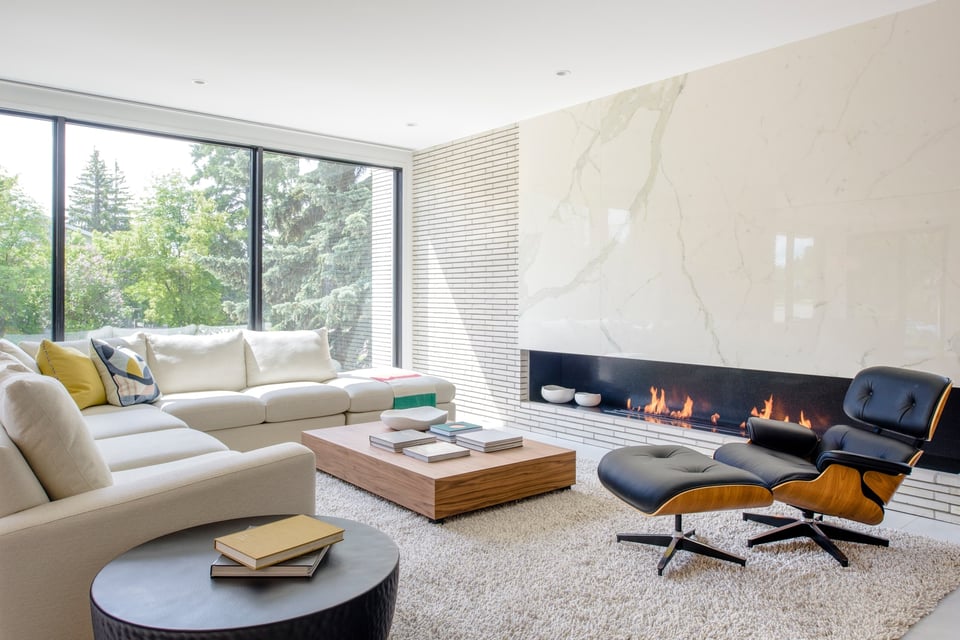 PHOTO CREDIT: https://www.facebook.com/amredmonton
A home that is well designed and complements your lifestyle can change your life. AMR Interior Design wants to help in this life-changing experience and get you involved, too! As much as possible, anyway. Your vision, desires, and opinions are all taken into account, but when you partner with AMR, the burden of managing the details is taken off your plate.
Every project begins with a discovery call, which – first and foremost- will determine compatibility between you and AMR Interior Design. During this call, expectations, budget, and the "next steps" are all laid out.
AMR Interior Design is all about taking your shared vision and turning it into a space that aligns with your lifestyle. Of course, the end result is important, but you should enjoy the process, too!
The three goals that define AMR Interior Design are:
Professional process

Flawless execution

Inspired design
Services Available:
Interior design

Project management

Home staging

Custom window coverings

Downsizing
Drafting

Space planning

Finish selection
See what AMR Interior Design clients are saying:
"Brenda and her team are absolutely fantastic. They began working with us part way through our home build and it was like they had always been working with us. They make themselves available to be on site as much as needed and helped coordinate our contractors. They provide wonderful and creative solutions to problems and are always willing to make changes or alterations. On future projects, we wouldn't even consider working with anyone else!"
How do I decide which interior designer is right for me?
It's definitely important to know what you want first before making a selection – because hiring an interior designer is more about you than them! And as you take a few things into consideration, the article What To Look for In a Designer should help you out.
And once you find an interior designer, they're probably going to want to know what inspires you and what your desired look is. Need a little inspiration? Drop by our showroom! Taking a look around is a great starting point for your next project.