The Best High-End Brands for Living Room Furniture

Sasha Spencer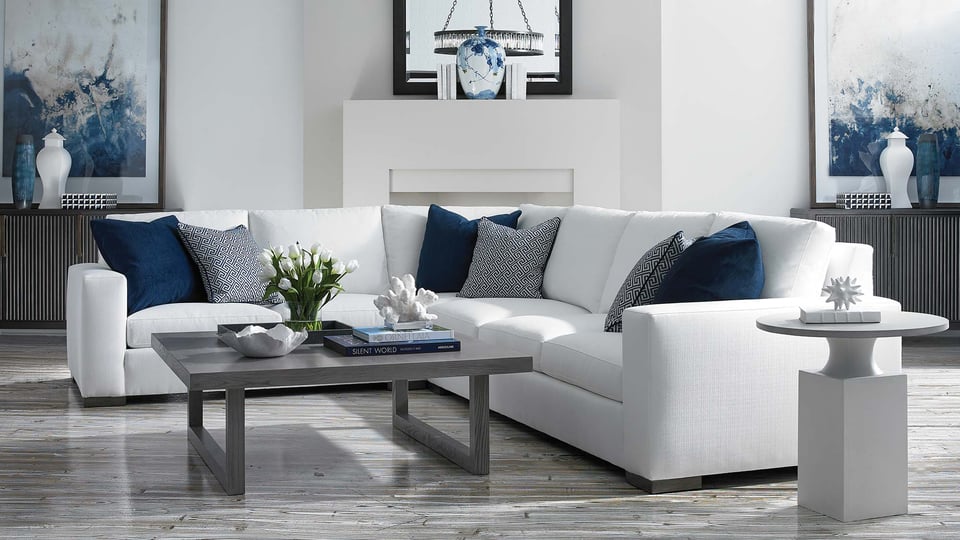 If you're thinking about purchasing high-end living room furniture, you're likely coming around to the idea that there is a bit of a cost that comes along with it. So, with such a lofty investment in your future, it definitely pays to know what high-end brands are out there, which is the best fit for you, and which brands will offer the most value.
And keep in mind that high-end doesn't just mean expensive, it's expensive because it's well-made. These manufacturers have engineered the perfect products for you, and the quality and price points reflect that passion and attention to detail.
McElheran's Furniture + Design has been selling high-end furniture since 1994. Careful consideration goes into every brand we carry so you can get the most value out of your purchases. At McElheran's, you're guaranteed the best in quality, comfort, and style, which is echoed by these high-end brands that you can find within our showroom.
With McElheran's owner, Jeff McElheran, and our Design Guides, we'll break down the best high-end furniture brands on the market. While we do sell most of these brands, there are a few that we do not carry that may be of interest to you. We'll also take a look at the pros and cons of the brands we carry, so you can have a better understanding of what furniture is the best choice for you and your home.
To compile this list, we looked at reputable manufacturers that exceed industry standards time and time again. The selection, shipping times, structure, and style offered by these brands have all been considered, but above all else – we looked at quality.
The best high-end brands for living room furniture (in no particular order)
Bernhardt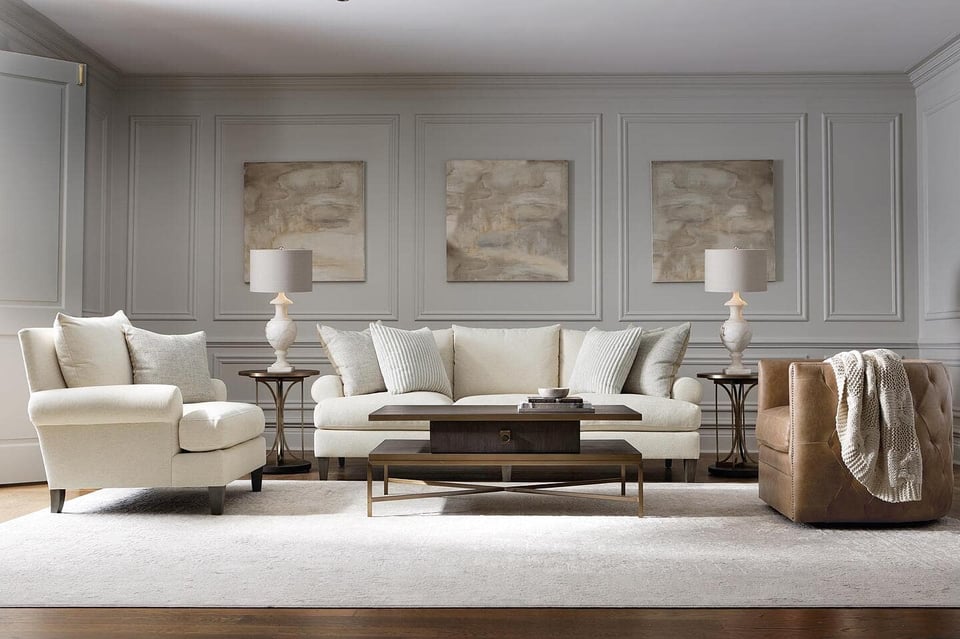 This company definitely has some staying power – they've been around since 1889! And a business doesn't last this long unless they're doing something right. Bernhardt is one of the largest family-owned furniture companies in the US with a worldwide reputation as one of the most fashion-forward value brands available.
Pros
Bernhardt products are always on the cutting edge of fashion and style for furniture. The different styles and colours of fabric complement each other very well and cover a lot of ground if you're looking for options.
Bernhardt furniture sits well with a solid frame and offers a reasonable price point. With programs like Featured Way, if you buy an item as shown and without any customizations, you'll receive a special, cost-effective price.
This manufacturer has complete lifestyles, too. So, if you find a unique sofa, there are occasional tables and other pieces that could coordinate with it right within the Bernhardt line.
Extended lead times are currently plaguing much of the furniture industry, but if you go with Bernhardt, you'll likely get your furniture much faster than with other manufacturers.
Cons
Bernhardt has a great selection of popular neutral fabrics (which is a pro!), but if you are looking for something with a bit more oompf, your options are limited when it comes to bold and vibrant colours. You're also pretty limited to the standard finishes that Bernhardt offers.
If you'd like a sofa for a smaller space - I'm gonna stop you right now - Bernhardt is probably not the way to go because they don't have a lot of small-scale pieces within their brand.
Who is Bernhardt a good fit for?
Bernhardt is the perfect choice for a fashion-forward style at a reasonable price. With regular maintenance, your furniture will last you for a very long time.
Sherrill Furniture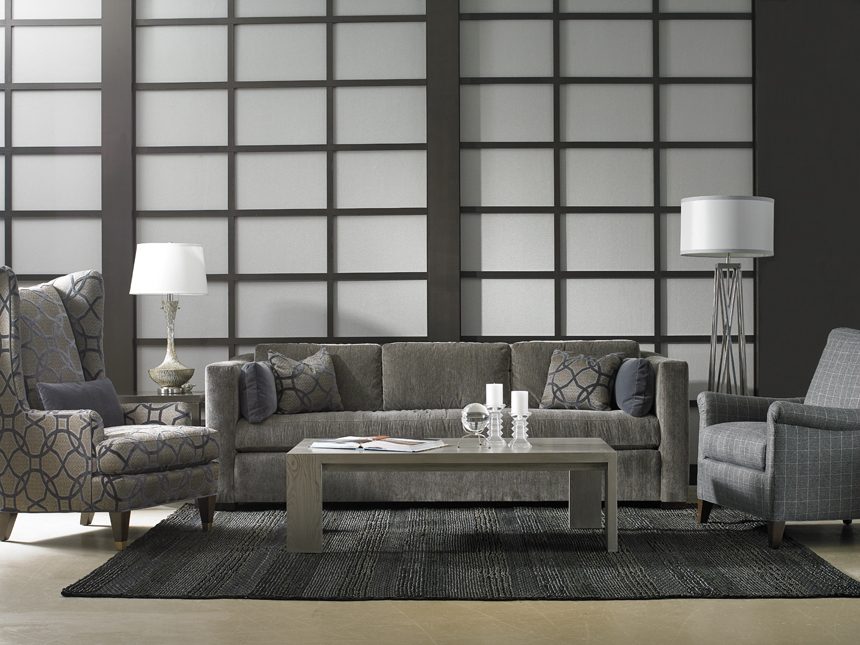 This long-standing brand is recognized as the leader in premium home furnishings, with an ongoing commitment to quality, fashion, innovation, and service. Sherrill allows customers to create custom looks by choosing their own upholstery, arm, base, and nailhead trim.
There are also a few other companies under the Sherrill umbrella that open up more options, like Hickory White, Motioncraft, and CTH Sherrill Occasional. McElheran's has been carrying Sherrill Furniture since we opened our doors in 1994.
Pros
The quality you're getting with Sherrill Furniture is superior. They construct their sofas with the 8-way hand tie method to ensure your furniture is going to sit well and hold its shape for years to come.
One of our Design Guides, Shelley, noted that she had clients come into McElheran's that had a Sherrill sofa for upwards of 25 years. They were so impressed with the structure of it, they just wanted it reupholstered – no need for a new sofa. That's how well-built Sherrill Furniture is.
Sherrill Furniture has one of the largest selections of fabric in the industry. They have 1200-1400 fabrics to choose from – from basic neutrals to rich and vibrant colours - even prints. In addition to the choices in fabric, you can select different seating arrangements, arms, bases, and cushions for furniture.
There are some customization programs that Sherrill Furniture has that can give you special pricing. With a few of these programs (if you stay within the guidelines), some options are available at no extra charge, which can be very cost-effective.
For a smaller living space, Sherrill has great options on a smaller scale, and they can get your furniture to you a lot faster than many other manufacturers at the moment.
Cons
Sherrill does offer some updated looks, but if you are looking for a piece that's ultra-modern and fashion-forward, Sherrill wouldn't be the best choice. Sherrill Furniture's style tends to lean more traditional and classic. (Because why mess with a good thing, right?)
Who is Sherrill Furniture a good fit for?
As far as customization goes, you really can't miss with Sherrill. If you want that timeless, three-seated, rolled arm, sofa – you're guaranteed to get it at the best quality. However, if you're looking for something a little more cutting edge or contemporary, you might want to skip over Sherrill.
Century Furniture

This company has been around since the late 1940s and offers an abundance of styles and finishes. You can furnish your entire home with Century Furniture, too. Century Furniture has a history of working with world-renowned designers to create their visually appealing looks, without compromising comfort and quality.
Pros
With Century, you're getting fashion-forward looks and the utmost quality. You've got that 8-way hand-tied method again, which speaks to the construction and integrity of the furniture. This company's furniture sits well and is extremely comfortable.
Century Furniture offers customization programs that allow you to pick your arms and legs, and in most cases, both leather and fabric are an option. They also have the capacity within their factories for you to choose your own wood finishes. Giving you even more choice, Century Furniture is owned by Rock House Farms, which also includes brands like Hancock & Moore and Jessica Charles.
They make furniture for every room in your home, so if you'd like to furnish your whole house under one brand, Century definitely has everything you need. And if you need to budget for that project, here are some tips on how to budget for furnishing your entire home.
Cons
COST! Century Furniture is quite expensive, but they do have some programs that price out quite well (relatively speaking). You are buying the brand and its reputation, but the quality does justify it.
And be prepared to wait a bit longer for your order to arrive as Century Furniture is experiencing pretty hefty lead times at the moment.
Who is Century Furniture a good fit for?
The number of options that you get with Century Furniture is incomparable. The quality and style are right up there, too. If you're willing to pay the price, you will wind up with a piece that you absolutely love because you were able to customize almost every detail.
Thayer Coggin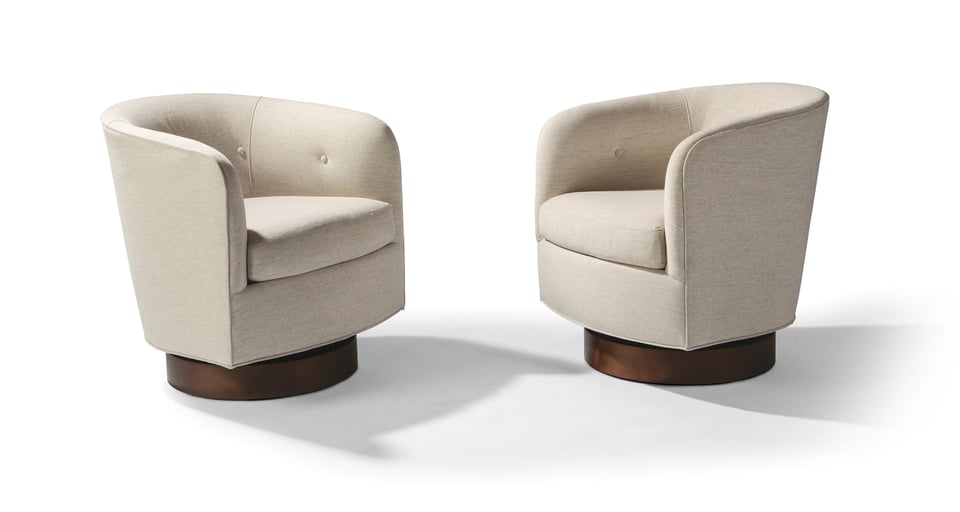 Thayer Coggin has been a leader in modern furniture since the 1950s. So much so, that some of their pieces are considered iconic. With the revolutionary designs of Milo Baughman, Thayer Coggin created a collection of some of the most stunning and captivating furniture designs in the world. If you're looking for a vastly different item – a showstopper, if you will – you've come to the right manufacturer.
Pros
You can tell by the detail of the furniture that Thayer Coggin is here to give you the highest quality in every piece, starting with the foundation of quality – the frame. They use Pirelli webbing with fantastically made cushions, which all add up to the integrity of the furniture.
Thayer Coggin brings a lot of interest and intrigue to a room's overall look, too. As McElheran's owner, Jeff McElheran says, "If chairs can be sexy…these chairs are SEXY!" Your eye is immediately drawn to these unique pieces.
It's hard to predict the future, but Thayer Coggin furniture can appreciate over time. You can actually find original pieces from the '50s and '60s selling for about the same price as a house would have cost back then! (Around $12,000). That really speaks to, not just the quality but the desire for Thayer Coggin furniture.
If you've recently downsized or you're furnishing a smaller area, Thayer Coggin is a great choice because of the sleek, compact, mid-century modern design of their furniture.
Cons
Oh boy, the lead times for Thayer Coggin are pretty long. At this time, we're talking almost a year! And since Thayer Coggin is a luxury brand, you're definitely paying that high price that comes with the territory.
As revolutionary as their furniture is, it is a bit of an acquired taste. These pieces can be polarizing and aren't necessarily designed to appeal to the masses.
Who is Thayer Coggin a good fit for?
If you want an innovative, mid-century modern piece, Thayer Coggin is right up your alley. Just be aware that it'll cost you – and you'll certainly need the patience to deal with their long lead times.
Marcantonio Designs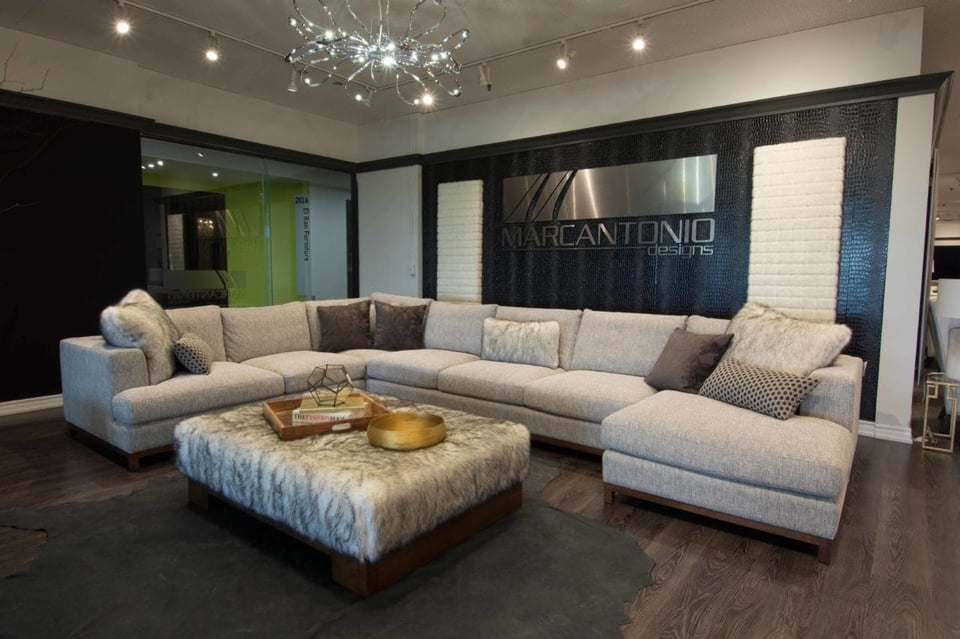 This family-owned Canadian company is a little newer to the scene, but they are not kidding around with their designs and overall quality. Marcantonio Designs combines quality materials, attention to detail, and creativity in all of its pieces.
Pros
One big plus with Marcantonio - you're supporting a Canadian company and who doesn't love that?!
You are also getting a lot of size options within a style. You like a sofa that you see in a showroom? Great! You can probably get it in a loveseat, sectional, and chair, too. I mean, check out all the options you have just within the Alberto collection.
Marcantonio does offer a reasonable selection of their own fabrics, but they also have relationships with other fabric distributors in North America. This gives you more options and brings down the cost since Marcantonio doesn't pay to store all the fabric they have access to.
McElheran's warehouse manager, Rob, LOVES Marcantonio. Rob sees everything that comes in and out of the warehouse and notes that since McElheran's started carrying Marcantonio, we have NEVER received a single service call to fix any of their products.
It's all in the details, right? Marcantonio pads the outside of their furniture extraordinarily well. Visually, it doesn't add to the aesthetic, but it certainly helps the structure and durability of the furniture.
Almost everything that Marcantonio carries can be made in fabric or leather. Basically, if it can be done - when it comes to Marcantonio - it will.
Cons
If you're thinking "oh, it's a Canadian company so, it probably wouldn't take that long for the furniture to get to me." Umm… unfortunately, that's not the case. Even though Marcantonio is based in Canada, you're still waiting a while to get these pieces.
And because the owners are so "hands-on" and very busy at times, it may be a little difficult to get a pulse on lead times.
Who is Marcantonio Designs a good fit for

?
If supporting a Canadian company is important to you and you don't want to compromise on quality. This is it - Marcantonio is for you. Bear in mind, though, that your furniture may take longer than expected to get to you.
Caracole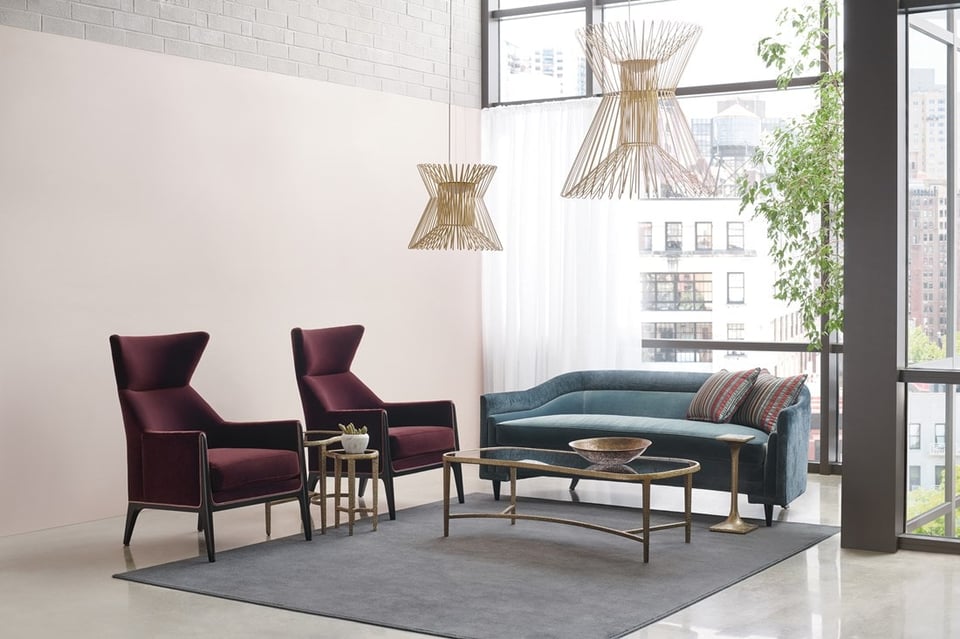 Caracole uses unique materials and a fresh approach to furniture to create beautiful and distinctive pieces, as opposed to collections. This company injects personality into its high-end styles and offers its furniture at reasonable prices, without skimping on the quality. Caracole is somewhat new to McElheran's, but so far, we like what we see!
Pros
With Caracole, you are getting beautiful, unique, standalone pieces. And as much as their furniture gives off a more regal and expensive aesthetic, this furniture is definitely at a more attainable price point.
If you see something you like from Caracole, their lead times are actually not too bad in comparison to many other manufacturers.
Cons
"What you see is what you get" when it comes to Caracole, as your options are limited. The good thing about that, though, is a) it might help with indecisiveness, and b) less customization usually means less cost to you.
Who is Caracole a good fit for?
Caracole offers products that are anything but cookie-cutter – and for a reasonable price, too! If you'd like a beautifully unique piece without the responsibility of picking out your own features, Caracole's the way to go.
The best brands we admire but do not showcase
Baker Furniture
Hickory Chair
Taylor King
The quality and value offered by these brands are definitely something to take note of. And just because we don't carry them right now, doesn't mean that we don't have access to some of their products. Contact us if you have any inquiries about these brands – and any others.
Are there any other high-end furniture brands worth checking out?
At the end of the day, you're going to choose the best furniture brand that works for you. And just because you go with one manufacturer for a sofa, doesn't mean you can't go with another for your coffee and end tables. It's all about determining what features are a priority for you and which brands align with that.
McElheran's Furniture + Design not only offers you the highest quality with our products, but we also want to provide you with options so you can make an informed decision. If you'd like to explore more furniture manufacturers to see what else is out there, feel free to browse our products.
And if you'd like to see how some of these brands sit and feel, visit our showroom in Edmonton today.