Bedroom Furniture: Which High-End Brands Are the Best?

Sasha Spencer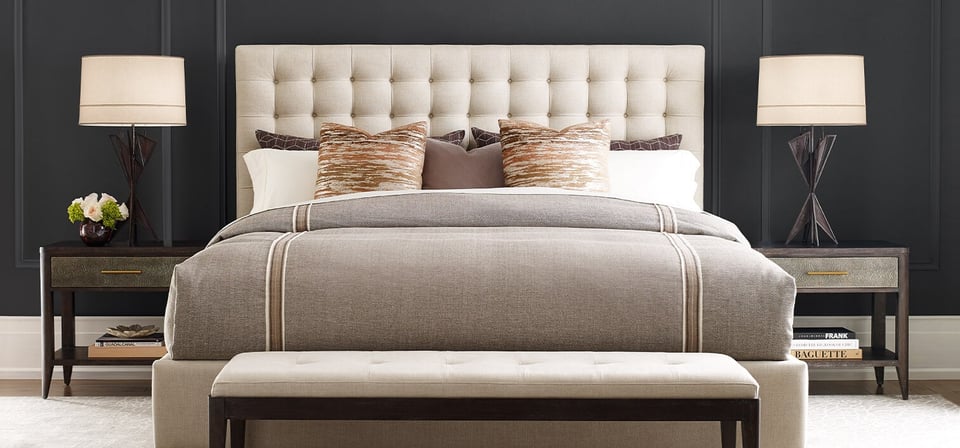 If you're thinking about purchasing high-end bedroom furniture, you're likely comfortable with the idea that there is a bit of a cost that comes along with it because you're paying for that quality, right? So, with such a lofty investment in your future, it's definitely worth knowing what high-end brands are out there, which is the best fit for your bedroom, and which options will give you the most value.
And keep in mind that high-end furniture isn't just expensive for the sake of being expensive, it's priced that way because it's well-made. These manufacturers have engineered the perfect products for you, and the quality and price points reflect that passion and attention to detail.
McElheran's Furniture + Design has been selling high-end furniture since 1994. Careful consideration goes into every brand we carry so you can get the most value out of your purchases. At McElheran's, you're guaranteed the best in quality, comfort, and style, which is echoed by these high-end brands that you can find in our showroom.
Our in-house designers, Design Guides, will break down the best high-end bedroom furniture brands on the market. We'll also take a look at the pros and cons of these manufacturers, so you can have a better understanding of what furniture is the best fit for you and your bedroom.
To compile this list, we looked at reputable manufacturers that have a history of exceeding industry standards. The selection, shipping times, structure, and style offered by these brands have all been considered, but first and foremost – we looked at quality.
The best high-end brands for bedroom furniture (in no particular order)
Theodore Alexander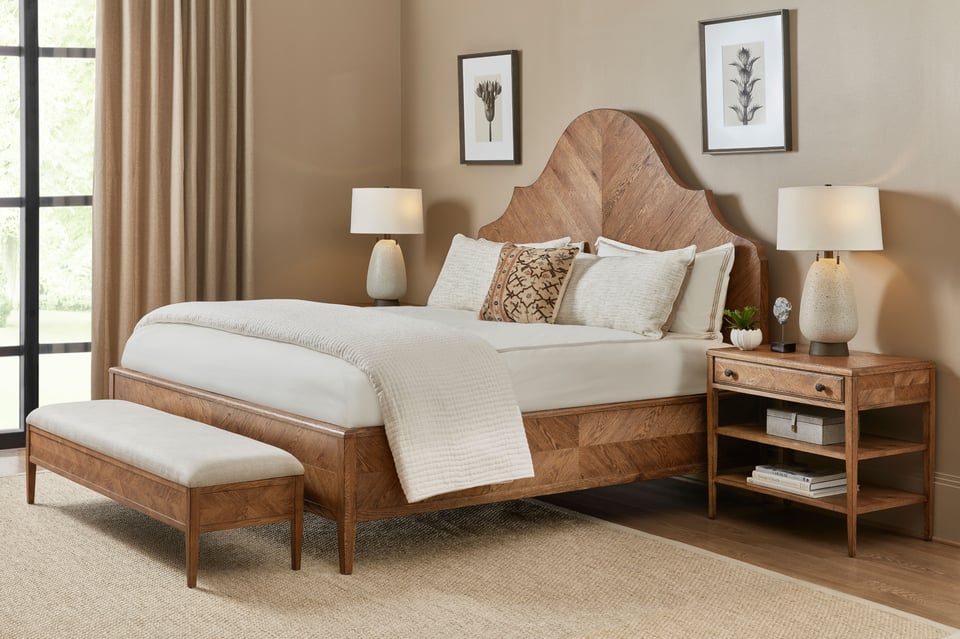 Theodore Alexander is a luxury furniture brand that whimsically marries age-old techniques and innovative design. With an emphasis on quality in every piece of furniture, Theodore Alexander's designs are both functional and elegant. The range offered in this intriguing, yet durable furniture line can bring a casual, traditional, or modern feel to your bedroom.
Pros
There's a perfect balance of high-quality veneer and solid wood in the construction of Theodore Alexander's furniture. Enough veneer is used to create interest with delicate patterns and you're still getting the structural integrity from solid wood. It's really the best of both worlds!
Shaped by English heritage, there's a certain regality that comes with Theodore Alexander. Particularly with the Althorp Living History collection, which showcases recreations of furniture from the Althorp Estate in Northamptonshire, England. With Theodore Alexander, you have the opportunity to bring living history into your own home.
One of our Design Guides, Teresa, cannot stress enough the amount of range and interest that you're getting with Theodore Alexander. Every single piece features a beautifully intricate design and elegant finishes with a true nod to the history of furniture. Although much of Theodore Alexander's furniture is influenced by tradition and antiques, you can still find innovative and modern pieces.
Cons
The quality of Theodore Alexander furniture matched by the specifically curated designs does run up the price quite a bit. You are paying for a piece that will be in your bedroom for years and years to come – and you'll probably pass it down to future generations, too, but that kind of longevity does come at a cost.
More often than not, you'll be waiting quite a while for Theodore Alexander furniture because of the longer lead times currently facing much of the furniture industry. Theodore Alexander does, however, have an in-stock program, meaning that there are some pieces that may be available to you at a faster rate.
Who is Theodore Alexander a good fit for?
If you value unique, yet classic designs, Theodore Alexander is right up your alley. Just be aware that it will cost you and you'll have to have the patience to deal with Theodore Alexander's long wait times.
Durham Furniture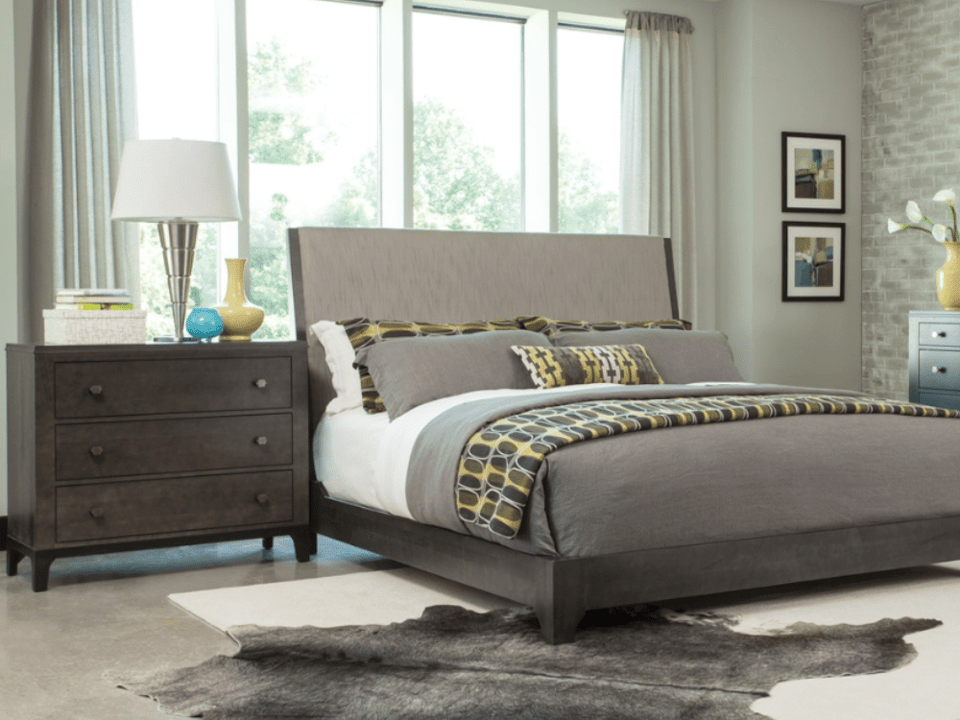 Durham Furniture is a long-standing Canadian company specializing in solid wood furniture with award-winning designs. Their furniture is handcrafted from sustainably harvested maple and cherry, without the use of veneers or particle board. The beauty of nature's own wood is the star of the show with Durham Furniture.
As a historic maker of bedroom furniture, Durham will contribute timeless and classic looks to your bedroom. They offer a range of styles from traditional to transitional, contemporary to casual traditional.
Pros
Occasionally, pieces and collections are discontinued, but for the most part, Durham keeps their furniture around for quite some time. What that means for you, is that you can take your time furnishing your bedroom, piece by piece, without the worry of going back to Durham years later only to find out that they no longer make a certain style.
The furniture's quality is echoed by the fact that people come back to Durham time and time again. Teresa, notes that quite a few of our clients at McElheran's will furnish one bedroom with Durham and come back shortly after to furnish their other suites under the Durham name. It's that craftsmanship and attention to detail that people want to have for themselves and share with others throughout their homes.
In comparison to other bedroom furniture makers, Durham Furniture does offer a relatively budget-friendly price point without compromising on quality. Durham's prices are quite reasonable for the product they put out.
Cons
Durham Furniture does put forth an effort to stay on top of trends, and you can see that in their Defined Distinction and Front Street collections, but by in large, you're not going to get ultra-modern looks from Durham – if that's your preference.
As with anything made from solid wood, you're always going to experience some shifting with your furniture. When it's well-made, properly dried in the manufacturing process, and built to withstand your climate, changes are negligible, but it is something to be aware of when you're bringing solid wood furniture into your home.
Who is Durham a good fit for?
Durham Furniture has collections that are contemporary, but as a historical furniture maker in Canada, their styling wheelhouse is more on the traditional end of the spectrum. What can we say? What Durham Furniture does, they do very well and if you're looking for a more conventional aesthetic, Durham can definitely bring those classic looks into your bedroom.
If supporting a Canadian company is important to you, then Durham Furniture is absolutely a worthwhile place to look for bedroom furniture. And the best part is: you won't just be doing it for the sake of supporting our economy, you'll also get a high-quality product from a well-established, reputable furniture maker.
TH Solid Wood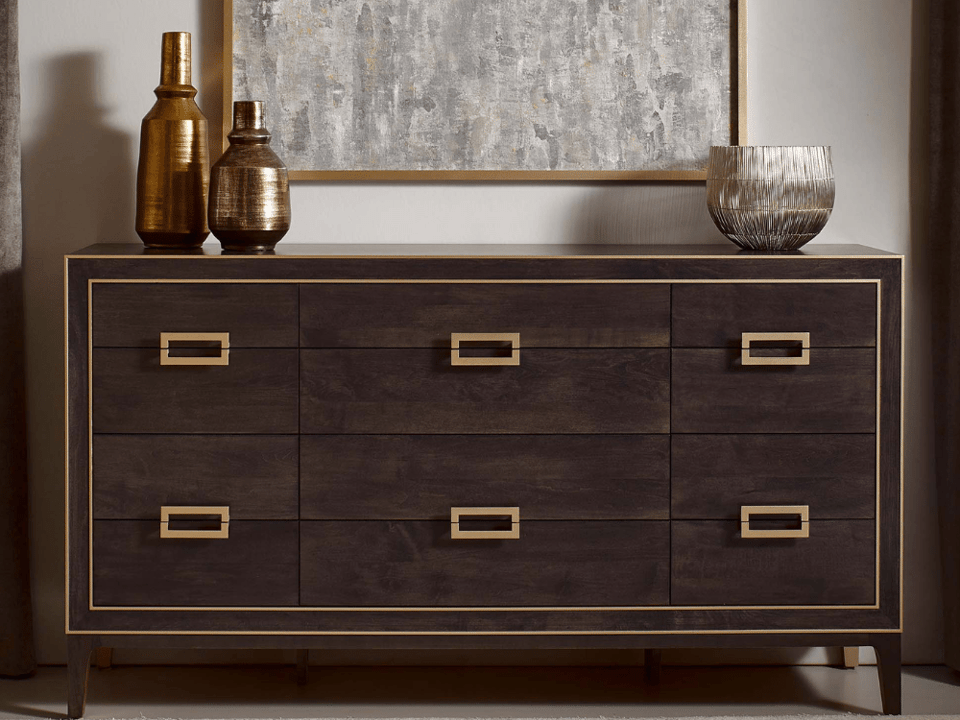 Another Canadian brand that specializes in solid wood makes it on the list!
TH Solid Wood's quality is on par with the best furniture makers in the market with a little bit of extra flare. According to Teresa, TH Solid Wood pushes the envelope with more updated and modern stylings of wooden furniture.
Pros
The company is extremely customer-centric, ready to customize almost anything to suit your needs and truly make your furniture your own.
TH Solid Wood is located and ships out of Surrey, British Columbia. So, if you're going through McElheran's Furniture + Design for your next TH Solid Wood purchase, logically speaking, shipping won't cost you as much since their factory is so close.
You're making an investment with bedroom furniture, and you want it to last. And if it can last generation after generation, even better! TH Solid Wood's products are meant to be heirloom pieces. The quality and craftsmanship that goes into every single piece of furniture should stand the test of time so you can enjoy it for years to come.
Cons
TH Solid Wood does offer a pretty good selection of wood, specializing in walnut and maple, but you may find that their selection of finishes is not as extensive as other manufacturers.
With any solid wood product, you're always going to experience some shifting with your furniture (with different seasons and changes in humidity). However, if it's well-made and manufactured to withstand your climate those shifts are minor, but it is something to be aware of when you're bringing solid wood furniture into your home.
Longer lead times are plaguing much of the furniture industry at the moment, and TH Solid Wood is no exception. Expect to wait a while for your furniture to come to your home.
Who is a good fit for TH Solid Wood?
If you've been searching for that special solid wood, heirloom quality piece for your bedroom, TH Solid Wood can provide you with that - especially if you'd like something with a bit of an updated twist.
For some, getting behind a Canadian company is of utmost importance. If that's you, then TH Solid Wood is a worthwhile manufacturer to look to for your next furniture purchase. TH Solid Wood is also a very reputable furniture maker, so you know you're getting a high-quality product, in addition to supporting a proud Canadian brand.
---
Related Articles: 5 Reasons to Buy Canadian-Made Solid Wood Furniture
---
Century Furniture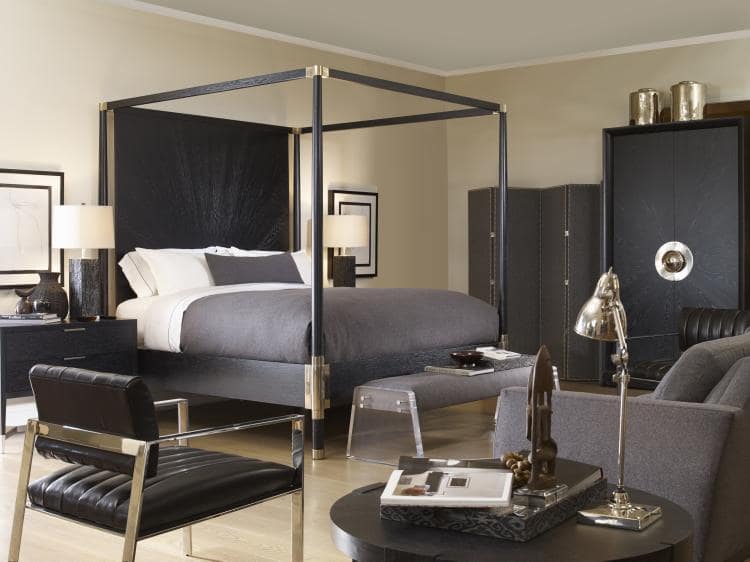 This company has been around since the late 1940s and offers an abundance of styles and finishes. Century Furniture has a history of working with world-renowned designers to create their visually appealing looks, without compromising comfort or quality. With Century, you're getting more variety in upholstery, finishes, and embellishments, specifically curated in a way that fits you and your bedroom.
Pros
Century Furniture offers a customizable program for your bed or headboard so you can really achieve the look you want. You can look at a variety of styles, like traditional or transitional, then add nail trim, tufting, and additional tailoring. There are also a variety of leg styles and headboard heights to choose from.
Expect an heirloom piece when you buy from Century Furniture. That's how good it is! Your new bed, dresser, nightstand, and any other bedroom furniture will last in your family for years – and generations – to come.
Century Furniture has taken the time to truly understand the importance of merging art and craftsmanship, as their furniture is more design-driven. These are "everything pieces," according to Teresa. Meaning, that you're not just getting a platform for your mattress, you're getting a beautifully made, well-thought-out art piece that just happens to support you and your mattress while you sleep.
They make furniture for every room in your home, so if you'd like to furnish your whole house under one brand, Century definitely has everything you need. And if you're trying to budget for that project, here are some tips on how to budget for furnishing your entire home.
Cons
Century Furniture is quite expensive, but the quality does justify it. And be prepared to wait a bit longer for your order to arrive as Century is experiencing pretty hefty lead times at the moment.
Specifically speaking to beds, Century Furniture has less of a range in sizes than other manufacturers, focusing mainly on queen and king-sized beds.
Who is Century Furniture a good fit for?
If you're looking for more out of your bedroom furniture – it needs to be stylish and functional – Century Furniture is a great option! Again, with the attention to detail that goes into every piece, you can truly transform your bedroom into a beautiful sanctuary.
If you're willing to pay the price and wait a while for your furniture, you will wind up with a piece that you absolutely love because you were able to customize almost every detail.
Bernhardt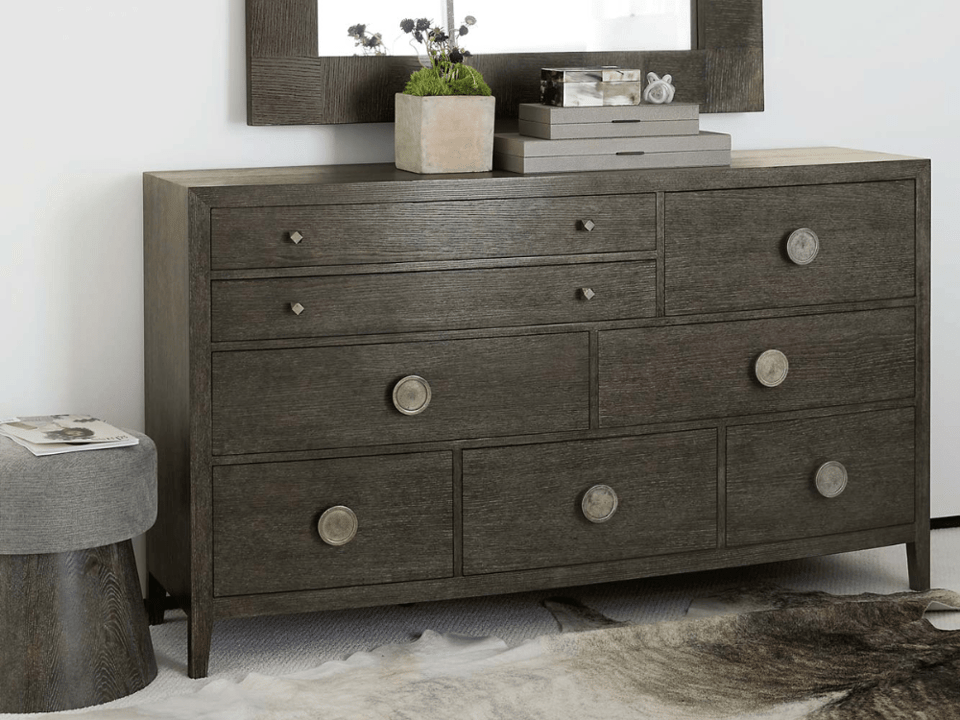 Bernhardt is one of the largest family-owned furniture companies in the US with a worldwide reputation as a fashion-forward brand with attainable prices. As a more design-influenced furniture line, you'll find a broad range of styles from Bernhardt, from somewhat traditional to ultra-modern.
Pros
Bernhardt products are always on the cutting edge of fashion and style for furniture. The different styles and colours of fabric complement each other very well and cover a lot of ground if you're looking for options.
In comparison to other high-end bedroom furniture brands, you're still getting quality with Bernhardt, but at a much more budget-friendly price. You can stretch your dollar and buy more when you furnish your bedroom with Bernhardt.
Many of Bernhardt's collections extend into every room of the home. So, you can create a very cohesive look and furnish your entire house under one collection.
Not with every style of bed, but with a few, you can find a broad range of sizes from twin, all the way to California king.
Extended lead times are currently plaguing much of the furniture industry, but if you go with Bernhardt, you'll likely get your furniture much faster than with other manufacturers. Bernhardt even offers an Express Ship program, where certain in-stock styles can be shipped even faster.
Cons
Bernhardt has a great selection of popular neutral fabrics that would work well in any bedroom, but if you're looking for something with a bit more pizazz, you don't have as many vibrant options in the way of colour. You're also pretty limited to the standard finishes that Bernhardt offers.
A pro of Bernhardt is its affordability, but when something is so attainable, you do stand a chance that your furniture may not be as unique.
Who is Bernhardt a good fit for?
Bernhardt is the perfect choice for your bedroom if you want fashion-forward style at a reasonable price. And as much as they do offer cutting-edge bedroom furniture, you can find some classic pieces, too.
And if you need your furniture sooner rather than later and that's a big deciding factor for you, Bernhardt may just be the best fit because of their faster lead times.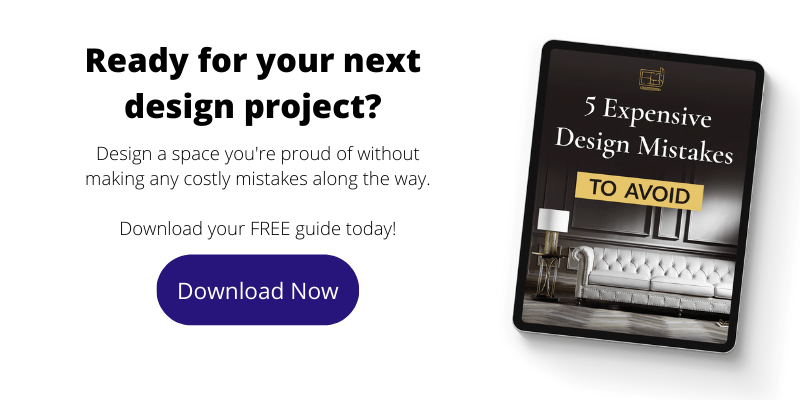 Are there any other high-end furniture brands worth checking out?
Oh yeah! Actually, there's two furniture companies in particular that we think are worth taking a look at. Now, McElheran's doesn't carry either of these brands, but in the interest of helping you make an informed decision on your next bedroom furniture purchase, we'd encourage you to consider Stickley and Baker Furniture. We admire both these brands for their high-quality, well-made furniture. And perhaps they may be a better fit for your bedroom based on their unique styling and construction.
At the end of the day, you're going to choose the best furniture brand that works for you. And just because you go with one manufacturer for a bed, doesn't mean you can't go with another for your dresser or nightstands. It's all about determining what features are a priority for you and which brands align with that.
McElheran's Furniture + Design not only offers you the highest quality with our products, but we also want to provide you with options so you can make an informed decision. And if you'd like to explore more furniture manufacturers to see what else is out there, feel free to browse our products.
And if you'd like to see and experience some of these furniture lines, visit our showroom in Edmonton today. Our Design Guides would be more than happy to take you through the different brands to find the exact pieces that will be a part of your bedroom for years to come.