How Much Should I Spend Furnishing My Master Bedroom?

Sasha Spencer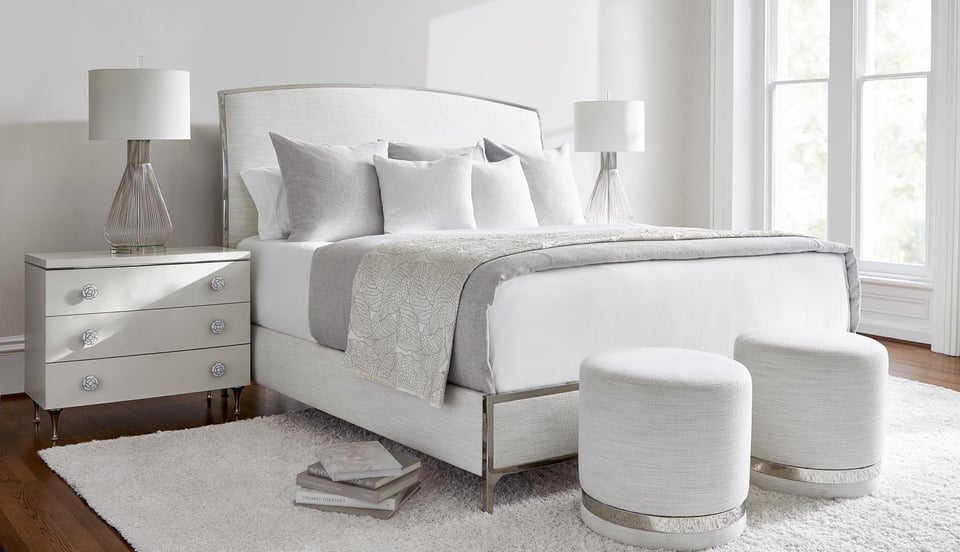 Your master bedroom, or primary bedroom, is your own personal oasis. It's important to invest in the appropriate furnishings that are going to help you feel comfortable and at peace. But since it's a place just for you, do you really need to spend a lot of time and money furnishing it – I mean, who else is going to see it, really?
First of all, investing in yourself and your comfort is never a bad thing. And yes, your primary suite definitely deserves the same care and attention that you would put into any other room in your home! But how much money are we talking about here?
If you're looking to furnish any room in your home, McElheran's Furniture + Design has been there to help you do just that since 1994! And if furnishing your master bedroom is what you're after, our in-house designers (Design Guides) have the expertise to point you in the right direction and get you the high-quality furnishings your need to create a beautiful sanctuary.
In this article, McElheran's owner, Jeff McElheran, and our Design Guides will tackle just how much you can expect to spend furnishing your primary bedroom. We'll break down the price of each piece of furniture, fill you in on the factors that affect the cost, and let you know where you should invest most of your money as you look to furnish your master suite.
How much does it cost to furnish a master bedroom?
There are definitely a few factors that affect the overall cost of furnishing any room in your home, including the master bedroom.
Can you do it on the cheap and only spend a couple thousand dollars? Sure!
Can you throw all your money at your master bedroom and spend upwards of $100,000?! Why not.
It's really up to you, but in the interest of giving you an idea or a starting point, furnishing a primary bedroom with high-quality pieces can cost you somewhere between $12,000 to $70,000.
A piece-by-piece breakdown of the cost of furnishing a master bedroom
Bed Frame: $1,900 - $10,000
Mattress: $4,000 - $30,000
Box spring/Foundation: $500 - $7,500
Nightstands: $800 - $3,000 each
Mirror: $500 - $2,500
Lamps: $250 - $1,500 each
Bedding and Pillows: $600 - $5,000
Chest/Dresser: $2,000 - $5,000
Accessories: $500 - $2,000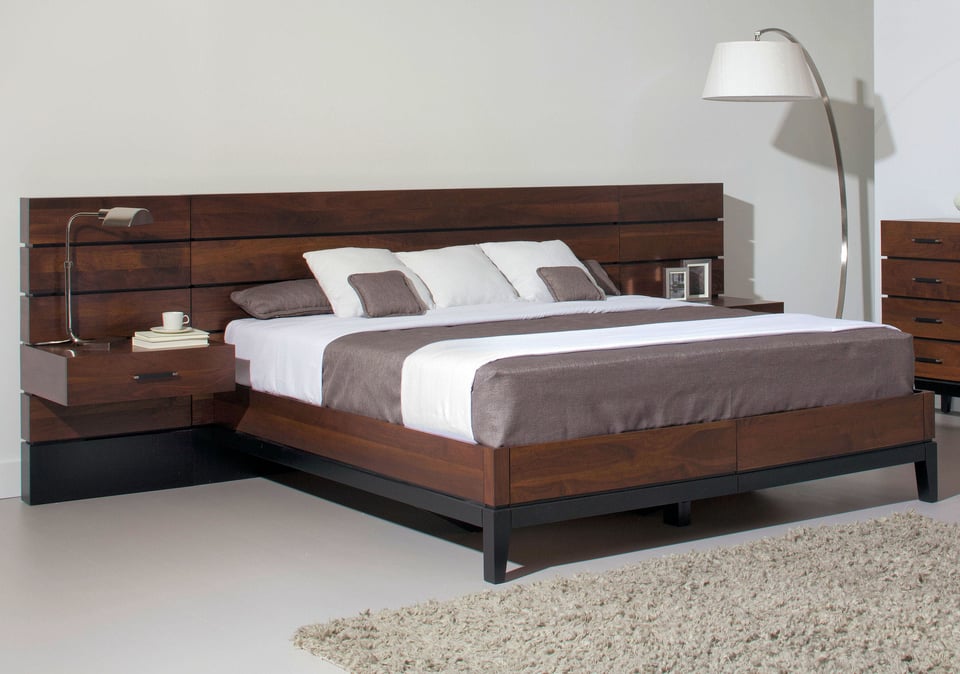 What factors affect the cost of furnishing my master bedroom?
Your master bedroom's budget can change based on a few different factors and there's certainly room for some flexibility, too. It just depends on the parts of the bedroom that are the most important to you and seeing if there are opportunities to stretch your budget.
The size of your mattress
The cost of the mattress itself will go up or down depending on the size, and then, there are a few other pieces that are at the mercy of your mattress' size, like the box spring and the bed itself.
And, if you're getting a bigger bed that will take up more space in your bedroom, you may not have as much room for additional furniture or décor.
Does the primary bedroom serve multiple functions?
The main function of your master bedroom is your sleeping quarters, but are you planning on doing anything else in there? Perhaps it's a late-night TV room, or you require a little nook for reading...then you probably need some additional furniture!
If you're planning on bringing in a chair or two or perhaps a bench, that will definitely increase the cost of furnishing your master suite. Just be aware that sometimes those extra chairs wind up as a dumping ground for unfolded laundry rather than an actual place to sit!
Or maybe you don't need much – you're happy with the basics of a bed and a couple of nightstands – that will free up some cash you can put into other projects in your home.
How much storage is built into the master suite?
A lot of newer homes include built-in storage in the master suite. Large walk-in closets with multiple shelving units have almost eliminated the need for you to buy extra storage pieces.
So, you may not have to spend as much money on furnishings that you don't need, like chests or dressers.
Existing pieces in the primary bedroom
The overall master bedroom budget of $12,000 - $70,000 is based on you starting from zero – no furniture, no bed, no accessories. However, if you already have a few pieces that you want to keep in your bedroom, that can drastically cut down on the overall furnishing costs.
Your flexibility on furnishings
Sometimes, when your heart is set on a very specific look, that can end up costing you more money, especially if customization is required. Customizing furniture, as opposed to buying it as shown, almost always comes with a bump in price because you're getting exactly what you want.
And if you're insistent on buying your bed or nightstands from a certain manufacturer, that could change the price, too! Reputable furniture companies, known for their high-quality products, will often come with a corresponding price tag.
Now, as with practically anything, there are more cost-effective options out there, but you may be compromising on quality just to find a lower price.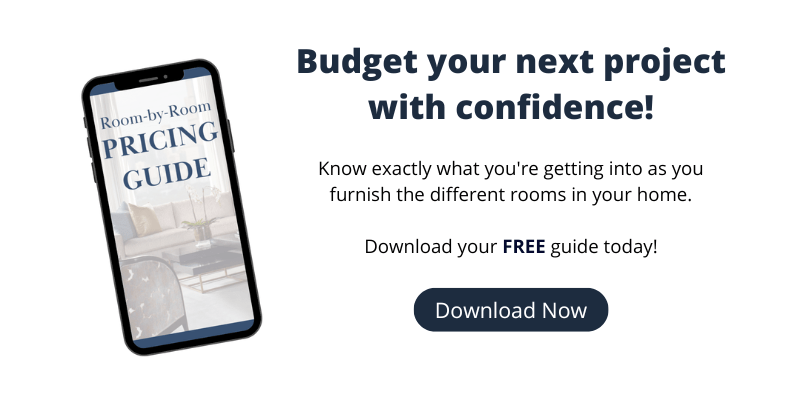 What should I spend the most money on in a master bedroom?
Most of your primary bedroom's budget - definitely over half of it - should be on your bed. I mean, it's right there in the name – bedroom. You're furnishing a room made for your bed.
And one of the most important features of a bed is comfort! We spend so much of our lives sleeping that a mattress and anything else that supports you throughout the night deserves special monetary attention.
Be prepared to put a decent chunk of change on the mattress, bed frame, pillows, and bedding.
Your mattress can really make or break a good night's rest, so make sure you're getting a good one! It's not just a matter of comfort, either - good sleep is good for your overall health!
The bed frame and box spring will provide further support to you and increase the life of your mattress. It's worth it to put some time and money into picking these pieces.
As for pillows, not all of your pillows have to be top tier in quality, but you should invest in the few that you rest your head on while sleeping.
And with bedding, good quality sheets can be a complete game-changer as far as comfort goes. But you know what? You can always save a little money on your alternate sets.
Where can I stretch my budget in the master bedroom?
Again, putting the bulk of your budget into the bed is the most important thing. Beyond that, there's definitely room for some flexibility in your budget! Check out Where to Spend and Save When Furnishing a Master Bedroom for some more ideas.
Now it's the fun part – shopping! Browse our bedroom collections to get some inspiration on what you'd like for your primary bedroom. And schedule a visit with one of our Design Guides for some guidance on working within your bedroom budget.