Dining Room Furniture: How Much Does It Cost?

Sasha Spencer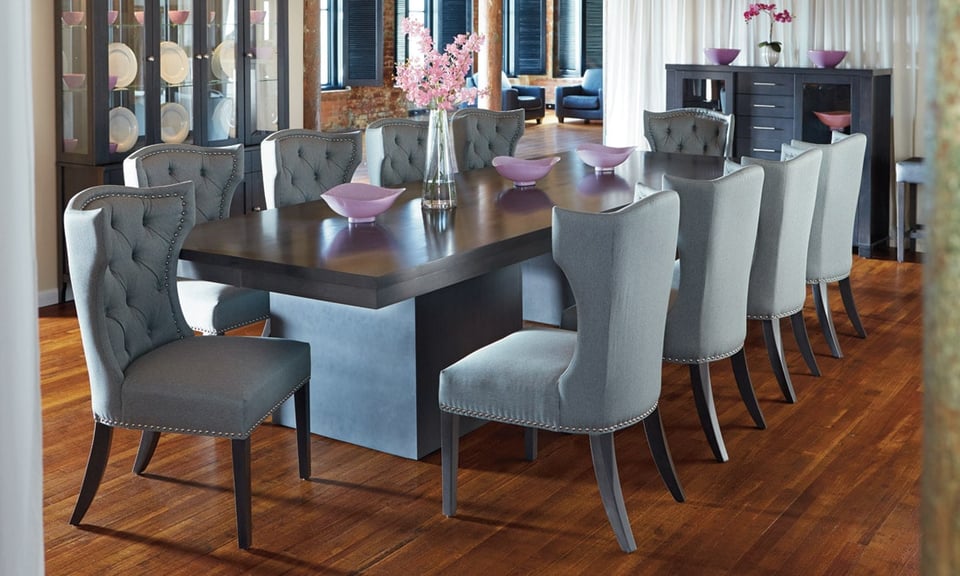 The dining room. The place where everyone comes together to enjoy a lovely meal and connect with one another. This is a spot in your home that deserves special attention. But when it comes to budget, how much attention are we talking?
The cost of a dining room seems pretty simple, I mean, it's a table with some chairs – easy! But if you're looking for high-quality pieces and a functional, well-thought-out dining room, there are a few more things to consider. And cost can be a tricky subject. Just how much money do you think you'll need to invest in this dining room?
Our in-house designers at McElheran's Furniture + Design are known as Design Guides. With over 60 years of combined experience, they've helped many customers figure out a budget and build a beautiful dining room from there. And with all that expertise, they certainly have the ability to give you an idea of how much money could go into furnishing your dining room.
In this article, our Design Guides will dive right into how much you should expect to spend. We'll break down the price of a dining room piece-by-piece, go over the factors that affect the cost, and suggest which furniture you should really invest in for your dining room. Plus, we'll touch on some added costs you should keep in mind.
That way, you'll have a full understanding of what to expect as you start pricing out your dining room.
How much does furnishing a dining room cost?
So, if we're looking at high-quality pieces with enough seating to host you and your loved ones, a reasonable budget for a dining room is between $8,000 and $50,000.
This budget will allow for a sturdy dining room table, six to eight high-quality chairs, a buffet or sideboard, and some accessories, like art or centrepieces.
A price breakdown of every piece of dining room furniture
Dining Table: $1,500 - $15,000
Dining Chairs: $600 - $2,500 each
Buffet/Sideboard: $2,500 - $10,000
Art & Accessories: $500 - $2,000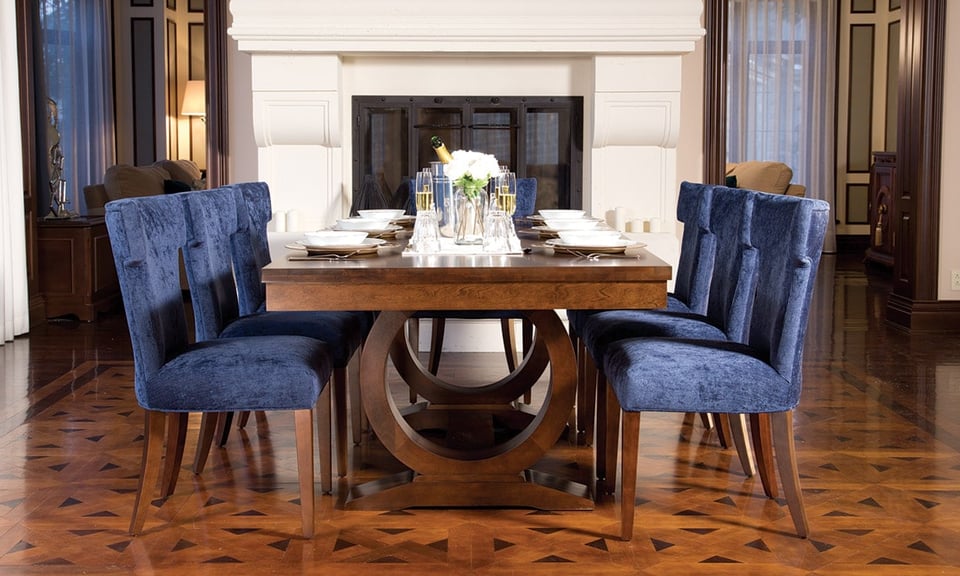 What are the factors that affect the cost of furnishing a dining room?
We should probably get the biggest factor out of the way first: Your home might not even have a dining room to furnish!
A lot of newer homes are more geared towards casual eating areas. Most meals are served at an island or an informal eating nook, just off the kitchen. This is in contrast to the traditionally separate room for formal dining.
And hey, if you don't have a dining room to furnish, you can either spend that money on another room in your home or save that money altogether!
Existing furniture
The $8,000 - $50,000 range for furnishing your dining room is based on the notion that you're starting from scratch. However, if you already have a table or are happy with your current chairs, you can save yourself from spending money on those pieces.
The number of seats required for the dining room
As previously mentioned, dining room tables generally seat six to eight people. But if you have a small family or know you'll regularly host a large number of people, that can drastically affect your budget.
The number of seats also affects the size of the table – if you're hosting a lot of people, you'll need a bigger table. And the bigger the table, the more expensive it will be to furnish your space.
Your flexibility on furnishings
If you are insistent on having a bold and unique colour on your upholstered chairs, for instance, that could end up costing you more. Not to say that you can't achieve the look you want, but certain specifications may increase the price, because of the extra manufacturing time needed for customization.
And if you're dead set on a certain furniture line, that could also bring up the price. Certain reputable furniture brands that you may like, often come with a price tag.
There's also the concept of mixing and matching your dining chairs. If you're comfortable with the idea, that could change the price of your dining room project. You could bring in different chairs with different styles to create a more eclectic look in your dining room. This option also saves you from having to spend a lot of money on six to eight chairs all at once.
The openness of the dining room
If your dining room is just off your kitchen or open to it, you may not need to invest in additional serving surfaces, like a buffet or sideboard. Instead, a kitchen island or counter can perform double duty and hold food and dishes for your dining room.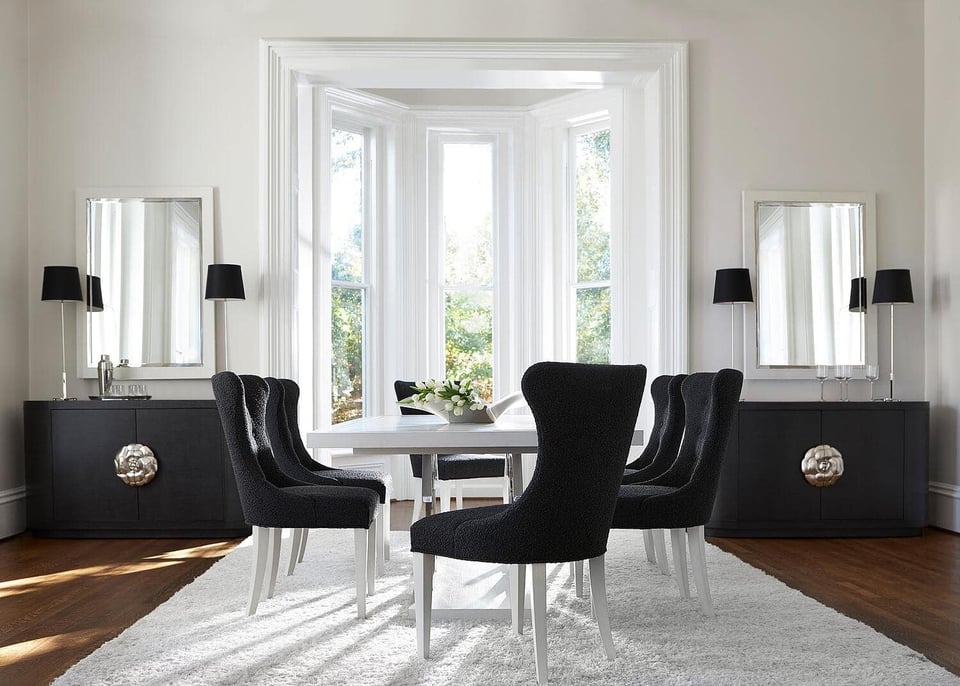 What furniture should I spend the most money on in a dining room?
As much as your dining table is the central piece of the dining room, the chairs are actually what you should really invest in.
As one of our Design Guides, Teresa, points out, "A table holds food, chairs hold you."
Not only should you invest more money into your dining chairs, but you should also take a bit more time selecting the best fit. No one wants to be uncomfortable when they're sitting down for a meal, right? Take that time to ensure comfort and quality in your dining chairs.
Another thing about dining chairs that can sometimes cause a little sticker shock, is the fact that you're usually buying multiples. At $600 - $2,500 per chair, when you're getting six to eight, that can add up quickly!
Your dining room table is also pretty important and deserves some budgetary attention. Then, you can work on the other complementary pieces of a dining room, like the buffet or sideboard.
For those finishing touches and to really bring a look together, you can then add accessories like art, décor, and a centrepiece for your table.
What else could affect the cost of my dining room?
We'd hate for you to walk away from this article without feeling completely confident that you know exactly what you're getting into when pricing out your dining room. So, here are some additional costs that may or may not occur, but it's good to be aware of them so you're not surprised.
Taxes

Shipping and delivery
Customization of furnishings

Furniture protection plans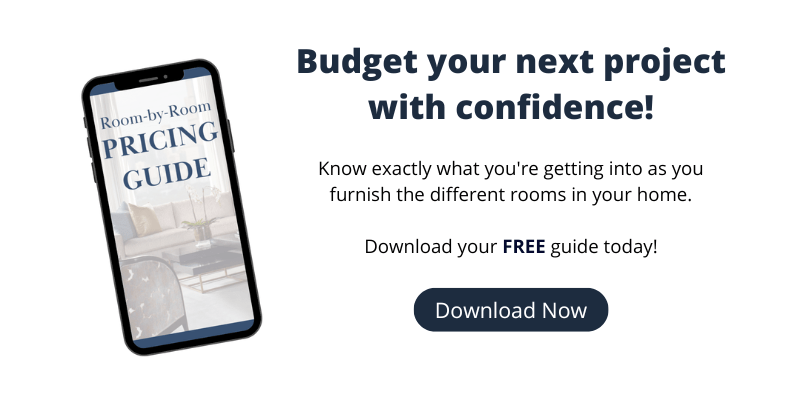 How much should furnishing my dining room cost in comparison to the rest of my home?
Great question. If you're furnishing your entire home, you're probably a bit more strict on exactly how much you're going to spend on each room – that's just good planning right there.
Check out How to Budget for Furnishing My Entire Home to see how your dining room's budget stacks up to the rest of the home.
Our Design Guides would be more than happy to help you achieve the dining room that you've always wanted, no matter your budget! And now, you at least have a clear understanding of what you're getting into.
Check out McElheran's Furniture + Design's dining room collections for inspiration and if you're in the Edmonton area, schedule a visit to get started on furnishing your dining room!