How Much Will it Cost to Furnish My Living Room?

Sasha Spencer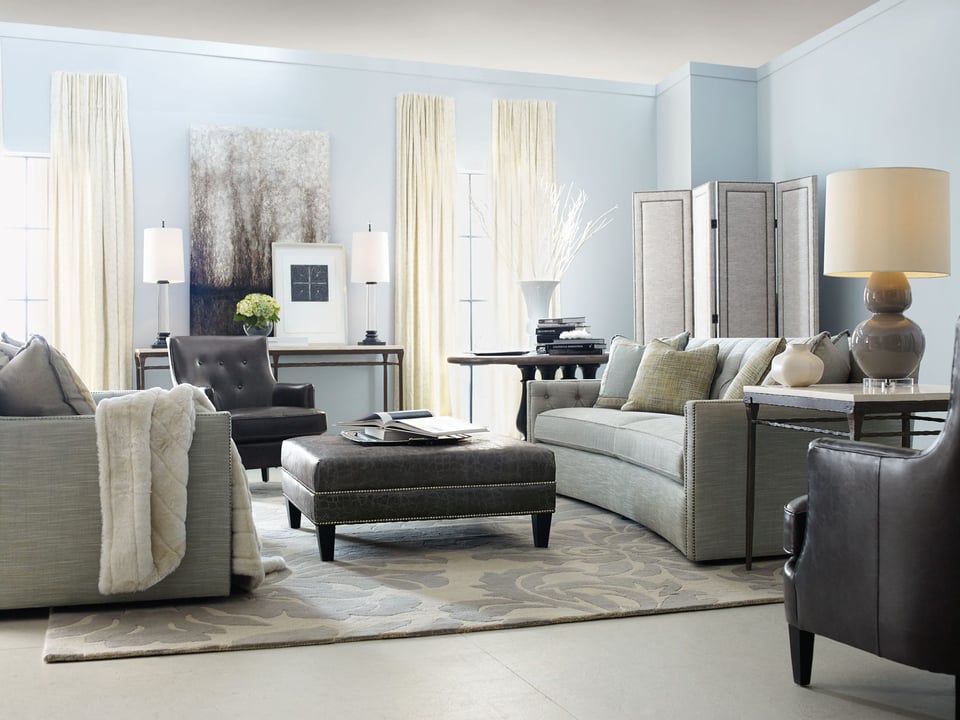 The living room is one of the most important rooms in the home. It's central – it's where you and your loved ones gather, whether it's a casual place to sit or a more formal room for entertaining. And as such a big part of your home, do you need to spend a fortune on furnishing it?
We all need to take cost into account before we start any project, but it's hard to get going when you have no idea what to expect!
We hear you at McElheran's Furniture + Design. Budget is a big concern for most, if not all, the customers that have come through our doors since 1994. Our in-house designers, known as Design Guides, are here to – not just guide your design project – but work within a budget that's appropriate for you.
Our Design Guides have the expertise to create beautiful spaces on any budget. And, with over 60 years of combined experience, they've also furnished enough living rooms to have a pretty good idea of a reasonable price range.
In this article, our Design Guides will lay out some basic pricing information for furnishing your living room. We'll cover how much the whole living room should cost, the price of items piece-by-piece, what factors affect the cost, what items you should put most of your budget into, and we'll go into some additional costs, too! Just so you're completely covered when you decide to start furnishing your living room.
Let's get this tricky question out of the way first!
How much will it cost to furnish my living room?
Of course, this can vary greatly (and we'll get into those variables in a second), but in the interest of giving you an idea, a living room budget should be between $9,000 and $60,000. That's if you're looking for high-quality, well-made pieces.
Now, can you furnish your living room with the necessities for $5,000? Absolutely.
Can you go way over that range and spend $100,000? 100%
But if you're looking for a practical, realistic price range, you can achieve a beautifully inspired living room in that $9,000 to $60,000 area.
What pieces do I need for a living room?
 A living room usually consists of a main piece of furniture to sit on, like a sofa or sectional. Then one or two chairs, a coffee table, a couple of end tables, and some form of lighting. Those are your most basic pieces.
There is room for some "add-ons," for sure, like an area rug, additional surfaces (sofa table or console), art, and accessories.
Browse McElheran's living room collections to get a better idea of what you may need to fill your space.
A price breakdown of living room furniture
Sofa/Sectional: $3,000 – $10,000
Chair: $1,000 – $4,000 each
Rug: $800 - $10,000
TV Stand/Console/Sofa Table: $1,000 - $5,000
Lighting/Lamps: $250 - $1,500 each
End Tables: $500 – $4,000 each
Coffee/Cocktail Table: $900 - $4,500
Art and Accessories: $500 - $2,000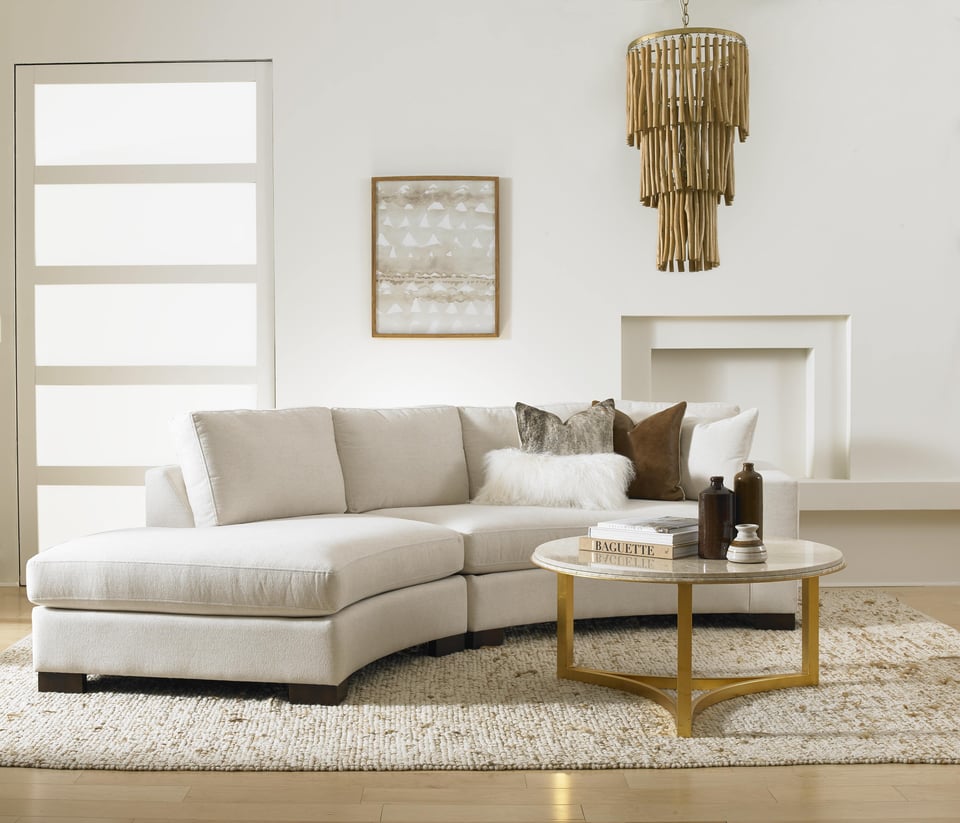 What are the factors that affect the cost of furnishing a living room?
As we mentioned, there are plenty of variables when it comes to the cost of furnishing a living room, so, let's take a look at what can affect these price points!
Existing furniture
The suggestion of furnishing your living room for $9,000 to $60,000 is based on the idea that you have no existing furniture.
But, say, you already have a sofa that you're happy with or at least okay with keeping, for now. That will drastically bring down the cost of furnishing the rest of your living room.
The size of the living room
Quite simply, you may not have to spend as much money if your room is pretty small. A compact apartment sofa, single chair, and coffee table may suffice in your space.
That doesn't mean that you have to fill every inch of a larger room, either, but you could invest in some more pieces to cut down on negative space and give guests more seating options.
The number of seats needed
If you have a large family or a lot of guests coming in and out of your living room, you should think about additional seating. The more seating your room requires, the more furniture you need; therefore, the higher the price.
How much do you want to accessorize?
If you're a minimalist and content with only having the bare essentials and maybe a single piece of art, you really don't need to spend much on accessories, which can cut down on the overall cost of your living room.
But if you like to express your style through pattern, texture, and décor – and that's your priority – you may have to stretch out that part of your budget or take it out of another project!
Your flexibility on furnishings
If you are insistent on having a unique finish on a coffee table, for instance, that could end up costing you more. Not to say that you can't get the pieces you want, but certain specifications may increase the price, due to the time incurred for customization.
And if you're dead set on a certain furniture line, that could also bring up the price. There are plenty of reputable brands of furniture out there – ones that come with a price tag – and others that are more cost-effective.
The function of the living room
The concept of living rooms has evolved over the years and the function of this space is usually dependent on the size and layout of your home. Some houses have a few "living room type" spaces that range from a casual TV room to a more formal space for occasional entertainment.
If the main function of the living space you're furnishing is to gather around a TV, you should probably add room in your budget for a TV stand or console.
It's not uncommon, either, for a home to only have one living space, which means that the room likely serves a few different purposes. In this case, you're asking a lot out of your furniture and are probably using it on a daily basis. Furniture that is used often needs to be well-made and durable to better serve you and those in your home.
On the other hand, if you're designing a room that is rarely used, you may not have to spend as much money making sure the furnishings are built to last.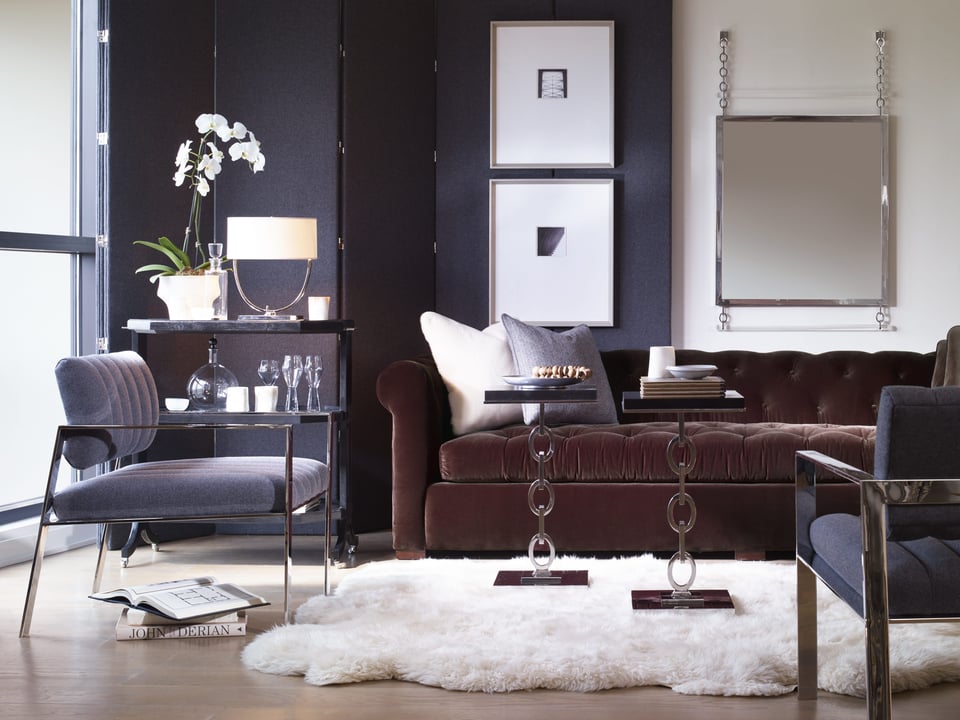 What furniture should I expect to spend the most money on in my living room?
The most important elements of your living room are where you should spend the most money. This is where quality really counts!
The bulk of your budget should go into your main seating – your sofa or sectional. This is the piece of furniture that is going to support you day in and day out. Plus, a sofa or sectional is likely going to take up the most physical space in a room, so it makes sense that it will cost more than an occasional table or a lamp.
Beyond your main seating, it pays to have a functional coffee table. We all need somewhere to put our feet up or rest a glass. A coffee table can help to ground the living room as well, making it look more complete.
Secondary seating, additional surfaces, lamps, and accessories – those are all important, too, but don't require as much of your budget. And, if you'd like to spread out your projects over time so you're not spending a bunch of money at once, those are also items that can wait.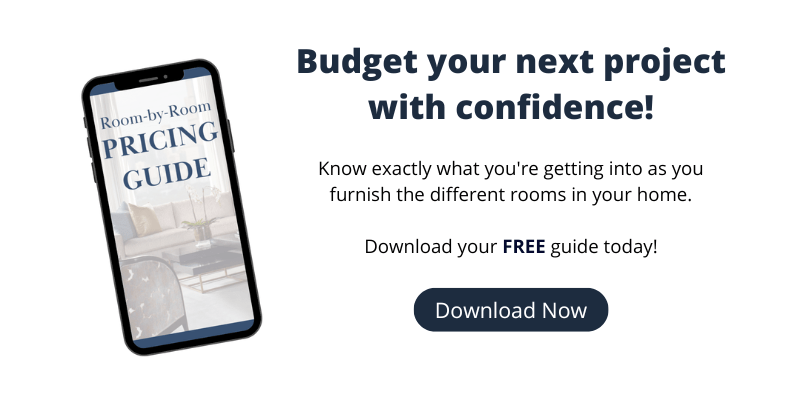 What else could affect the cost of my living room?
If you're on a pretty tight budget, it helps to know exactly what you're paying for. Some extra costs that you should take into account are:
Taxes

Customization of furniture
Shipping and delivery

Furniture protection plans
Not all of those costs will necessarily come into play. For instance, you don't HAVE to get a furniture protection plan. If you're on the fence, check out Is the Guardsman Furniture Protection Plan Right For Me?
And if you're in the Edmonton area and you want to get started on furnishing your living room – now that you have an idea of how much it will cost – schedule a visit with one of our Design Guides! They'd be happy to meet with you, work out a budget, and get you those perfect pieces that will bring your living room to life.