About Sherrill Furniture

Sasha Spencer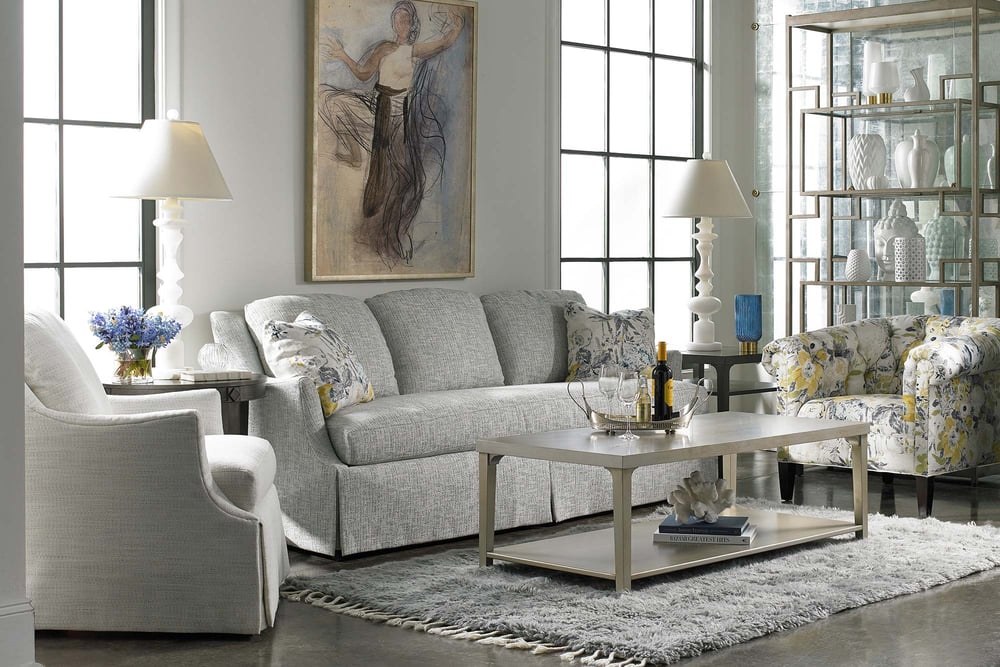 Sherrill Furniture is a long-standing company, with quite the reputation as one of the leaders in the luxury furniture industry. There's no doubt that a company that's been around for this long must be doing something right, but are you going to find the right furniture for you and your lifestyle with Sherrill?
That's the big question, isn't it?
Sherrill Furniture was actually one of the first brands that we brought in when McElheran's Furniture + Design opened in 1994. And we still carry Sherrill to this day. Why? Well, our clients – that are just like you, looking for well-made, comfortable furniture – continue to look to Sherrill for the best in high-quality furnishings.
And we recognize that Sherrill Furniture may not be the right fit for everyone. That's why there are plenty of other great options available! At least now you're well on your way to finding out which brand of furniture will work for you.
In this article, our Design Guides, and McElheran's owner, Jeff McElheran, will take you through this illustrious brand of furniture. We've got a lot to look at here, like:
Once you assess all of that, you'll have a better understanding of what Sherrill Furniture is all about! And if it really is the company that will help you achieve that timeless look you desire.
We'll start off with a quick overview here:
A brief history of Sherrill Furniture
Sherrill Furniture was founded in 1945 in Hickory, North Carolina, where its operations are still based today.
As an industry leader in home furnishings, Sherrill is dedicated to giving you well-built, long-lasting furniture at the highest standard of quality.
Which brings us to the founder of Sherrill Furniture, Buddy Sherrill. Buddy just has a knack for knowing what it takes to make a comfortable piece of furniture. And that passion, attention to detail, and hands-on approach have trickled down into all aspects of the company.
Sherrill Furniture's mission has always been "to be recognized by our customers as the leader in premium home furnishings by exceeding their expectations for excellence in quality, fashion, innovation, and service."
Throughout the years, Sherrill Furniture has branched out into seven other complementary brands, like Hickory White, MotionCraft, and Lillian August. See all seven here.
What sets Sherrill Furniture apart from other furniture companies?
Plain and simple, a lot of Sherrill's designs and styles have stood the test of time. Which also comes down to the overall quality. These styles are timeless because the furniture is built to last.
One of our Design Guides, Shelley, notes that she's had numerous clients come into McElheran's that have owned sofas from Sherrill for upwards of 25 years. They're usually so impressed with the structure of it, they just want their sofas reupholstered.
The quality you're getting with Sherrill Furniture is superior. They construct their sofas with the 8-way hand tie method to ensure your furniture sits well and holds its shape for years to come. Additionally, each and every frame is precisely cut and hand-assembled by specialized technicians who've spent years perfecting their craft.
Sherrill Furniture represents the epitome of customization in high-end furniture. It's really a line that was made for people that want to make their furniture their own – right down to the smallest of details.
For starters, Sherrill Furniture has one of the largest selections of fabric in the industry. They have 1200-1400 fabrics to choose from – from basic neutrals to rich and vibrant colours - even prints.
Different programs allow you to choose your preferred seat depth, nailhead trims, the finish on the furniture's legs – and everything in between. Sherrill Furniture gives you these options so you can create a perfectly curated piece that meets your needs stylistically, functionally, and comfortably.
And speaking of comfort, Jeff McElheran says, "One of the biggest things we hear from our clients is that everything sits really well. Sherrill just does a really good job of engineering comfort."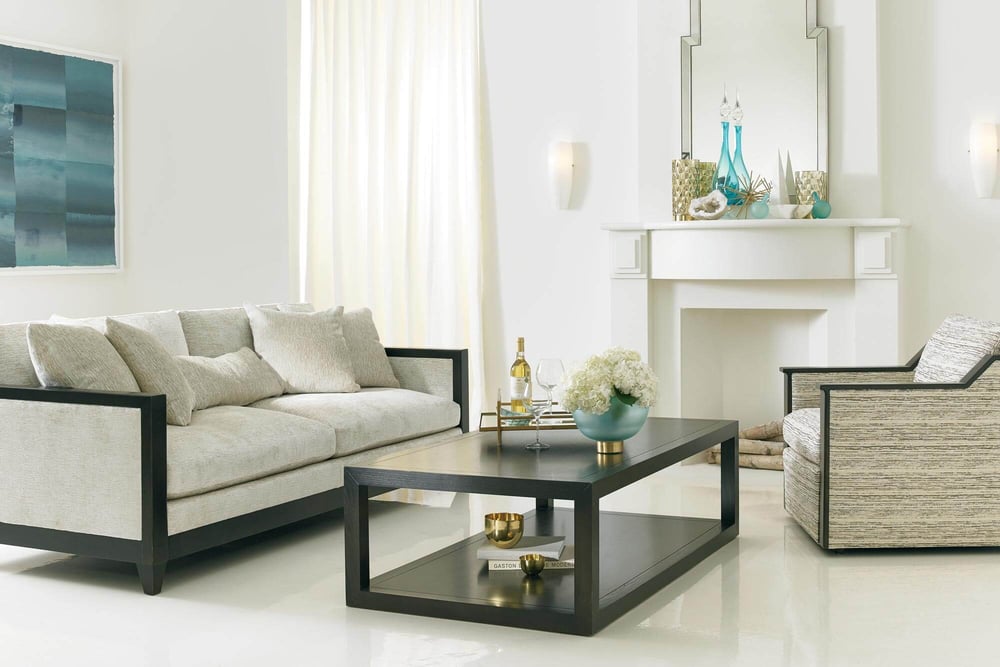 Sherrill Furniture's price points
Sherrill Furniture has seven other complementary brands, so if you're looking for accent and occasional furnishings, that can be found under the CTH Sherrill Occasional division. Leather furniture? Whittemore Sherrill.
Actually, on that note, we do see a bit of crossover between Sherrill Furniture and Whittemore Sherrill, but for the most part, you'll get your soft furnishings (like sofas and chairs) with fabric through Sherrill Furniture.
So, for a better idea of cost, here are some price points on Sherrill Furniture's main pieces. Again, these would all be upholstered in fabric.
Sofa: $3,800+
Sectional: $7,500+
Chair: $2,000+
Warranty information for Sherrill Furniture
Before we get into warranty, you should know about the intense inspection process that each piece of Sherrill Furniture goes through. During manufacturing, inspectors check the frame, fabric, sewing, and upholstery. Then, there is a final inspection prior to shipping to ensure the very best in quality.
Interestingly enough, Sherrill Furniture doesn't provide any written warranties. And that comes back to their philosophy. They stand by their products and if you're not completely satisfied with your furniture, they'll do their best to rectify the situation.
Here at McElheran's Furniture + Design, we can tell you we just don't have a lot of problems with Sherrill – and neither do our clients
Where are Sherrill Furniture products made?
Sherrill Furniture is 100% American-made. All of Sherrill Furniture's pieces are manufactured in their factories located in Hickory, North Carolina.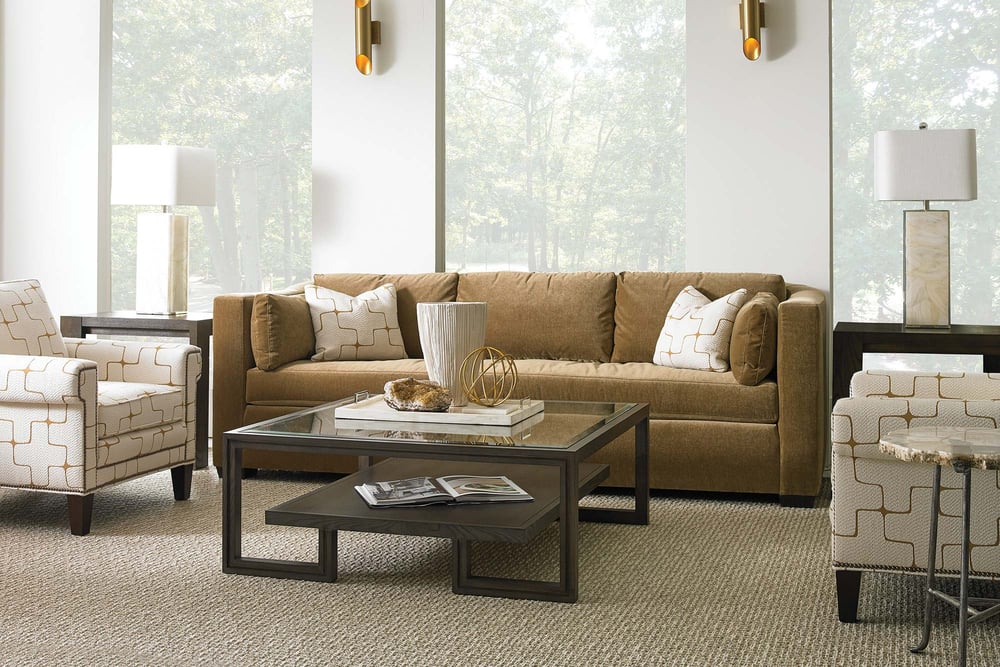 Who is a good fit for Sherrill Furniture?
If you like a wide selection - oh yeah - Sherrill is definitely the furniture line for you.
You have plenty of options for fabric, finishes, seating arrangements, detailing, arms, legs, back heights – you even have different options for cushion inserts. Customizing something from Sherrill is almost entirely up to you and what you envision as your ideal piece of furniture.
If you're getting tired of replacing your furniture every couple of years – you don't have to do that with Sherrill Furniture because these pieces are built to last. So, if you're ready for a real commitment with furniture, Sherrill is perfect for you.
Generally speaking, Sherrill Furniture's sofas, sectionals, and chairs are a bit smaller in scale. So, if you're living in a tight space – or perhaps you are smaller in stature - Sherrill Furniture is a great fit.
Also, what Sherrill Furniture does, they do very well. And that's why their pieces are so timeless! For classic furniture that airs more on the traditional side, you can find that with Sherrill.
Who is not a good fit for Sherrill Furniture?
From a customization standpoint, the world is really your oyster with Sherrill Furniture. Which, of course, is a great thing! However, if you're someone that wants your furniture to be a little more 'turn-key' with fewer decisions to make, Sherrill Furniture may not be the best fit for you.
Sherrill does offer some updated looks, but if you are looking for a piece that's ultra-modern and fashion-forward, Sherrill wouldn't be the best choice. Sherrill Furniture's style tends to lean more traditional and transitional. (Because why mess with a good thing, right?)
How much will it cost to furnish my living room with Sherrill Furniture?
If it looks like Sherrill is the right furniture line for you, that's great! As a company that specializes in fabric soft furnishings (like sofas, sectionals, and chairs), you can certainly make a pretty good dent in furnishing your living room under the Sherrill name! Check out How Much Will It Cost to Furnish My Living Room to find out more about the costs involved.
And if you're in the Edmonton area, schedule a visit to McElheran's! Our Design Guides would love to assist you in finding and customizing that perfect piece from Sherrill Furniture.