Downsizing: 6 Tips for Finding Out What Furniture to Take to Your Smaller Home

Sasha Spencer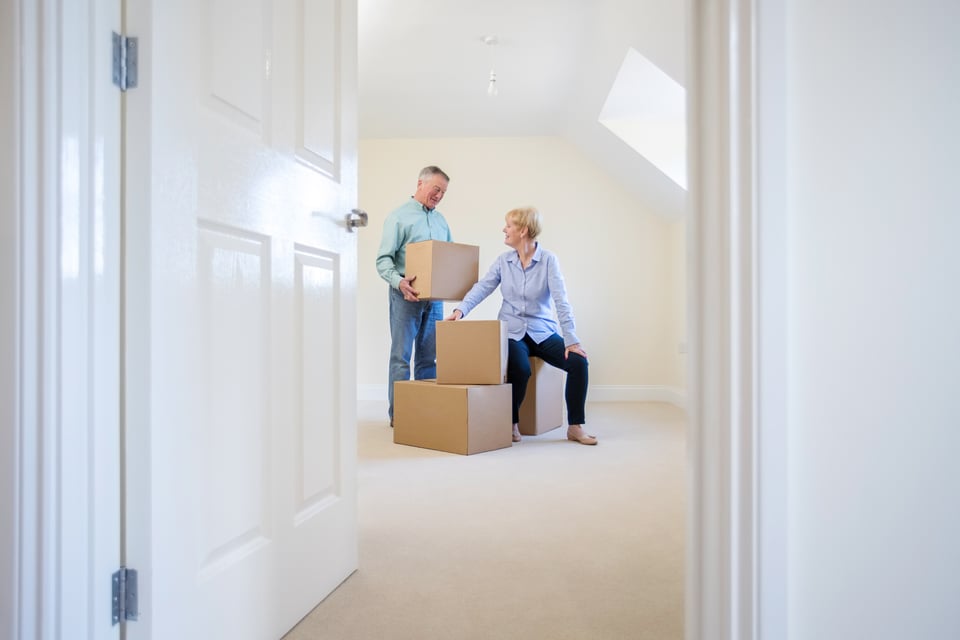 The time has come for you to downsize your home. Whether you've recently become an empty nester, you're branching off into your own place, or you've realized you just don't need all the space in your current home, downsizing can be quite the undertaking!
Over the years in your current home, you've built a space that works for you. All the furniture has a place and the décor ties everything together. It's perfect! But now you have to whittle down your belongings. That doesn't mean you have to sacrifice style – no way – but you're most likely going to have to get rid of a few things. And where should you even start?!
At McElheran's Furniture + Design, our in-house designers are known as Design Guides. With over 60 years of combined design experience, they've definitely seen their fair share of downsizing projects. No two situations are the same, and there are certainly varying degrees of downsizing, but the knowledge and expertise of our Design Guides have helped many customers find the solution to "what stays and what goes."
Our Design Guides have come up with six downsizing tips and we'll share those in the article. We'll also touch on the rooms that are affected the most during a downsize – which should help you determine which furniture you could probably do without in your smaller home.
What rooms are affected the most when downsizing?
There isn't a one-size-fits-all model of downsizing. Downsizing could be anything from giving up some square footage, to basically cutting the number of rooms you have in half! There are some rooms that are more affected by downsizing, and because of that, the furniture in them is a little more expendable – from a functionality standpoint.
Dining room
More specifically, formal dining rooms are one of the first things you lose when you're looking at a smaller home. And, quite frankly, newer builds have even started to move away from dining rooms. Our dining areas have become more casual settings closely connected to the kitchen, like islands or eating nooks.
With that considered, getting rid of your dining room furniture is a logical option, especially the oversized and outdated pieces, like a China cabinet. And you may not have the space or, really, the use for a long dining table, a large number of chairs, a buffet, or a hutch.
Extra living spaces
In your smaller home, you'll probably still have a living room, but you may not have extra ones in the form of a basement, bonus room, or a room above the garage. You could mix and match some furniture from all your living areas, but you'll likely find that you won't need as many sofas, sectionals, chairs, or coffee tables.
Secondary bedrooms
Downsizing, for some, could result in cutting the number of bedrooms in half! On top of that, your rooms, particularly the master suite, may be much smaller than you're used to.
This is an opportunity to clear out some bedroom furniture that you no longer need, like beds, mattresses, box springs, nightstands, and dressers.
You may also find that your secondary bedroom(s) in your new, smaller home will serve you better as a flex room that doubles as an office space, a storage room, or a sewing/crafts room.
Downsizing tip #1 -
See it as an opportunity and not a loss
A very normal, human reaction when it comes to downsizing is sadness. I mean, you're preparing to get rid of items that have been a part of your home for, potentially, many years. And you're moving onto a new chapter of your life with a new home and that's bound to evoke some emotion.
But something wonderful about downsizing is that it's an opportunity to start fresh, declutter, play around with new designs, and refine your style!
And you'll find with a smaller space that you'll end up getting furniture that you really like, as opposed to just buying something to fill the big, empty rooms that you might have in a bigger home.
Downsizing tip #2 - Use space planning to map out your new home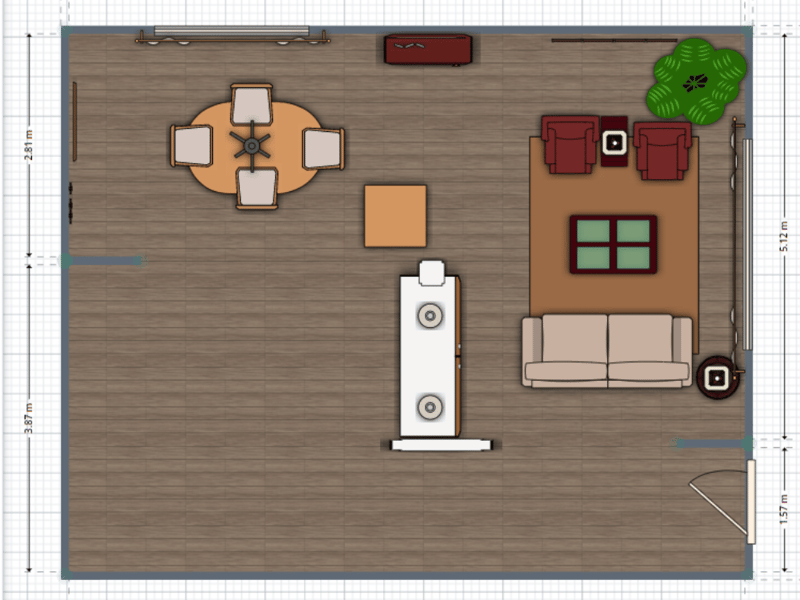 When you're tackling any kind of project, it's always good to have a plan – or at least a general outline of what you're getting yourself into. And space planning allows you to visualize your new space, take stock of what you currently have, and determine what pieces will be the most functional in your home.
And, because you're moving into a smaller place, you can play with different layouts to see which furniture simply cannot fit.
You can either draw out a rough sketch of your new place, taking note of doorways and other architectural elements, or use a design program like Planner 5D.
---
Related Articles:
Space Planning: The 3 Most Common Mistakes
Bedroom Space Planning: 5 Things to Consider for Your Bedroom Layout
---
Downsizing tip #3 – Make sure your furniture is durable
Think about your current, larger home. Are there any rooms that you don't use very often - you might even go days or weeks before you set foot in them?
When you downsize, a higher ratio of your home will be used more frequently. Basically, almost every room in your home will be a high-traffic area.
You want your furniture to be able to last and accommodate everyone that may be coming in and out of your home. So, if you're torn between a couple of sofas you already own, opt for the more functional and durable piece, as opposed to the lower quality, showy sofa that's been sitting in a room that no one used for the last decade.
However, if that sofa doesn't have a lot of wear and you really like it, this may be your opportunity to bring it to the forefront and show it off.
Downsizing tip #4 – Look for multi-use and compactable furniture
To build off the previous downsizing tip, when you're moving into a smaller area, you're asking more out of your furniture.
Perhaps in your larger home, your sofa table was just a decorative piece that went behind your sofa. In a smaller home with fewer surfaces, that sofa table could easily be a breakfast bar, desk, or console table – depending on the time of day! It's best to give yourself options with your furniture in smaller spaces.
Sleeper sofas, benches, and ottomans can be multi-functional, too. They can all be maneuvered to offer sleeping areas, more seating, or storage.
Compactable furniture, like nesting tables, tables with leaves, and murphy beds allow you to tuck away certain pieces when they're not needed, or when you need more space.
Downsizing tip #5 – Look for pieces that offer extra storage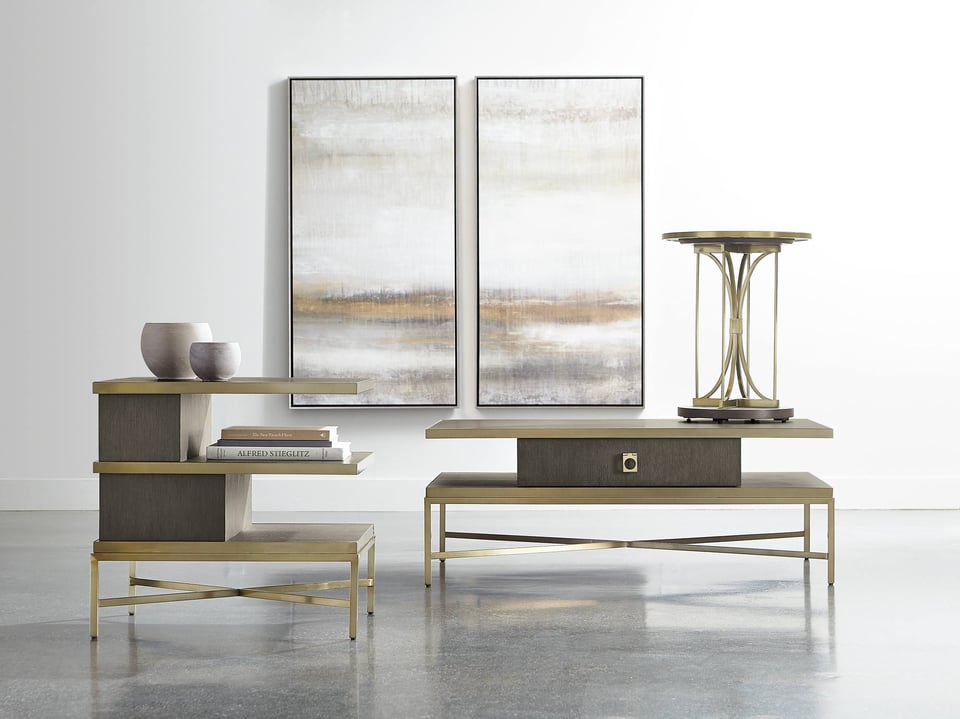 Something to keep in mind when you're downsizing … there's a pretty good chance that you're downsizing in storage space, too. Luckily, there's a lot of furniture available that can give you the storage you may be losing out on.
For instance, end tables. What do your current end tables look like - are they essentially just a leg with a small surface? That's an opportunity for more storage. Look for end tables with extra shelving, drawers, or doors.
You can also find platform beds with drawers, multi-tiered coffee tables, and storage benches and ottomans.
Downsizing tip #6 – Decide what to do with the furniture you're not keeping
One of the most daunting things about downsizing is figuring out what to do with your "leftover" furniture! If you know that it's not going to fit in your new home or you just don't want that furniture, some of your options are:
Giving it to family and friends
Putting it in a storage unit
Selling it privately (Kijiji, Facebook Marketplace)
Bringing it to a consignment store
Selling your home furnished or partially furnished and leaving the furniture
Donating it to a not-for-profit organization, like Find
How should I furnish my downsized home?
As we mentioned in downsizing tip #1, a new home does offer you the opportunity to find or refine your style. Of course, you can take some of your furniture with you, but if you'd like a relatively fresh start and you're looking for some inspiration, check out The Top Home Design Trends for 2022.
Our Design Guides are here to assist you with your furniture selections, as well. And they're also here to guide you with a space plan, which could really come in handy as you prepare to downsize. Schedule a visit or if you're in the Edmonton area, drop by our showroom to chat with one of our Design Guides today.