The Top Home Design Trends in 2022

Sasha Spencer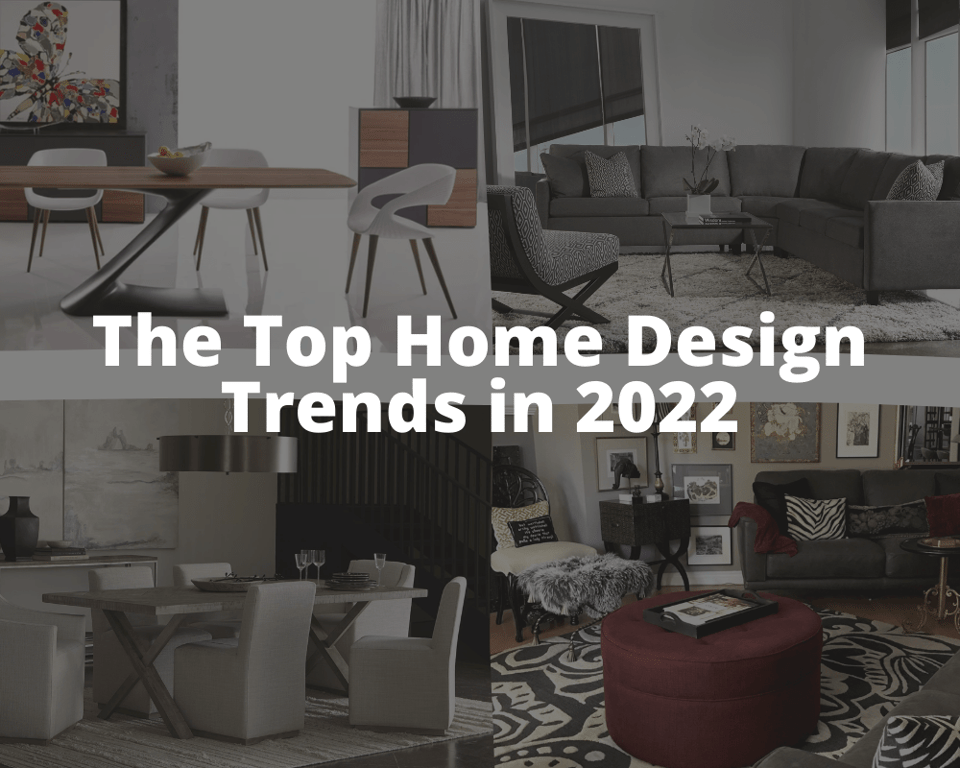 You've been to countless furniture stores, you've looked at all sorts of interior design styles on Pinterest, and you're still not exactly sure what you want in your home.
I mean, there are a lot of design styles out there – and a million different takes on each one! You might just need a place to start. Just an idea of what to do to get the ball rolling on your upcoming design project.
You know what? Sometimes knowing what's trendy is a good place to start.
It doesn't mean that you're not unique and you're not going to add your own personal variations, but it can certainly offer a launching pad for some really inspirational designs.
At McElheran's Furniture + Design, we've been helping our customers find their personal style since 1994. Our goal is for you to be able to express yourself and feel right at home with whatever furniture and styling you choose.
Our in-house designers, Design Guides, have worked in design for over 60 years combined. They are committed to staying up to date with what people want so they can help you find your inspiration along the way.
One of our Design Guides, Shelley, will go over the popular design styles she's seeing in 2022 and the inspirations behind these trendy looks. Plus, we'll throw in some common elements of each, so you know what to look for if you like what you see!
Home Design Trends for 2022
What is farmhouse style?
With a rustic charm, farmhouse style is practical, clean, and inviting. The simplicity lends itself to a more modern and stylish look, while the repurposed agriculturally inspired elements create a cozy and lived-in atmosphere.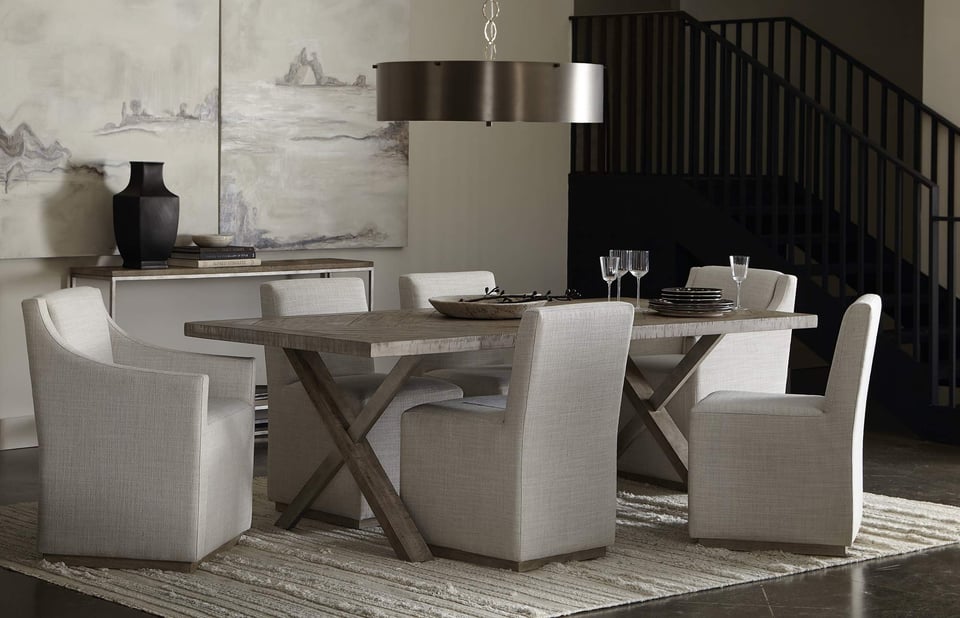 The inspiration behind the farmhouse style
Known for incorporating a comfortable and homey feel into any look, HGTV's Joanna Gaines has made quite an impact in the design world with her farmhouse inspirations. Taking cues from rustic, industrial, and vintage styles, Joanna Gaines brought the farmhouse aesthetic to the forefront in recent years. And, due to its timeless elements, it looks like it's here to stay.
Why we love the farmhouse design style
The farmhouse look gives off a cozy and lived-in vibe. The distressed wood and natural elements display a casual and soft atmosphere, inviting anyone to relax and enjoy the space.
From a styling standpoint, farmhouse is quite simple. You're generally not contending with a ton of different colours, and the upholstery is kept pretty neutral.
An attractive component of a farmhouse style is that it's attainable and easy to replicate. Especially if you're just adding a couple of farmhouse-inspired accessories, like milk cans or a repurposed trough, it's actually quite cost-effective.
As much as the farmhouse style is trending right now, bringing in traditional pieces, like Windsor-back and spindle chairs, gives off a much more timeless and classic look to the overall design style.
Common elements and accessories of a farmhouse design
Milk cans

Tin buckets and pails

Mason jars

Dried flowers, decorative grass, wheat

Logs and wood accents
Pottery

Shiplap and wainscoting

Repurposed crates

Distressed wood

White and cream upholstery
Similar design styles to farmhouse
Rustic, Bohemian, Traditional, Country, Transitional, Industrial, Contemporary, Shabby Chic, Modern
What is mid-century modern style?
Mid-century modern is an eclectic mélange of old and new. It's somehow futuristic yet nostalgic at the same time. Here, we see a lot of clean lines and angular shapes. The mix of organic materials, like plants, balances out this otherwise crisp and distinct aesthetic.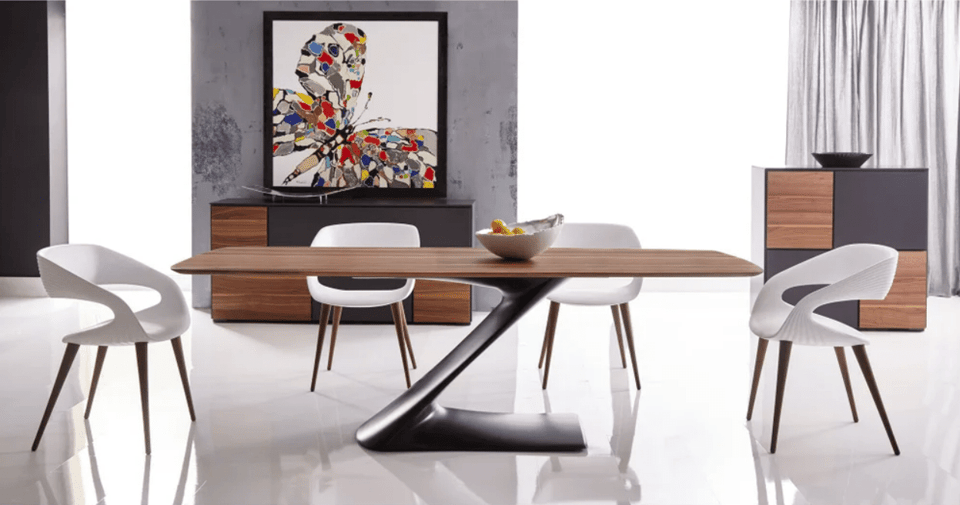 The inspiration behind mid-century modern style
Mid-century modern style has been around for a while, but it's recently seen an uptick in popularity. It's that cycle of influence - once it goes out of style (if it ever does), it will come back eventually.
We could credit Mad Men for bringing this style back - we certainly have that show to thank for the now-iconic Draper sofa. And even though Mad Men has been off the air for quite some time, the desire for functional, clean, and compact furniture lives on.
Why we love mid-century modern
Mid-century modern is familiar. Again, we've seen it before.
And sometimes, when we're feeling a bit wayward (if that's the case for you), we look to things that ground us.
At its core, the mid-century modern style is functional – every piece of furniture serves a purpose. There is ample opportunity to accessorize, but décor is generally kept to a few statement pieces as opposed to a number of small accents.
Incorporating plants and other natural elements also gives your space a natural, calm, and retreat-like feel.
Common elements and accessories of mid-century modern design
Woods like teak and oak

Plants

Macramé

Glass accents

Geometric patterns

Mixture of different textures

Wicker

Earthy tones

Ceramics
Similar design styles to mid-century modern
Bohemian, Transitional, Contemporary, Eclectic, Minimalism, Scandinavian
What is minimalism?
At its core, minimalism is simple. Everything in your space has a function, and it is completely void of clutter. Sleek lines, open floor plans, and compact furniture give off a clean and practical atmosphere.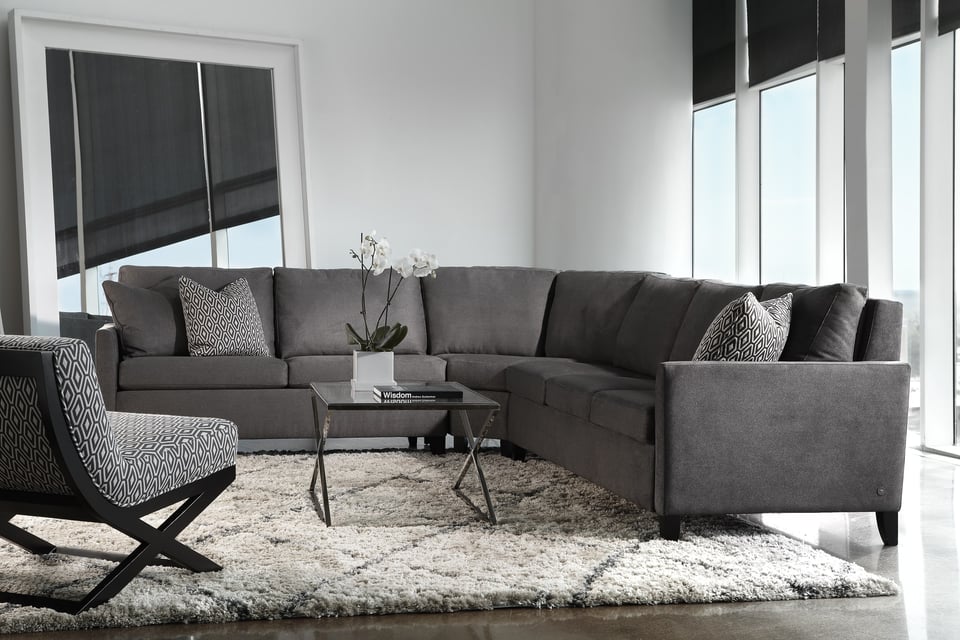 The inspiration behind minimalism
Remember a couple of years ago when we were folding our shirts into tiny rolls and throwing away all of our old DVDs because they no longer "sparked joy?" Hello, Marie Kondo.
Yes, she's the reason why we're so into minimalism, even now.
We've taken the whole idea of "less is more" and implemented it into home design.
Why we love minimalism
There's nothing like coming home to a clean, uncluttered space, no? Less clutter is instantly calming and comfortable.
Minimalism puts a focus on quality over quantity. If you no longer feel the need to spend money on accessories or seating that is rarely used, you can put that money toward better-quality, long-lasting furniture.
Common elements and accessories of minimalism design
Negative space

Neutral base

Natural lighting

Clean lines
Honestly, not much because – well, minimalism
Similar design styles to minimalism
Modern, Contemporary, Scandinavian, Mid-century Modern
What is maximalism?
As much as minimalism focused on "less is more," with maximalism, "more is more!" It is a delicate art – you don't want to overwhelm your space - but when it's done right, maximalism can bring a lot of beauty and intrigue to your home. And, it allows you to showcase all of your belongings at once.
One of our Design Guides, Shelley, has a client, Judy, that says that maximalism "is an -ism that [she] truly lives by!" And Judy has certainly figured out how to embrace and show off all of her favourite things. See below for Judy's amazing living room!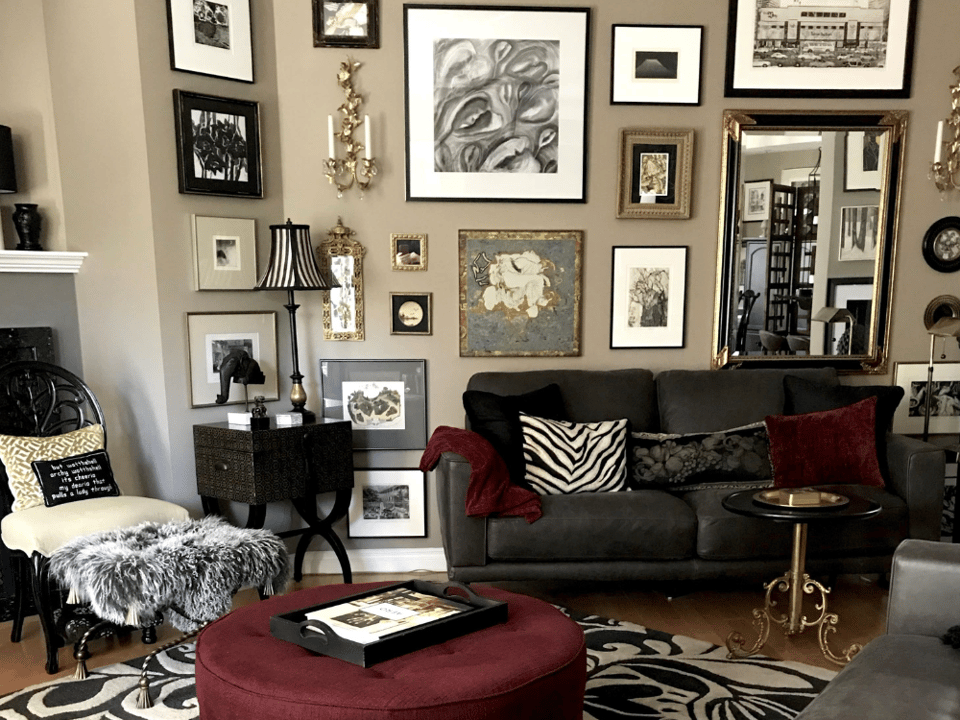 The inspiration behind maximalism
Recent period pieces in pop culture, like Bridgerton or The Crown, have re-introduced us to a world of maximalism. Maximalism can be seen as a sign of opulence and regality because you are showing off all of your prized possessions.
Why we love maximalism
You have worked hard and found success because of it. And now you can show it off! With maximalism, you get to put everything you love on display.
There's no need to hide anything just because it "doesn't go" with the rest of the aesthetic.
You can find freedom in maximalism, too. There is definitely room to play with your style. It's an opportunity to express yourself and show off your individuality.
Common elements and accessories of maximalism design
Walls full of art and décor
Bold, rich colours

Sentimental pieces

Pattern

Blending of styles

Gold finishes
Knickknacks and chotchkes

Fully stocked bookshelves

Intricately patterned rugs

Additional smaller pieces of furniture to fill space, like cocktail tables
Similar design styles to maximalism
Traditional, Contemporary, Eclectic, Victorian, Bohemian
How do I incorporate more than one design style together?
Perhaps you've looked at these trendy design styles and realized that you like different elements from each. They can work together – it can be done! Check out 8 Tips on Marrying 2 Different Design Styles for tips on how to get the best of ALL worlds!
And next time you're in the Edmonton area, drop by our showroom and chat with our Design Guides to see how you can start implementing these different styles into your home.