American Leather vs. MotionCraft: Which Sleeper Sofa Is Better for Me?

Sasha Spencer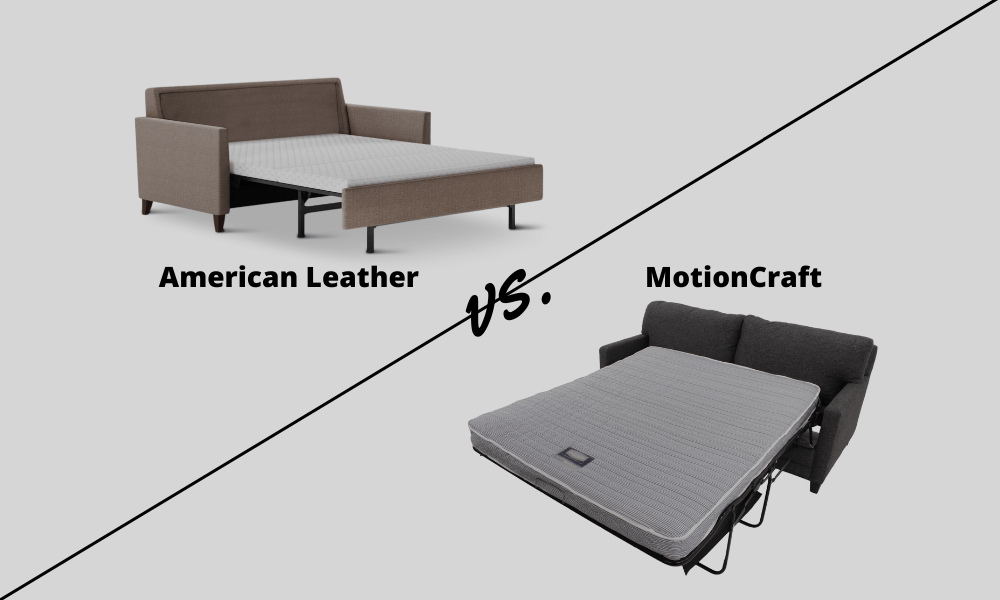 There are many reasons to invest in a sturdy, well-made sleeper sofa. And both American Leather and MotionCraft offer a great product – but which is the best fit for you? A sleeper sofa is really a 2-in-1 piece of furniture, so there's almost double the number of factors you need to consider before you decide!
You're not just thinking about the comfort of the sofa, you're looking at the comfort and durability of the bed inside, too! And if one component is not up to your standards, is it even worth looking at? Probably not.
So, what are your options out there? Which line of sleeper sofas is going to give you a comfortable place to sit and rest in your home?
Since opening our doors in 1994, McElheran's Furniture + Design has been committed to bringing you high-quality, stylish pieces that are valuable and, of course, comfortable. Not only will you find sleeper sofas on our floor that you can look at, but we also encourage you to take a seat, pull the bed out, have a quick lay down – whatever you need to do to help in your decision, even if you don't end up buying from us.
We actually carry both American Leather and MotionCraft sleeper sofas at McElheran's. Our in-house designers, known as Design Guides, are ready to help you with any questions or concerns that you might have about either brand.
In this article, our Design Guides and McElheran's owner, Jeff McElheran, will lay out the good and bad of both American Leather and MotionCraft sleeper sofas. And we'll go over who each brand is a good fit for so you can find out if you should go with American Leather or MotionCraft.
It should be noted, too, that the mechanism that MotionCraft uses and the way these sleeper sofas are built are quite common in the furniture industry. MotionCraft, in this comparison, represents much of what we see in sleeper sofas today.
The pros of American Leather sleeper sofas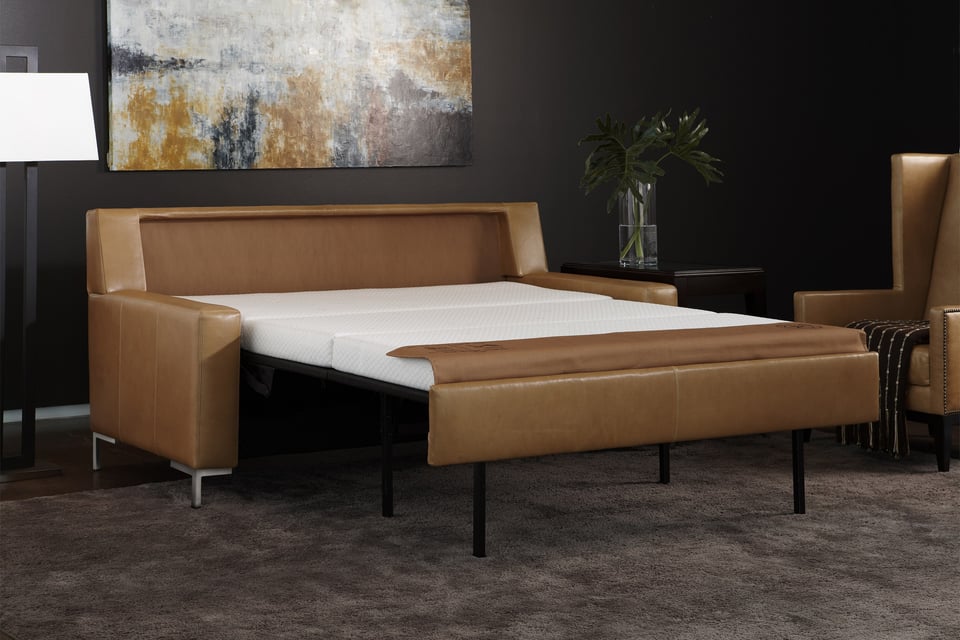 Sleek construction
One of the main reasons people get sleeper sofas is to save space, and an American Leather sleeper sofa will absolutely do that.
With most sleeper sofas, when the bed is pulled out, it takes up more space than an actual bed. But with American Leather, the head of the mattress sits pretty close to the wall – within four to five inches. That means the bed doesn't come out extra long and overtake the room. Because of this sleek design, American Leather sleeper sofas come with a regular-sized mattress, as opposed to a shortened version – typical of most sleeper sofas.
The legs of the pulled-out bed are also recessed and won't stick out awkwardly. Now you can avoid those horrible middle-of-the-night toe-stubbing incidents!
Many available design options
American Leather has 15 different styles of sleeper sofas and sectionals to choose from. Style-wise, you can bring a traditional or more modern look into your home with American Leather.
Looking at your mattress options, it might be easier to tell you what they don't have, quite honestly! But you can select from a king, queen plus, queen, full (double), twin, cot, and double cot. But obviously, the size of your sleeper sofa may limit your choice in mattress size.
You can also select from a variety of fabrics and leather to suit your style and space.
Comfort
One of our Design Guides, Kirsti, notes that American Leather spent years perfecting their sleeper sofas and it shows. You can absolutely put your sleeper sofa in a secondary bedroom or office and only use it on rare occasions, but it is built to withstand regular use – both as a sofa and a bed.
If you're concerned about protruding bars digging into your back all night, that's not going to happen with American Leather. The mattress actually sits on top of a platform-style bed, creating a perfectly comfortable foundation.
Regular-sized mattresses
With any mattress you choose in an American Leather sleeper sofa, you are getting the actual standard size. The thickness of the mattress is a little less, to allow for easier storage, but the width and length are the exact same as a regular mattress for a bed.
And speaking of mattresses, American Leather gives you three luxurious foam options: Tempur-Pedic, Gel, and Premier.
Smooth mechanism
The ease of pulling out an American Leather sleeper sofa is unmatched. You don't need more than one person, you don't need to psych yourself up for any sort of physical exertion … just grab the handle, walk backward and your bed will instantly fold out.
Oh, and putting the bed back inside that sofa is just as easy.
Easy to move
A big complaint most people have about sleeper sofas is how heavy and difficult to move they are. The bedding mechanism and the mattress definitely add some extra heft to a sofa, and that weight is very obvious when you rearrange a room or move the sleeper sofa out of your home altogether.
Here's the thing with American Leather, though. Their sleeper sofas come with instructions on how to remove the bed and deconstruct part of your sofa. This way, you're able to fit your sleeper sofa into any space, no matter the size, and put it back together once you get it in the room of your choice.
You can remove the bedding mechanism on other sleeper sofas, sure, but American Leather's furniture is built to allow for easy assembly and reassembly.
The cons of American Leather sleeper sofas
Higher price point
With the quality that you're getting in an American Leather sleeper sofa in both the bed and sofa itself, it does come with a corresponding price tag. For instance, a sleeper sofa in fabric with a queen-sized mattress will run you about $6,500.
Mattresses are only available in foam
This isn't necessarily a con, per se… a foam mattress is a perfectly fine option for a lot of people. But, if getting an innerspring mattress is a must-have for you, well, you're not going to like the mattress options from American Leather.
You have to take the seat and back cushions off when converting to a bed
In order to pull out the bed, the seat and back cushions need to be removed. They don't just fold under the bed. And they have to be stored somewhere while you're using the bed, right?
So, as much as American Leather sleeper sofas are sleek and compact, the removable cushions will take up space in your room while the bed is pulled out.
The pros of MotionCraft sleeper sofas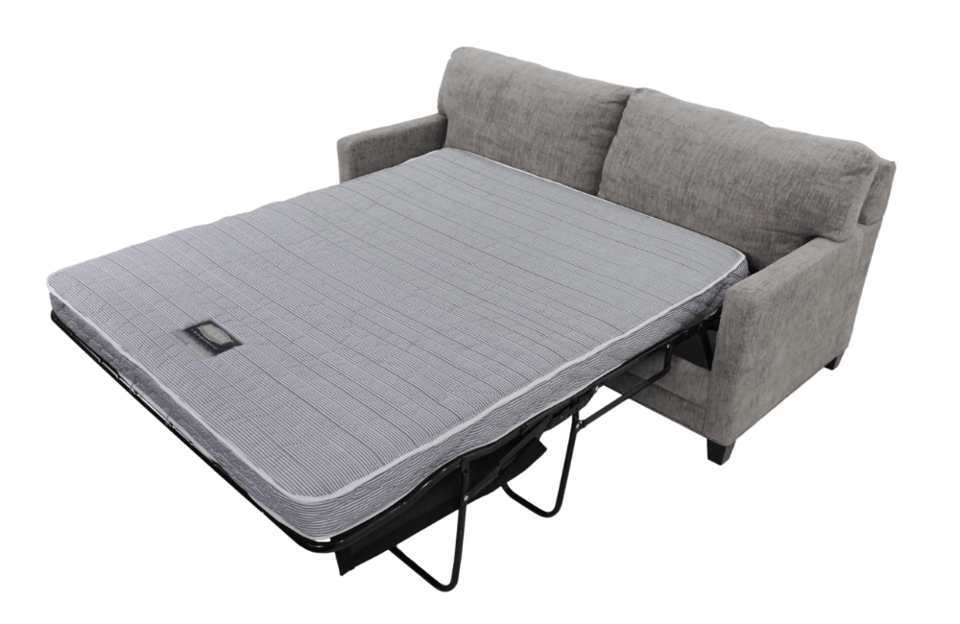 Smooth mechanism
Converting a MotionCraft sleeper sofa into a bed is relatively easy. Simply grab the handle and pull the bed up and out. It's not quite as smooth as say, American Leather, but pulling out your MotionCraft bed shouldn't be too labour intensive for you.
The mechanism also includes a double-locking TV headrest for added comfort while lounging, watching TV, or reading (okay, playing on your phone.)
Comfort
MotionCraft is a division of Sherrill Furniture, known throughout the furniture industry as an extremely comfortable upholstery line, and MotionCraft is no exception. Your sleeper sofa will sit a little firmer than a standard one, but comfort was certainly not overlooked in the manufacturing of this product.
For a no-coil feel, multiple layers of Flexatron padding are wrapped around the innerspring unit of MotionCraft sleeper sofas to prevent shifting or bunching. Flexatron is also odour resistant and keeps mildew from building up.
Option for added support
With most of MotionCraft's sleeper sofas, an Air Dream mattress is available as an add-on to your mattress. This built-in, inflatable feature is nestled on top of the innerspring mattress for added plushness and comfort.
And it's not your typical air mattress either! With the included quick-fill electric pump, the Air Dream inflates in 45 seconds and deflates in 30.
Environmentally friendly mattress
All mattresses that come with MotionCraft sleeper sofas are engineered with man-made fibres, free of harmful materials. These mattresses will not release any harmful gasses into your home or the environment.
Customizable
With MotionCraft, you can choose from a variety of frames and perfect the look of your sleeper sofa with the arm style, leg, and cushion treatment of your choice.
MotionCraft sleeper sofas are available in fabric and leather, and if you so choose, you can even add extra detailing to your leather, like an embossed pattern. Not to mention, there are literally over 1,000 fabrics for you to choose from.
Reasonably priced
Especially when you're comparing MotionCraft to other high-quality sleeper sofas on the market, you'll find that these sleeper sofas are well priced. You're paying for quality, versatility, and value. And with a fabric sleeper sofa and a queen-sized mattress, that will cost you around $4,700.
The cons of MotionCraft sleeper sofas
Limited mattress sizes
The only available mattress sizes with MotionCraft are twin, full (double), and queen. And you're not getting a regular-sized mattress, either. MotionCraft sleeper sofa mattresses are usually around five inches shorter than a standard bed mattress.
Bulkier when the bed is pulled out
Because you're not removing the back cushions when you covert your sofa into a bed, the head of the mattress starts pretty far away from the wall – 19 to 20 inches, actually. And even though the sleeper sofa mattresses are shorter, the bed comes out much further, taking up more space in your room.
The legs of the bed also come out a bit from the sides of the sleeping surface. Definitely something you should be aware of when you're trying to navigate through a room in the middle of the night – you don't want to stub your toe!
When the bed is pulled out, there is quite a bit of space between the side of the mattress and the arm of the sofa. Perhaps a minor inconvenience, but you're more likely to lose a few things down the side of your sofa with that much of a gap.
American Leather or MotionCraft: Which is the best fit for me?
Both American Leather and MotionCraft have a lot to offer, as far as sleeper sofas go. And the best choice for you really comes down to the function of your sleeper sofa and which is going to be a better fit for you!
American Leather might be a better fit for you if:
You want a more compact sleeper sofa

You're willing to pay a higher price

You prefer the feel of a memory foam mattress

You want a broader range of styling options
MotionCraft might be a better fit for you if:
You like the look and feel of Sherrill Furniture (which MotionCraft is a part of)

You're looking for a more cost-effective sleeper sofa

You prefer the feel of an innerspring mattress

You want your sleeper sofa to be more traditional
As far as function goes, is this sleeper sofa going in a secondary bedroom or an office? Or maybe it's going in your living room! Check out How Much Does it Cost to Furnish a Living Room to see how you can work your sleeper sofa into your budget.
And since this is a 2-in-1 piece of furniture going into your home, it's important to take the time to make sure you're selecting something that is comfortable and works for you.
Schedule a visit to McElheran's! You're welcome – no, in fact, we would love for you – to drop by our showroom, sit on the sleeper sofas, remove the cushions, pull out the bed, and have a nice little rest. It really is the best way to see which sleeper sofa is going to be a perfectly comfortable fit for you.