Choosing the Right Sectional for My Space

Sasha Spencer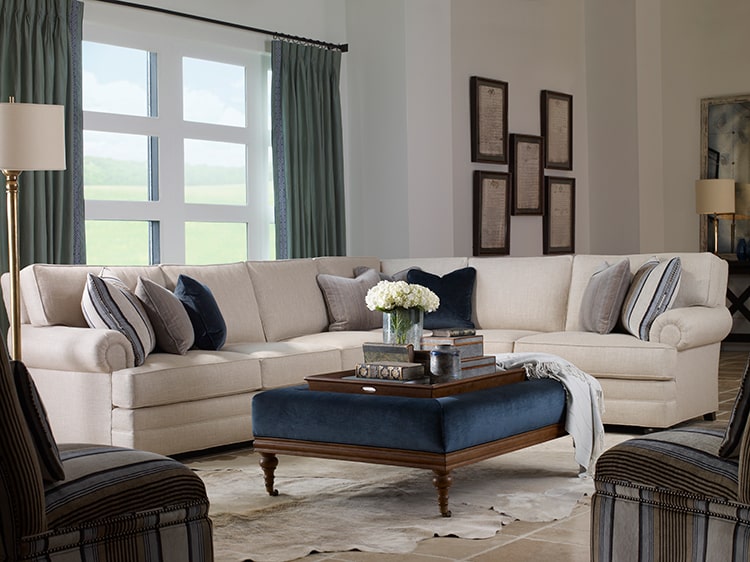 Even if you've just started your hunt for the perfect sectional, you've probably noticed that there isn't a one-size-fits-all option. There are a few different orientations with sectionals – and what about a chaise or adding an ottoman? And then you have to think about the size, too! I mean, there's a lot to consider.

At McElheran's Furniture + Design, we've been furnishing rooms for life since 1994. And as much as we offer a multitude of seating options for your home, we know you love your sectionals. Sectionals offer a lot for your space, which is why they are such a popular option!

In this article, one of our Design Guides, Shelley, will go over the different styles of sectionals available. We'll touch on size, too, because we'd hate for you to wind up with something that just doesn't fit in your space!
The style and orientation options of a sectional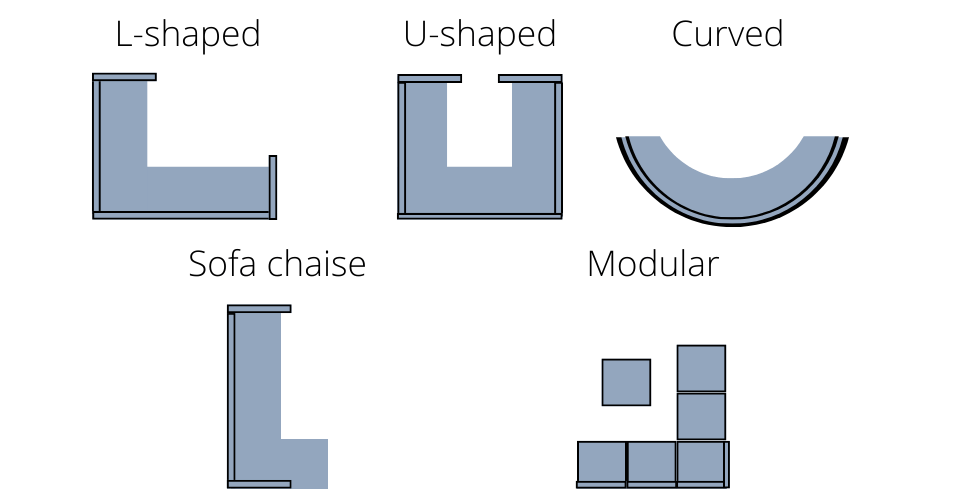 L-shaped
This is the most common sectional shape, which can be seen in many homes and furniture showrooms. It's, yes, shaped like an L – almost as if two sofas conjoined on one side to form a corner and extend out from there. L-shaped sectionals can be the same length on each side, or you could design it to have one side longer than the other.
When should I choose an L-shape sectional?
First of all, you should consider how you want your space to look. An L-shaped sectional, depending on its placement, can open your seated guests up to the rest of your room. Or you can use your sectional to break up an open concept and distinguish a sitting area.
A common placement of an L-shaped sectional - because of the right angle it possesses - is nestled into a corner.
U-shaped
As the picture above illustrates, a U-shaped sectional isn't as curved as the letter 'U' would suggest. It's more like putting two L-shaped sectionals together. The tails of the sectional can be symmetrical, but that's not always the case.
When should I choose a U-shaped sectional?
U-shape sectionals can take up a lot of space and offer quite a bit of seating. If you have room for a larger piece of furniture, then a U-shaped sofa could definitely work for you.
Additionally, this style creates more of an intimate conversation 'pit' because there are two parts of the sectional that face each other.
Curved
Curved sectionals are a bit more of an acquired taste – mainly because they're not as versatile as other styles of seating. These sectionals form somewhat of a semi-circle around the middle of a sitting area (potentially where you could have a coffee table.)
When should I choose a curved sectional?
Curved sectionals can't fit flush against a wall, so you'll likely have to position it further out into the room. Because of that, they work better in larger, more open spaces.
If you're looking for a sectional that's more of a showy piece, and you have the room for it to float out in the open, a curved sectional is a great choice.
Modular
When you custom order a sectional, you're usually getting pieces that fit together in a specific formation that works for your space. Modular sectionals are less confined to one particular configuration, so you can move each piece whenever and however you choose.
Modular sectionals are definitely the most flexible style of sectionals.
When should I choose a modular sectional?
If your seating tends to change quite a bit, or you have multiple focal points in your room, a modular sectional – and its multi-use pieces – can offer you that flexibility you need.
Sofa chaise
Sofa chaises are like regular sofas, but one of the end seats is extended into, yes, a chaise. This creates a shape very similar to an L-shaped sectional.
When should I choose a sofa chaise?
A sofa chaise is the perfect option when you want something that's about the size of a sofa, but offers a little more in terms of comfort and informality. With a sofa chaise, you can use that extended piece to kick your feet up or as an extra seat – even though the person in that seat will only have the support of an arm and not an actual back cushion.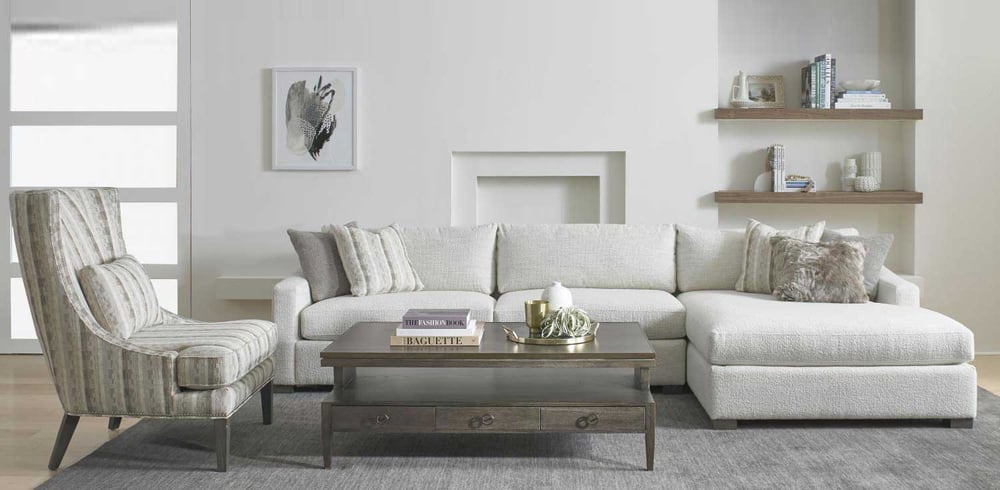 What size should my sectional be?
There isn't really a standard size with sectionals because there are so many different configurations, options, and dimensions, especially when you're customizing furniture. With many luxury manufacturers, you can pick and choose the height, depth, and width to suit your needs and fit appropriately in your space.
Shelley cautions that one of the biggest mistakes she sees when it comes to sectionals is getting one that is too big! Parts of your sectional shouldn't be so long that they hang outside your seating area, and you shouldn't feel like you have to fill the entire room, either.
So while there is no hard-and-fast rule on the size or style of a sectional, there are a few things to consider to help you narrow down your decision.
Size of your room
I don't think there's ever a circumstance where furniture isn't at the mercy of how big (or small) a room is. The size of your room will help determine the shape of your sectional, how long the sides should be, and how much additional furniture you can fit in your space.
And if your room is large and open to other parts of your home, you might actually want to use a sectional to section off a seating area and create distinct zones.
But before you go looking for a sectional, it really does help to have some measurements in mind. Take stock of the size of your room and the space you're trying to fill. And if you need a little help, check out "How to Measure My Living Room to Make Sure My Furniture Will Fit."
Traffic flow
Take a look at the entrances of your room and where people tend to move in and out of it. A sectional may seem like a great idea at the time, but if it blocks a walkway or keeps people from moving around your space freely, it becomes more of an annoyance than anything.
A sectional should work with the room and not impede the regular flow of traffic.
Where the focal points are
Examples of a room's focal points can be a TV, a window with a view, a fireplace, a feature wall, or an impressive piece of art or architecture. Focal points help determine where people gather and where your furniture should point.
Because a sectional has multiple pieces, it can be a challenge ensuring every seat is in the most optimal position to experience all focal points.
That's why it's common for an L-shaped sofa to be placed in the corner of a room (not that you have to do this yourself). That way, every seat is open to all the focal points in front of the sectional.
The number of seats required
This is one of the more obvious points about your sectional's size, much like knowing the dimensions of the room you're furnishing.
If you're planning on hosting a lot of company on your sectional, well, you'll need more seats! And the more seats you add to furniture, the larger it's going to be.
Just make sure once you settle on a size that you can actually fit it in your home.
Other seating in your room
Do you want your sectional to be the only form of seating in your room, or would you like to present other options, like a few accent chairs or some ottomans?
You can opt for a smaller sectional if you have more seating available.
What if a sectional isn't right for me?
You know what? Maybe it isn't.
Shelley has had clients convinced that a sectional was the only choice for them, but honestly, sometimes they just don't work in certain spaces – or for certain clients.
Inherently, because sectionals tend to take up a lot of real estate in your home, they can be quite restrictive. And if you're someone that moves around a lot, how will you know the orientation of your sectional will work in your next home? You won't. These large investment pieces can be a bit of a gamble if you don't know what your home will look like in a few years.
So, at this point, if you're thinking that you'd like to explore other options, hey, no problem! Check out "Sectional or Sofa & Chairs? 5 Questions to Ask Before You Decide."
Our Design Guides are also here to help with any sizing or orientation issues you may have regarding your next furniture purchase. If you're in the Edmonton area, we'd love to see you! Schedule a visit today.