How To Care for a Mattress: A Guide to Flipping, Rotating, and Cleaning Your Mattress

Sasha Spencer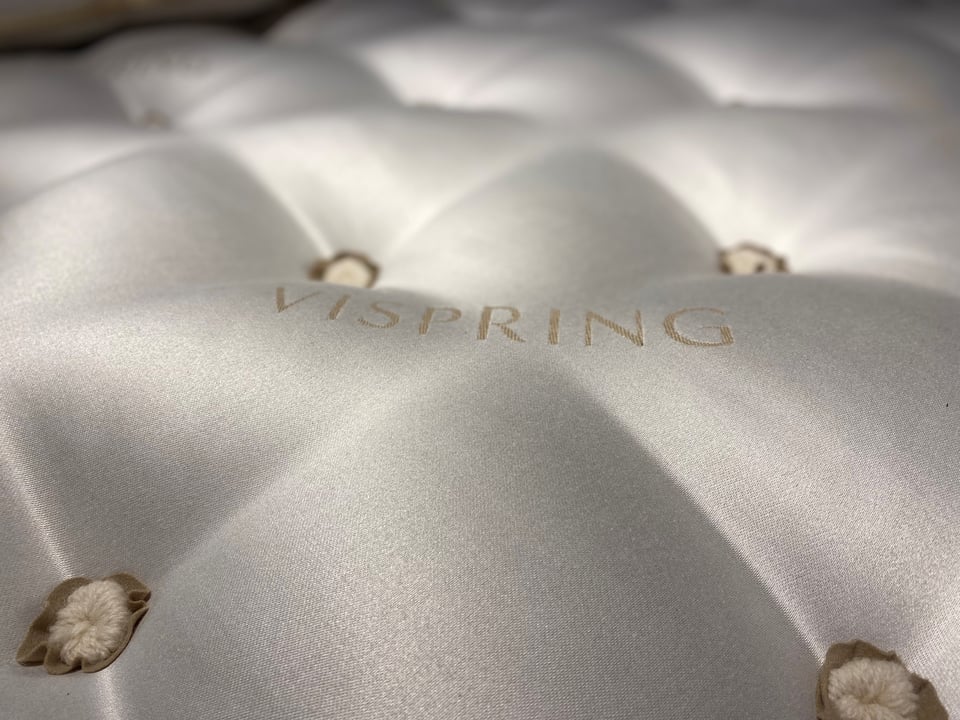 A mattress is arguably one of the most important items in your home. At the very least, it's probably one of the most used! And since it gets so much use, how can you keep it from wearing out so it can be a part of your home (and sleeping routine) for years to come?
At McElheran's Furniture + Design, we've been furnishing rooms for life since 1994. And yes, that includes the bedroom! We have plenty of high-quality mattresses available that will give you the best sleep possible, but you're not really looking for a new mattress, are you?
We'll definitely be here for you when that time comes, but for right now, we just want to make sure that you get the most out of the mattress you already have!
In this article, our in-house designers, known as Design Guides, will take you through the regular maintenance of a mattress and why it's so important. We'll also touch on what else you can do to extend the life of your mattress and how to tell when you might need a new one.
But before we get into it, we should also say that caring for your mattress is not meant to be this crazy affair. These are just little things you can do here and there, but they make a huge difference in ensuring you will get the most out of your mattress.
Why is it important to look after my mattress?
Well, it might be more impactful to first talk about why your mattress is so important. Your comfort and how well you're sleeping are directly affected by the level of support and quality of your mattress. And sleeping is something, well, we do a lot of. If you're not able to properly recharge at night, it will affect your performance during the day.
You know a good mattress is a pretty key element to your sleep, so why wouldn't you want to look after it?
Performing some general maintenance and care on your mattress will help to extend its life and keep you comfortable well into the future. And if you're spending the money on a high-quality mattress, a little upkeep here and there is certainly worth it!
Simply put, if you take good care of your mattress, you won't have to replace it as often.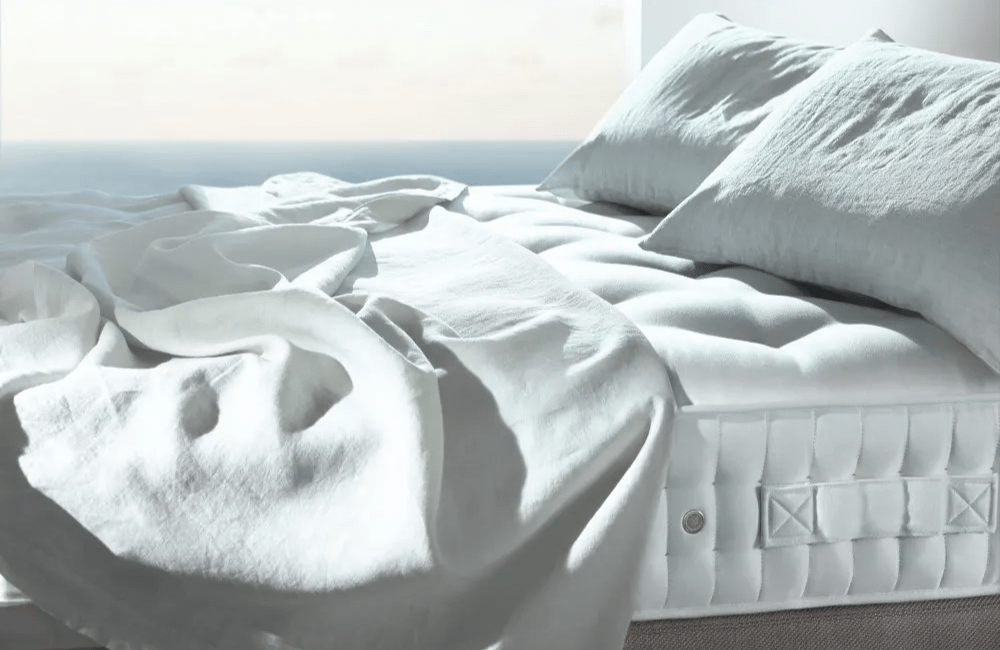 What should I do on a regular basis to care for my mattress?
Rotate your mattress
Every six to twelve months, you should rotate your mattress so the head moves to the foot of the bed (and vice versa). This can be done with foam, latex, and innerspring mattresses, although older innerspring mattresses could benefit from a more frequent rotation - every two to six months.
Bear in mind that not all mattresses are meant to be rotated, though. A mattress with a zoned design is specifically made to cradle certain parts of the body and if you rotate it, the zones will no longer align with the body parts that it's supposed to.
This may also prove to be an issue for mattresses that have different coil tensions from one side to the other. Perhaps your partner sleeps with a softer coil tension than you. You can still rotate your mattress, but if you want to sleep with the same coil tension you've grown accustomed to, you'll have to sleep on the other side of the bed.
Now, for some, that's not a problem, but we are creatures of habit, aren't we? And not everyone loves changing up the side of the bed they sleep on.
However, if you have two mattresses held together by a zip-link (which is made possible by taking two twin XL-sized mattresses and making a king), you can always un-zip the link, rotate each mattress, and zip it back together. That way, you can rotate your mattress without changing the side you sleep on.
Flip your mattress (if applicable)
Before you go ahead and flip your mattress, it should be noted that a majority of mattresses are NOT meant to be flipped. If your mattress has a built-in pillow top or the plush fill is only on one side of the interior, flipping it would basically mean that you'd have to sleep on the bottom side of your mattress – which wouldn't be very comfortable!
Some mattresses, like Vispring, are dual-sided, though. This means that these mattresses have the same feel and comfort regardless of what side you're laying on. Those mattresses are built to last longer than most because you're, essentially, able to get double the use!
If you can flip your mattress, our Design Guides recommend doing so at least once a year.
Change and wash your bedding
This may seem more like a hygienic suggestion, but it does help with your mattress, too! It is recommended to change your bedding (fitted sheet, sheet, and pillow cases) at least once a week. Potentially more if you tend to sweat a lot at night or allow pets in your bed.
While we sleep, our bedding soaks up all our natural sweat, body oils, dander, and any other dirt we pick up throughout the day. If your bedding is not changed often enough, all those particles and oil can seep into your mattress. Plus, the dirtier your bedding gets, the more you're creating a hospitable environment for dust mites and bed bugs, which you definitely don't want on your mattress! (Yuck!)
Clean your mattress
Our Design Guides suggest taking the time to clean your mattress as often as you rotate it, so, once every six to twelve months. Unless, of course, there's been some type of spill or accident. That kind of situation would require immediate attention. But looking at general upkeep, there are a couple of things that you can do to keep your mattress clean.
So, once you've stripped your bed of all linens, blankets, pillows, protectors, and toppers, you can give your mattress a thorough vacuum using the upholstery attachment. And if you see any stains, blot with a mild cleanser and water. Just make sure not to use too much water, especially if your mattress is foam. Excessive water could cause your foam mattress to absorb the water and swell!
If your mattress is giving off an unpleasant odour, you can sprinkle your mattress with baking soda, wait a few hours for the baking soda to absorb the smell, then vacuum it clean.
That being said, it's always good practice to check the label on your mattress or contact the manufacturer before doing anything drastic. Some models may have specific cleaning instructions and you wouldn't want to void your warranty by not following the suggested guidelines, right?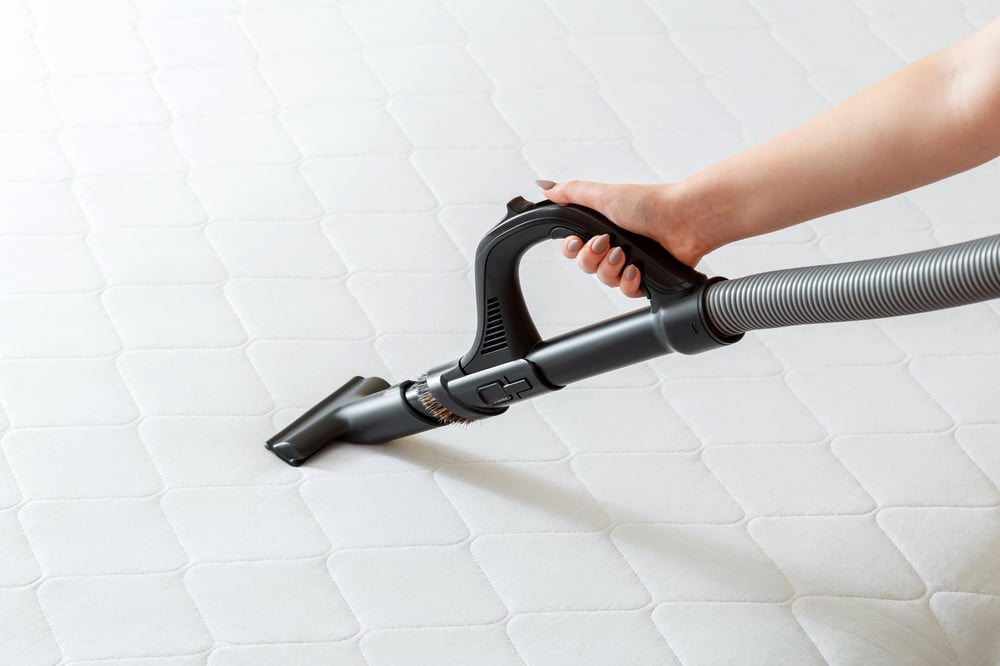 PHOTO CREDIT: Beton Studio/Adobe Stock
What else can I do to extend the life of my mattress?
Use a mattress protector
A mattress protector goes on top of your mattress and underneath the fitted sheet. Its sole purpose is to, yes, protect your mattress. Mattress protectors prevent dirt, sweat, spills, and any other contaminants from getting down into the mattress.
This is another instance where you should check the warranty on your mattress as some manufacturers require you to purchase a mattress protector in order to be covered by the warranty.
Support your mattress
Now, there are instances where your mattress doesn't really require a box spring or foundational support, and you can find out more by reading Do I Need a Box Spring for My Bed?
But most of the time, a box spring or foundation is only going to help extend the life of your mattress by providing additional aeration and support. Plus, this type of foundational support helps to distribute the weight of those sleeping, so your mattress wears evenly.
Check your warranty
This isn't the first time we've mentioned checking your warranty in this article – and for good reason! Honestly, it's a great habit to get into when you're looking after any sort of investment piece in your home.
Your warranty information will give you a better idea of cleaning instructions, general care, and additional guidance to ensure you stay covered by your warranty.
How do I know when it's time to get a new mattress
There isn't an exact science behind knowing when you should replace your mattress. Some manufacturers have longer warranties than others, some mattresses are simply better quality, and some mattresses just don't get used very often in your home (like in a guest room).
It really comes down to comfort and whether you're getting a good night's rest. If you're starting to feel like your mattress isn't supporting you properly and you're not sleeping well, it's likely time for a new one!
And, as our Design Guides point out, there are certain times in your life when you just need a different type of mattress. Your lifestyle, tastes, and needs may change. If you've outgrown your current mattress, that seems a good a time as any to get a new one.
I love my mattress, but what about the rest of my bedroom?
Your mattress is a pretty crucial part of your bedroom, and now that you know how to look after it, you can start building a beautiful space around it! If you're in the market for some new bedroom furniture to go with your high-quality mattress, check out Bedroom Furniture: Which High-End Brands are the Best? to see what some of your options are for furniture!
And again, we understand that you're all set in the mattress department – you just wanted to know how to look after it, which is amazing! And that's going to keep your mattress in tip-top shape for years to come.
But when the time comes for a new mattress – or any other furniture for your home – schedule a visit to McElheran's! Our Design Guides can't wait to take you around our showroom in Edmonton to help you find that perfect mattress.