Vispring vs. Hypnos: An Honest Comparison of Two Luxury Mattresses

Sasha Spencer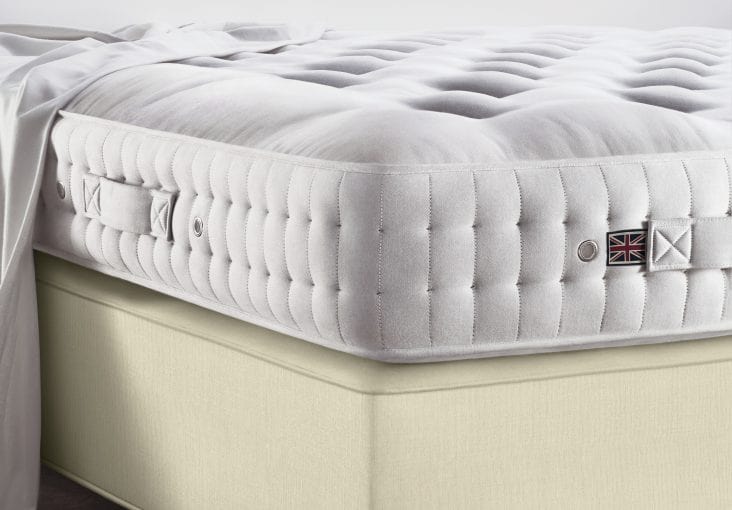 Vispring and Hypnos. Two long-standing, reputable brands in the bedding industry. Two companies that are world-renowned for their luxury, handmade mattresses of the highest quality.
The question is … are they really any different from one another? Is Vispring better than Hypnos or vice versa? Wait – are they actually the same thing? Those are all very good questions – ones that are worth exploring! Even when there are a lot of choices out there, sometimes it's easy to pick out the lemons and the true winners in quality, but in this case, the lines between Vispring and Hypnos are a bit more blurred.
Actually, no matter which way you go, you're going to get a well-made mattress - there's no doubt about that. But your final decision will more than likely come down to comfort or a few other subtle differences between the two lines of mattresses.
Since 1994, McElheran's Furniture + Design has offered everything you need for your bedroom, including mattresses. And years ago, we stepped into the luxury bedding world to bring you the absolute best in high-end mattresses.
Now, we should address the fact that we don't carry Hypnos (even though we used to), but with your very best interests in mind, we wanted to look at both Vispring and Hypnos so you can make the best decision possible! After all, we are talking about mattresses here – the very thing that you spend so much of your life on. It's worth taking the time to learn more about your options.
With McElheran's owner, Jeff McElheran, we'll do a brief overview of both mattress companies – so you can get to know them a little better. Then, we'll look at the similarities and differences because there may be a certain feature that one mattress has over the other that will really seal the deal for you.
Let's start by taking a look at each company of mattresses…
About Vispring
Vispring was founded in 1901 in London and brings a little Canadian flair to its history.
Canadian-born James Marshall brought over his pocketed spring coil system, now known as the Marshall coil. Because of his contributions, the company operated under the Marshall name until it rebranded to Vispring in the 1930s.
A big claim to fame for Vispring? Some of the world's finest ships, like the Titanic, furnished their first-class suites with Vispring mattresses.
Vispring mattresses are made with only the finest natural materials, like horsehair, pure cotton, and Shetland wool. No artificial products or chemicals are used in the manufacturing process.
Unlike many other mattresses that use coils simply for structure's sake, Vispring coils are built to conform to you. This gives you the feeling of sleeping in the bed, not just on it.
Vispring mattresses can have a coil tension of soft, medium, firm, and extra firm. You can even have one half of the bed with a different tension than the other – as long as they're within one grade of each other. For example, your side of the bed could be medium and your partner's firm, but you couldn't, say, do one side soft and the other extra firm. Unless you used a zip and link and brought two different XL twin beds together to make a king-sized mattress. And we'll explain that more below.
With a 30-year warranty, Vispring aspires to be your next mattress purchase and your last – with very little need for replacement.
About Hypnos
A family-run business that is now into its fifth generation, Hypnos has been manufacturing luxury pocket spring mattresses for over a century. 
You're getting supreme comfort every time from their all-natural and completely sustainably filled mattresses.
Hypnos layers their mattresses with the finest wools and cotton, which helps with climate control and naturally wicks moisture away – meaning, you stay cooler in the hot summer months and warmer in the winter.
To further confirm that Hypnos is at the height of mattress quality, the brand was awarded the Royal Warrant in 1929 and still carries the honour today. The Royal Warrant is bestowed on companies that supply goods to the Royal family.
Hypnos is currently the only active bed supplier for all the Royal residences, including Buckingham Palace. Quite a feather in the cap for this illustrious company.
How are Vispring and Hypnos mattresses similar?
Companies are based in the UK
Luxury, handmade mattresses

Use of the pocket spring system

Honeycomb nesting for the springs

Made with natural fibres and sustainable materials

Hand tufting and side stitching for added durability and strength
2-sided construction so the mattress is flippable, increasing longevity

Air vents on the sides to work with the body's motion and maximize ventilation

Over a 100-year reputation in the bedding industry

Only available through reputable retailers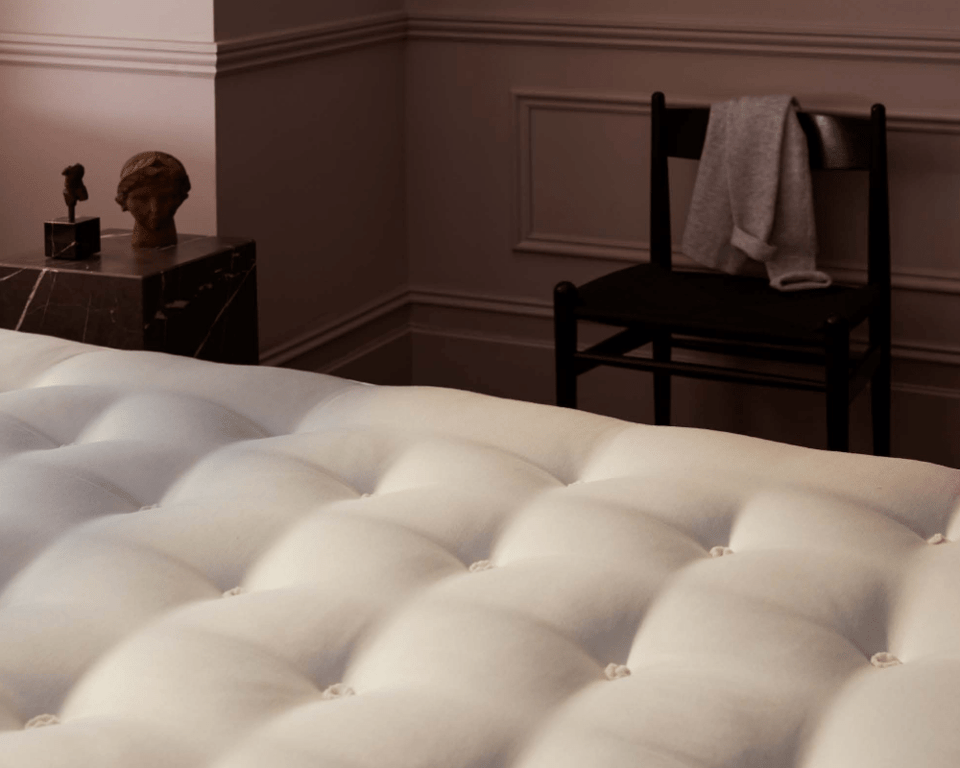 How are Vispring and Hypnos mattresses different?
Price
Vispring and Hypnos mattresses actually price out pretty close to one another, until you get to Vispring's Luxe collection. With Luxe, royal alpaca fleece is added to the fill for optimal comfort. The coils are also double or triple-stacked for additional support and a plusher feel, which increases the price.
Looking at a queen-sized mattress, specifically (without a box spring or foundation), Vispring prices out anywhere from $5,000 to $80,000, with the bulk of the mattresses in the $5,000 to $20,000 range. For Hypnos, you're looking at spending anywhere from $5,000 to $40,000.
Warranty
Vispring's warranty is three times longer than Hypnos, in most cases. Take comfort in knowing that you're covered under Vispring's 30-year warranty, as compared to Hypnos' 10.
Where the mattresses are made
Every single Vispring mattress is made at their one factory located in Plymouth, UK. Hypnos is based in the UK, too, but the mattresses are handmade in Canada. Actually, the Hypnos brand has licensed a manufacturer right here in Edmonton to produce its products.
Customization in one mattress
Both Vispring and Hypnos offer a "zip and link" solution to their mattresses. If you so choose, you can actually take two smaller mattresses, like XL twins, and link them together to make a king-sized mattress. This is a great option if you and your sleeping partner need drastically different coil tensions in your bed.
However, if the two of you only require a slight difference in tension (like, soft to medium), Vispring can have that customization built right into the coils of a single mattress.
With Hypnos, if you wanted your side to be a little firmer or vice versa, you would have to use the zip and link solution to put two different mattresses together.
Coil tension/Firmness
From what we've seen, carrying both lines at different times at McElheran's, our customers have noticed that Vispring has a plusher and softer feel, while Hypnos is firmer. Neither is necessarily better (or worse), it really comes down to what you find comfortable.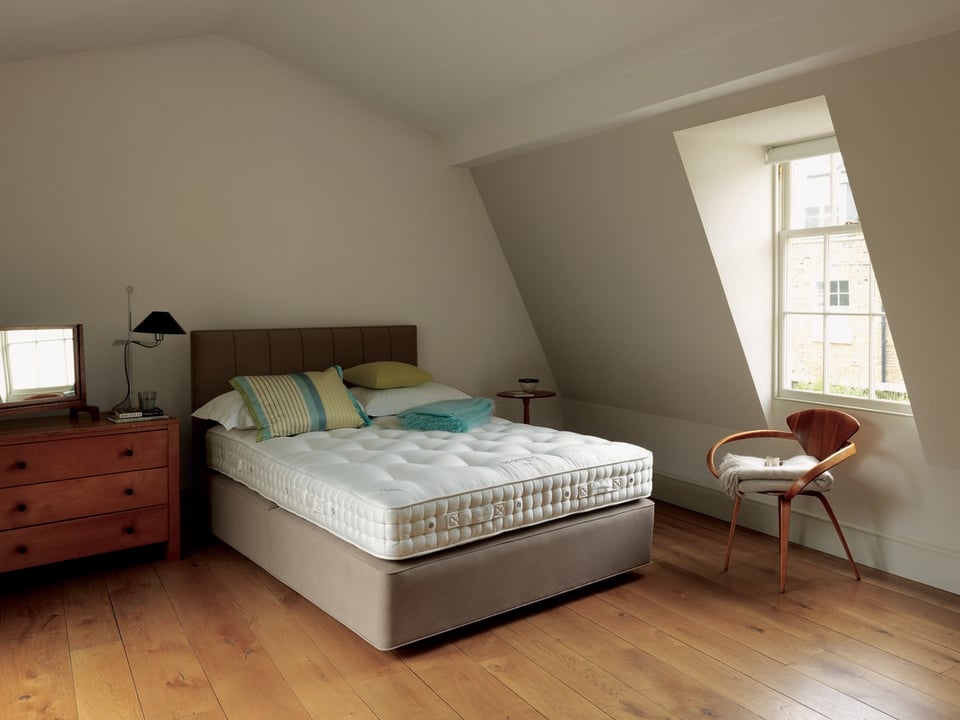 Vispring or Hypnos? Which mattress is best for me?
There's really no clear-cut answer as to which company will give you the best mattress. But, shopping around, laying down, and testing out these mattresses, should help you get closer to finding a solution.
Buying a mattress is an intimate experience – you have to make sure it's going to suit your needs, based on support, quality, style, and value. After all, we spend a lot of time in bed and (obviously) on a mattress.
And there are a couple of differences that you can focus on between Vispring and Hypnos that may help with your decision.
Vispring is a better fit for you if:
You prefer a plusher sleeping surface

You value a 30-year warranty
Hypnos is a better fit for you if:
You prefer a firmer sleeping surface

You like the panache of sleeping on a mattress endorsed by the Royal Family
We cannot stress enough, though, that the best thing that you can do for yourself, is trying out these mattresses to truly see which one fits you best.
Do I need to buy a box spring, too?
In this article, we've focused on mattresses specifically, and the quality craftsmanship that goes into Vispring and Hypnos products. A box spring can absolutely contribute to the overall comfort of your sleep, so it's definitely worth looking into! Check out Do I Need a Box Spring for My Bed? to see if that's the best decision for you.
And remember that whole thing about trying out mattresses to see which one fits you best? You can do that at McElheran's Furniture + Design! If you're in the Edmonton area, drop by our showroom, take a load off, lay down and see which mattress is going to work for you and bring you the quality sleep that you've been looking for.