Do I Need a Box Spring for My Bed?

Sasha Spencer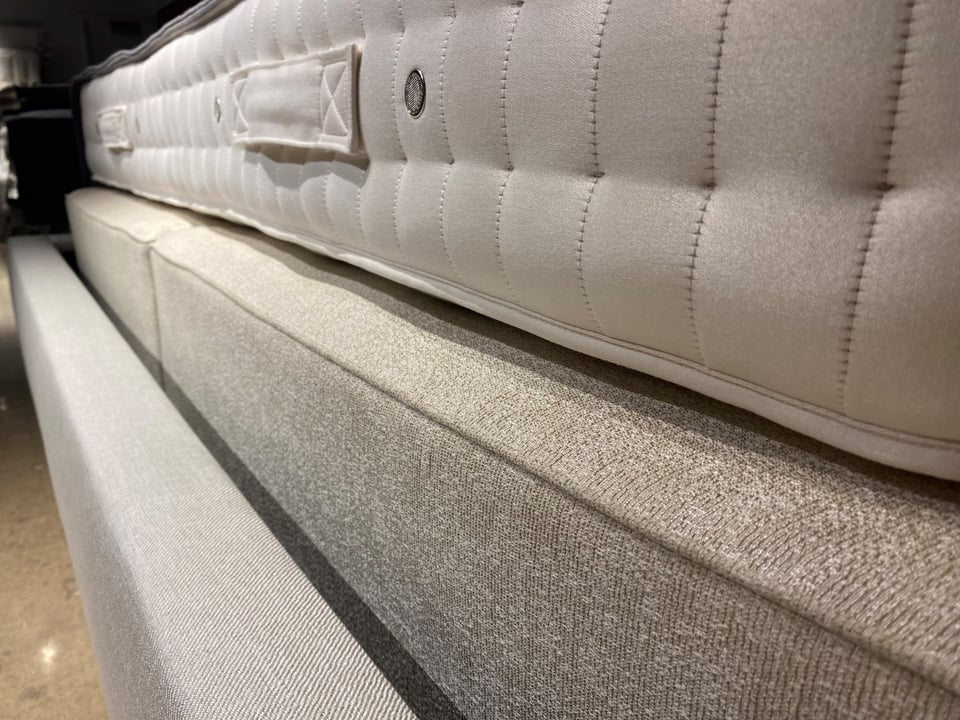 We spend a good portion of our lives sleeping, which is why there's so much that goes into buying a bed! You want to be comfortable - actually, for your health's sake - you need to be comfortable!
So obviously, a mattress is important for comfort, but what about a box spring? It's just a box that goes under your mattress – do you even need one? Or is it some type of unnecessary cash grab that we've all been duped into buying for this long?!
At McElheran's Furniture + Design, we've been furnishing rooms for life since 1994. And again, sleeping is a huge part of our lives! There was a point when box springs and mattresses were pretty much a package deal – you rarely bought one without the other, but now, there are options.
Options can be a wonderful thing, but they can also lead to uncertainty. That's why our in-house designers, Design Guides, are here! To eliminate uncertainty, address any concerns, and help you make the right decisions for you and your home.
With the help of McElheran's owner, Jeff McElheran, and our Design Guides, we'll get into it with box springs. In this article, we'll cover what box springs actually are (because it can be a little confusing), what they're for, if you need one, when you need one, and what to look out for to help with your decision.
Let's run with some basics first so you can truly get an answer to the burning question: "To box spring or not to box spring?"
What is a box spring?
This is kind of a loaded question, quite honestly. The term box spring has somewhat wrongfully been used as a catch-all term for anything that goes below a mattress when actually, a box spring is a specific type of foundational piece that contains springs and usually complements an innerspring mattress.
A broad term that would be more accurate for this kind of discussion is foundation.
And there are four main types of mattress foundations available:
1. Traditional box spring
They may not be as common nowadays, but a traditional box spring is easy to spot since it does in fact contain springs. These are meant to complement and work with the support system in your mattress. Traditional box springs help distribute and absorb weight, giving you a more comfortable sleep while increasing the life span of your mattress.
2. Non-sprung foundation
Among the more popular types of foundations, these are often called box springs, but are essentially wooden boxes with fabric and little to no springs inside. A foundation has very little give and doesn't flex or adjust to you - it's more of a platform. And even if it contains some springs, they're usually quite rigid and, again, mainly just there to add to the structure and foundation.
3. Euro-slat system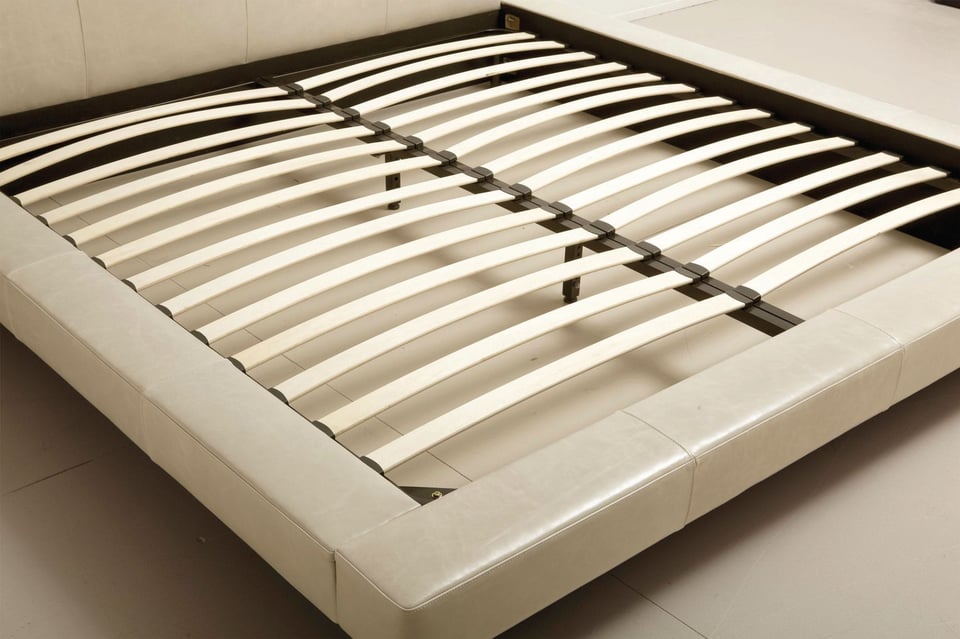 This is a support piece made up of strong, but somewhat pliable slats that run horizontally along the frame. The slats are bowed upwards to create more support and lift for the mattress sitting on top. A Euro-slat system is specifically built for a mattress to go on top, eliminating the need for any other type of box spring or foundation.
4. Adjustable foundation
These are moveable platforms with mechanisms that allow you to elevate your head or legs while lying down. Adjustable foundations are built and often purchased with flexible mattresses (usually foam or latex) to allow for ease of movement.
The purpose of a foundation for your mattress
A mattress may not always require one, but a foundation does serve a purpose - quite a few actually!
Keeps your mattress off the ground
Adds height to your bed
Allows aeration for your mattress
Provides extra support
Distributes weight
Absorbs impact
Additional benefits of a foundation for your mattress
As a result of using a foundation for its intended purposes, like keeping your mattress off the ground and absorbing impact, there are a few extra benefits to having that foundational support with your bed.
Increases the life span of your mattress by reducing wear-and-tear
Can change the firmness of your mattress (ex. A traditional box spring could add some more 'give' to your mattress, while a non-sprung foundation can make it feel firmer.)
Do I have to have foundational support for my mattress?
The quick answer? It depends on the bed and mattress that you have.
Most beds do need some sort of foundation to support the mattress. You may not need a traditional box spring, per se, but some type of foundational piece would be a wise purchase.
So, more often than not, we would say that it's definitely beneficial to have a foundation – it certainly doesn't hurt, anyway.
When do I absolutely need a foundation for my mattress?
An instance where you 100%, no doubt about it, should get a foundation for your mattress because it's going to make such an immediate difference is…
When your bed (headboard, footboard, sideboards) is too high for just a mattress.
If you've put your bed together, thrown your mattress down and it's sitting way too low - you almost have to climb down into your bed - you definitely need to add some height.
You should be able to get in and out of your bed comfortably and with ease. Adding a box spring or foundation may be all you need to achieve that!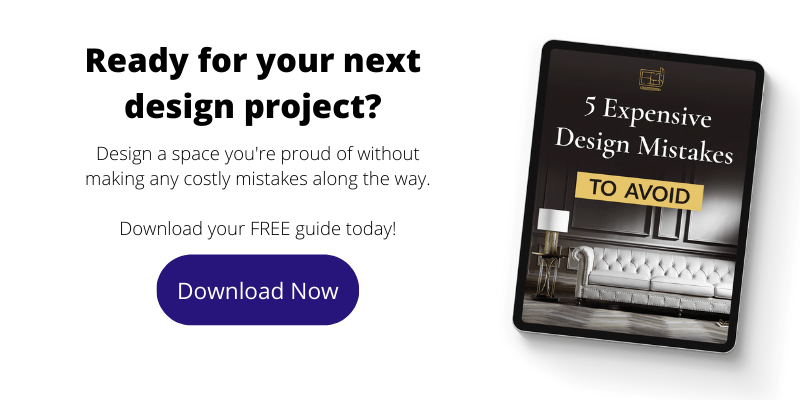 The need for a foundation depends on the type of mattress and bed you have
Certain mattresses need some type of added support, and certain beds can provide that. Looking at your bed and mattress together will help you figure out whether you will benefit from a box spring or foundation.
Types of mattresses
Innerspring mattresses
This classic type of mattress uses a metal coil support system. The springs within the mattress are covered in fabric, natural fibres, and other types of fill for added comfort, support, and softness.
High-quality innerspring mattresses are actually quite flexible when it comes to foundational requirements. For the most part, innerspring mattresses are meant to be paired with a traditional box spring so each coil system can complement the other, giving you a more comfortable sleep.
A non-sprung foundation or Euro-slat system can provide ample support for an innerspring mattress, too, but the support would mainly be a structural thing, as opposed to working with the mattress for additional comfort.
Memory foam mattresses/bed-in-a-box
These types of mattresses are certainly having their moment in the bedding industry. I mean, how nice is it to just order a memory foam mattress and have it come straight to your door in a neatly packaged box?!
And as much as a bed-in-a-box seems like a one-stop-shop bedding solution, these mattresses should have some type of additional foundation. The added support can be found in a platform bed, Euro slat system, or with a non-sprung foundation.
---
Related article: Magniflex vs. Purple vs. Endy: Which Bed-in-a-Box Mattress is Right For Me?
---
Types of beds
Platform bed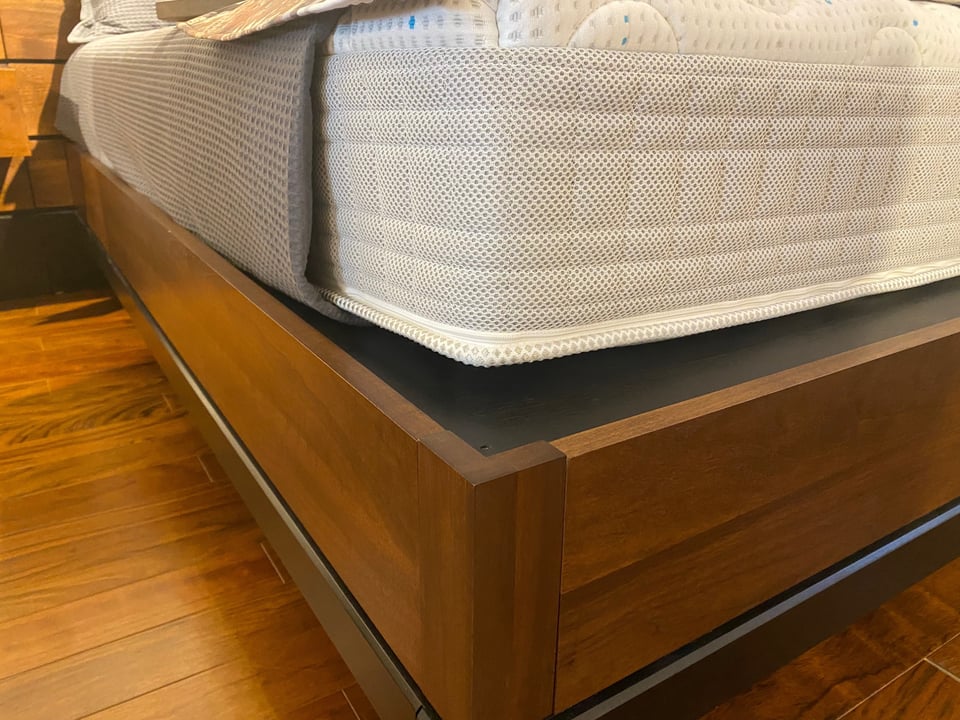 A platform bed is essentially a flat and sturdy surface for your mattress to sit on top of. The need for another foundational piece or box spring is pretty much eliminated unless you're looking to bump up the height of your bed. Making your bed a little higher could mean that it's easier to get in and out of, or, you might just like the way it looks!
Metal bed frame
This is another instance where a box spring or foundation is a worthwhile investment. In fact, you need some type of foundation to prevent your mattress from sagging. A metal bed frame doesn't offer much support in the middle – it's really just there to cradle a foundation from the outside.
Check the manufacturer's warranty to see if you need a box spring
Be mindful that certain companies require that the mattress is placed on a box spring for the warranty to be valid. That might let you know right there whether you should get a foundation or not.
That also speaks to the fact that a foundation can really add to the longevity of your mattress. Even if you don't feel the need to have one for comfort's sake, putting some type of foundation under your mattress can give it the extra support it needs to last longer.
How much is a box spring or foundation going to cost?
If cost is a determining factor for you when it comes to whether you'll get a foundation for your mattress, you're definitely not alone in that!
The thing is, though, box springs and other types of foundations are relatively inexpensive – especially compared to other components of a bed, like a mattress! The range in price is pretty widespread, but if you're looking for a high-quality foundational piece that will support your mattress (and you!) for years to come, here are a few price points to help you out:
Traditional box spring: $500 - $7,500

Non-sprung foundation: $200 - $400

Euro-slat system: $200 - $700
Adjustable foundation: $1,000 - $4,000
And if you are spending a bunch of money on a mattress thinking, "It's fine. I'll just make up for it by not getting a box spring." That's an understandable thought, but a box spring or foundation will actually save you money in the long run because you'll find that you won't have to replace your mattress as often.
And you might be able to stretch your budget in other ways and still get that foundation for your mattress! Read "Where to Spend and Save When Furnishing a Master Bedroom" to see where you can create some wiggle room for a high-quality, supportive box spring or foundation.
There are tangible factors to consider, like the type of bed and mattress, when it comes to foundations, but at the end of the day, your comfort is the most important thing! If you're in the Edmonton area, drop by our showroom to see the difference that a foundation can make for you and your bed. We welcome you to lay down, relax, take a break and get a feel for the different types of foundational support that you can get for your mattress.