The Most Popular Sofa Styles in 2022

Sasha Spencer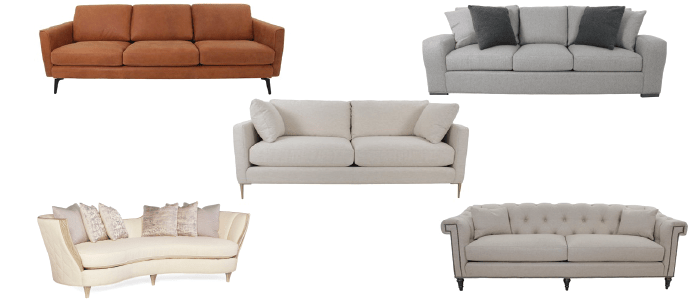 Buying a new sofa can be an exciting process, but it can also be overwhelming – because there are so many options out there! Beyond that, the amount of space in your home, your lifestyle, and your personal style are all contributing factors when deciding on a new piece of furniture. And once you find something you like, you should also be aware of the extended lead times that come with ordering furniture right now.
It's a lot to think about, but seeing what's popular right now is a great place to start.
McElheran's Furniture + Design has always been dedicated to furnishing rooms for life, and that passion is reflected in our Design Guides. One of our Design Guides, Teresa, has worked in furniture and design for 25 years. With a keen interest in visual arts, she is committed to staying up to date with trends but is also committed to helping you discover that perfect piece for you. That harmony between popular trends and your own personal style will lead you to the right furniture, regardless of where you buy it.
If you're shopping around, unsure of what type of sofa is best for you, taking a look at these trends can help you hone in on your style. You may realize that you're not into any of these popular sofas – and that's okay because knowing what you don't like is sometimes the first step in discovering what you do like. And, if you want to be "hip" without completely going off the deep end, the most popular sofa styles of 2022 are a worthwhile consideration.
The most popular sofa styles in 2022
Mid-century modern sofa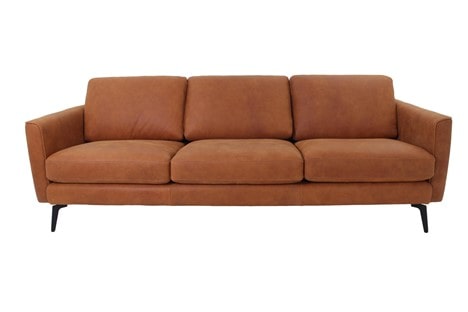 These sofas are typically characterized by crisp, clean lines, elevated off the ground with skinny legs. Mid-century modern furniture is rooted in functionality and simplicity, void of any extra embellishment or over-the-top detailing. With its straightforward nature, this type of sofa caters to the minimalist because of its sleek, lightweight look.
Why we love it
The clean lines and skinny legs of a mid-century modern sofa offers a lightweight feel to the overall look of a space. Especially when you're furnishing a smaller area, these types of sofas are unassuming in appearance while still highly functional. And, as retro as mid-century modern designs can be, they also display a streamlined and futuristic feel. A mid-century modern sofa can give you that sense of nostalgia without compromising sophistication and fashion.
Track arm sofa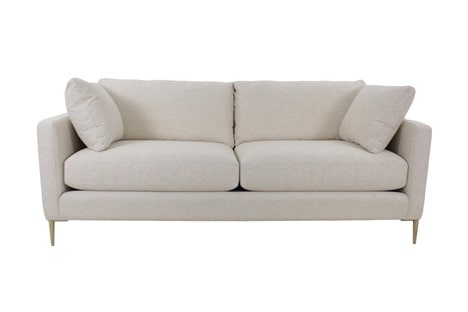 Track arms on a sofa are squared and straight and can be seen in a variety of sizes. The eye is instantly drawn to the clean, stark lines that a track arm brings to a sofa. If you're going for a more contemporary or modern look, the simplicity of this sofa will help you achieve just that.
Why we love it
Because of its clean, flat lines, a track arm sofa is inherently more compact, whereas a more traditional sofa would take up extra space with its rolled, oversized, or plush arms. Another really handy advantage of a track arm (depending on the width), is it offers an extra resting place for decorative pillows, trays, remotes, and phones.
Deep-seated sofa
Made popular by Restoration Hardware, the relaxed, deep-seated sofa is not going anywhere anytime soon. You're really getting the best of both worlds – comfort and style. And as we've spent so much time at home over the past couple of years, there is an increased desire for our visually appealing furniture to also be "comfy-cozy."
Why we love it
Deep-seated sofas are extremely inviting and warm. These are sofas meant for conversations. They are the type of furniture that makes you want to grab a blanket and watch TV for hours on end. Deep-seated sofas are built to be lived in, while still showing off a put-together and well-thought-out look.
Cabriole sofa
A cabriole sofa is an upholstered piece where the back curves into the arms in a smooth line. Generally, cabriole sofas will have fully upholstered arms with exposed wooden legs. The clean, fluid lines are less angular than the previously mentioned mid-century modern look. Cabriole sofas give off a traditional vibe, but with a modern and structured twist.
Why we love it
As one of our Design Guides, Teresa, points out, "We are a very visual society. We watch, and we want." And, no doubt, we've had a lot of time to binge-watch shows and adopt the different styles that we see. Taking a beat from recent period pieces in pop culture, like The Queen's Gambit and The Marvelous Mrs. Maisel, the cabriole sofa is seeing a resurgence.
This style gives us understated elegance. A cabriole sofa shows that you care about the furniture you're putting in your home without being too pretentious and winding up with an uninviting space.
Tufted sofa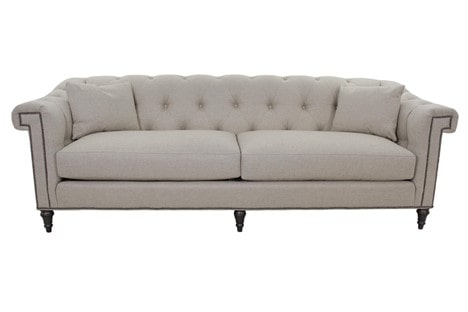 A tufted sofa features tightly woven fabric stitched, gathered, or buttoned down in a pattern. This instantly adds texture and intrigue. It can also bring softness to a piece of furniture that may sometimes appear cold and plain without it. Tufted fabric can be seen on virtually any part of a sofa – on the arms, rolled over the back, on the cushions, or accent pillows.
Why we love it
Tufted sofas are both attractive and functional. With tufted fabric, your sofa becomes more of a structural piece, which is great in an open concept space when various angles of your furniture can be exposed. A beautifully tufted backside of a sofa eliminates the need for a sofa table because it can be a standalone piece. The tufting of the fabric is also very practical because it keeps the fabric from sagging and relaxing over time.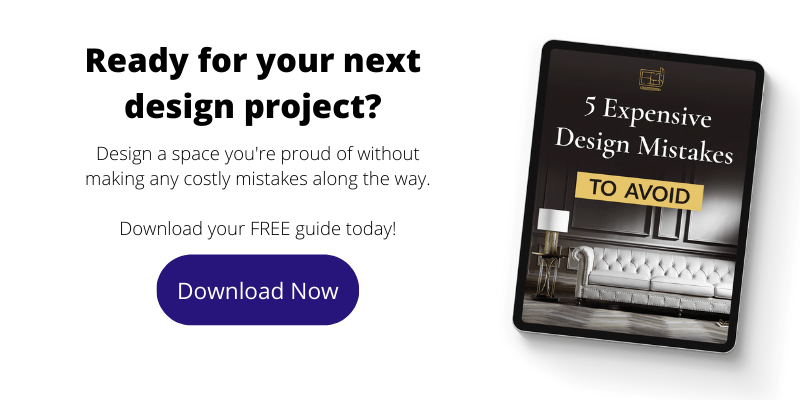 Trends are great, but what about my personal sofa style?
One of our Design Guides, Teresa, had a client a few years ago and she was a very trendy senior citizen. Because of her age, it was usually assumed that she wanted furnishings that were traditional and kind of old-fashioned. But that just wasn't her!
After sitting down with Teresa, it became evident that this client was bold, adventurous, and anything but old-fashioned. Teresa eventually found her a brightly coloured, sleek, streamlined, mid-century modern sofa. (Plus, a few other show-stopping pieces to complement the overall look).
Teresa's client was living in a seniors centre but was able to fashion her own space to suit her style. After working with Teresa, her suite became the so-called "party room" where everyone in her centre gathered. People already gravitated towards her lively personality, and now she had a space that reflected that, too.
So, trends will come and go – and often return with an updated twist. Taking note of popular styles is a great way to give yourself direction, especially if you're starting from scratch. However, since style is so subjective - and it is really a form of personal expression - it is important to dig deep and truly find out what interests you.
And that's what our Design Guides are here to do! They are all about finding what makes you tick AND making sure your selections are practical for your space.
Because that's a whole other consideration when it comes to sofas – the function. Once you have a style in mind, space planning will help you determine what a practical sofa choice is, so you can be satisfied with your final purchase.
If you'd like to see these popular sofa styles (and so much more) drop by our showroom or schedule a visit for an in-depth consultation with our Design Guides.