How to Mix Leather and Fabric Furniture

Sasha Spencer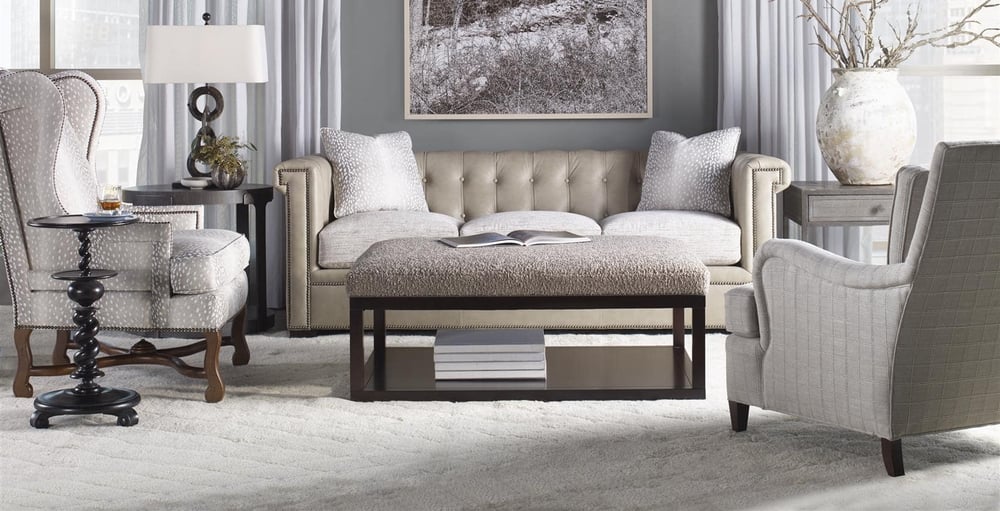 Who says you can't have the best of both worlds, right? Leather furniture is an attractive choice, as is fabric – so why not mix the two together? It is possible, and actually, if you do it right, you'll end up with a specially curated and wonderfully thought-out space.
Since opening our doors in 1994, McElheran's Furniture + Design has always carried a wide selection of both leather and fabric furniture. And most of what you see on our showroom floor can be customized to include whatever upholstery you'd like! And if you like both, we can definitely accommodate that.
Not that you have to buy from us, either. Especially if you're really just wondering how to make it all work together. We just want to help you create a space you're proud of.
Our in-house designers are known as Design Guides, and in this article, they'll go over the dos and don'ts of mixing your leather and fabric furniture. And we can start by discussing why you're doing it in the first place and what both fabric and leather can do for your space.
Why should I mix leather and fabric furniture?
Well, first of all, no one here is saying that you HAVE to mix your leathers and fabrics. You can still create a beautiful space by sticking with one type of upholstery. But if you're intrigued by the notion, why not give it a shot? There are many reasons to bring both leather and fabric furniture into your home.
Brings depth to your space
When you bring in multiple design elements, like different textures and colours, you're creating more layers and depth. The variety between your main seating, accent chairs, and other pieces in the room add interest to your space, creating a rhythm and pattern for your eyes to follow.
There's a sense of playfulness as you introduce new levels of design into a space.
Looks intentional
Anyone can mix leather and fabric furniture, but when it's done right, you'll come out with a beautifully designed room that looks well thought-out and intentional.
When you mix different upholstery, it shows you sought out certain pieces to curate a specific aesthetic. You took your time, did your research, found your inner designer, and went for it!
Changes the overall look and feel
An all-leather room can sometimes come off as cold – almost uninviting. The addition of plush, fabric furniture can cozy it up and soften the entire room.
On the other hand, adding pops of leather to a room full of fabric furniture can bring in an element of refined sophistication.
Cost-effective
This is not always the case but mixing leather and fabric can be cost-effective. Leather is often the more expensive upholstery, so if you're looking to shave down the cost of furnishing a room, swapping out some leather furniture for fabric can help you do just that!
On that note, though, introducing leather into your previously all-fabric space will generally bring up the price.
The 'dos' of mixing leather and fabric furniture
As mentioned, anyone can mix leather and fabric furniture, but whether the two upholsteries complement each other and actually look good is a completely different story. Here are a few 'do's' that can help you achieve that perfect mix of leather and fabric.
Do make it interesting
If you've already made the decision to mix leather and fabric, why stop there? Dive in with both feet! Don't just pair up contrasting upholstery, look for different colours, patterns, shapes, and styles.
Furnishing and designing a space should be fun and inventive. And once you've opened the gate to try out different things, you can mix and match to see what looks speaks to you and what doesn't.
Do break up the monotony
The thing about leather is it's usually one singular colour. There's texture, sure, and the dye of the hide might be a little uneven, but for the most part – it's monochromatic.
With fabric, there's a lot more flexibility with colour and pattern. There are simply more options! Bringing a fabric piece or two into your space is an opportunity to break up the uniformity that comes with a large piece of leather furniture.
Do use accessories and décor
Using accessories and décor is a great way to create a cohesive look and really tie together your furniture – regardless of your upholstery choices.
If you're worried about visually linking your furniture together, you can take throws or toss cushions that have an element of one piece of furniture and put it on another. For example, you could put a toss cushion made from the same fabric as your accent chair and place it on your leather sofa.
Area rugs, wall art, and décor can also be used to emphasize design elements and connect different pieces within the room.
Do consider the different types of leather and fabric
While fabric and leather can be a match made in heaven, not all types of leather and fabric go well together. It's important to consider the inherent qualities of the upholstery you select.
For instance, leather is naturally a more robust and substantial upholstery, pairing well with fabric that holds its own visual weight and texture, like tweed, chenille, or velvet.
It's not unheard of, but putting leather furniture next to something with an extremely dainty fabric and delicate detailing can be tough to pull off. Again, it can be done, but be aware that two upholsteries with drastic differences in texture and visual weight will often look mismatched.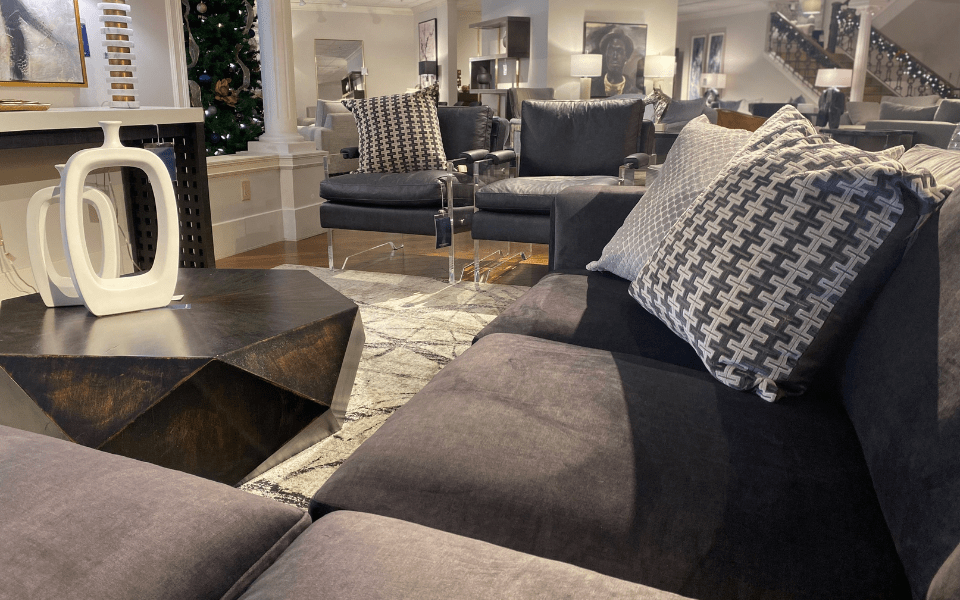 The 'don'ts' of mixing leather and fabric furniture
It can be a little silly to lay out rules over something so subjective. Hey, it's your home, your space, your furniture – do what makes you happy! But a little guidance never hurt, especially if you're apprehensive about mixing leather and fabric in one space.
Don't have equal amounts of leather and fabric
When you're mixing and matching different colours, textures, upholstery – anything, really - you're doing it to create a visually interesting space. So, don't feel like you have to adhere to strict ratios. Try going a little heavier on the leather with just a couple of complementary fabric pieces – or vice versa.
Don't be afraid
Play around with your furniture and look for different ways to emphasize your unique style. Again, designing and furnishing a space is meant to be an expression and reflection of you – so don't be afraid to experiment with different looks to see what suits you best. And if you have to ignore some "design rules" along the way so you can incorporate both leather and furniture, so be it!

Which leather and fabric will work for my furniture?
Now that you're keen on mixing both leather and fabric in your space, it's time to figure out what fabric and leather will work for you! For more on leather, check out The Different Types of Leather (And Which One Is Best for Me?) and you can also read up on How to Choose the Best Fabric For My Furniture.
If you're in Edmonton, our Design Guides would be happy to help you with your leather and fabric furniture needs. They'll even assist you in making sure you're picking the right pieces that will go together! Schedule a visit to McElheran's today or drop by our showroom.