The Different Types of Leather (And Which One Is Best for Me?)

Sasha Spencer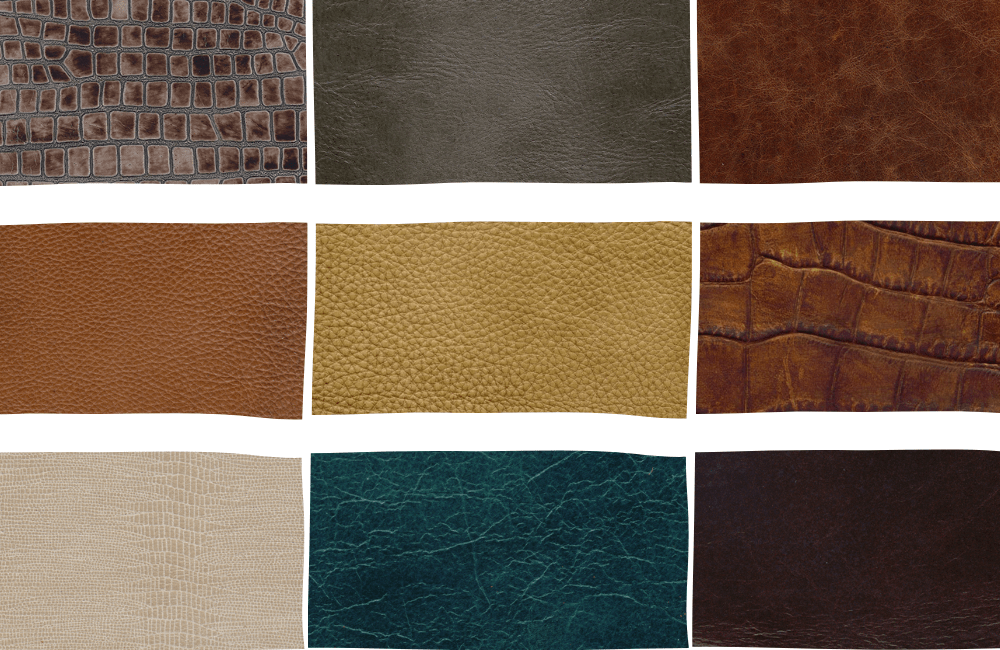 As you're considering leather for your furniture, you may have realized that there are a lot of leather options available. And on top of that, there are also products out there that are a lot like leather, but sadly, fall short in quality.
And have you noticed that some leather products seem to last longer than others? You'd be correct in thinking that not all leather is created equal.
At McElheran's Furniture + Design, we've been providing Edmonton and area with high-quality furniture since 1994. And leather goes hand-in-hand with quality, doesn't it? There's a certain sophistication and luxury that comes with owning leather furniture, and you can find a wide selection of it here at McElheran's.
And we'd love for you to discover your next piece of leather furniture in our showroom, but if the most we can do for you is help you figure out which type of leather you need, hey, we'll take it. Leather tends to be one of the more expensive options for upholstery, so we understand the desire to make an informed and educated decision.
There's a lot of information on leather at your fingertips and, honestly, some of it's pretty convoluted. There are terms out there that are interchanged when they shouldn't be, and even some misleading terminology, too! So, in this article, one of our Design Guides, Teresa, will take the time to explain the different types of leather and which one will be the best fit for you.
Different types of leather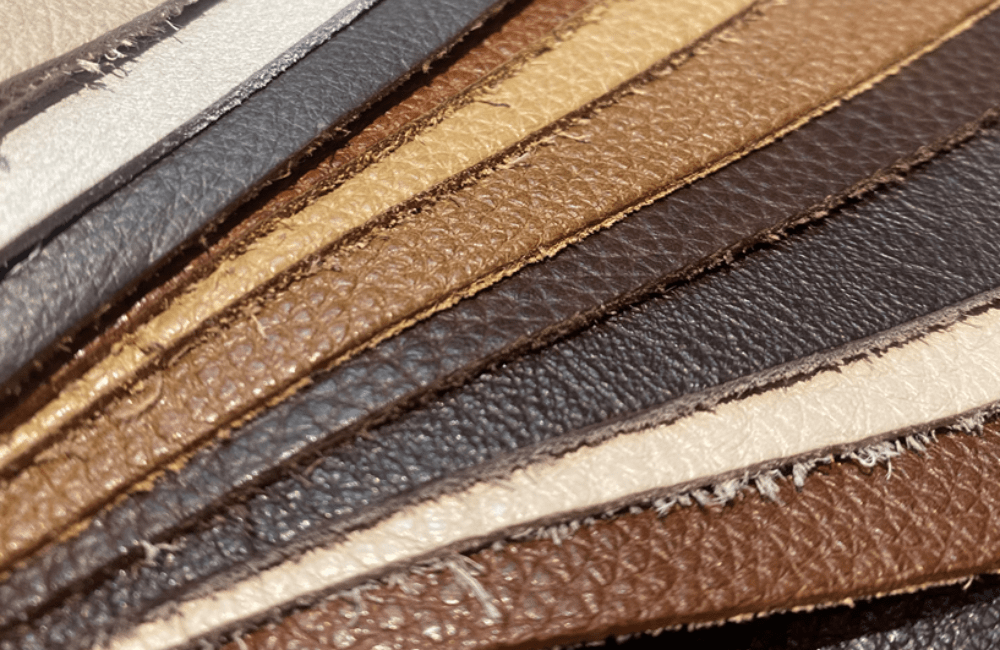 Full grain
Full grain is the best of the best when it comes to leather. It is the most natural, in terms of look and performance. Essentially, full grain leather is an animal's hide that goes immediately into the tanning process once the hair has been removed. The hide's natural charm is kept intact, so you may see scarring or uneven pigmentation throughout your piece.
This type of leather will develop a beautiful patina over time, too. Patina is a natural aging process where leather develops a unique sheen due to its exposure to elements and general wear and tear. This gives the leather a character that cannot be achieved through artificial means.
It is also among the more durable versions of leather and - barring any unforeseen instances - could last a very long time on your furniture.
Top grain
Top grain is a very close second in quality to full grain. The top layer of the hide is corrected by sanding down and buffing out imperfections. This thins out the hide slightly which makes it more pliable, but a little bit weaker than full grain leather.
After top grain leather has been corrected, other textures are sometimes stamped on to give the leather a different appearance, like alligator or snakeskin.
Split/genuine leather
Because a hide is usually pretty thick (6-10mm), it can be split into two or more pieces. The outermost layer is your full and top grains, while the remaining pieces are for split and genuine leather. Split leather is used to create suede and tends to be more prone to tears and damage than other types of leather.
Now, the term genuine leather can be quite deceiving. You are getting real leather, that's not a lie, but 'genuine' gives off the impression that it's top-tier quality. That's simply not the case. Genuine leather often has an artificial material, like bycast leather, applied to its surface to present a grainy, leather-like look. Bycast leather, by the way, is a faux leather, which is explained below.
Both split and genuine leather (which are often interchangeable) are commonly seen on purses, belts, shoes, and other fashion accessories.
Bonded leather
Bonded leather is fairly new to the upholstery world, actually, and it's made by bonding together leather scraps, plastic, and other synthetic materials to make a leather-like fabric. Real leather is in bonded leather, but it's usually only in the 10 to 20% range. And rarely will you find high-quality (top or full grain) leather used in the scraps to form bonded leather.
Faux/vegan leather
This type of leather, well, it's not leather at all. No animal products or by-products are used in the making of faux and vegan leathers. Instead, you'll see leather-looking materials that have been manufactured from polyvinyl chloride (PVC) or polyurethane (PU).
The dying of leather
The way leather is dyed and processed can further categorize it and determine its hand (feel), durability, performance, and quality.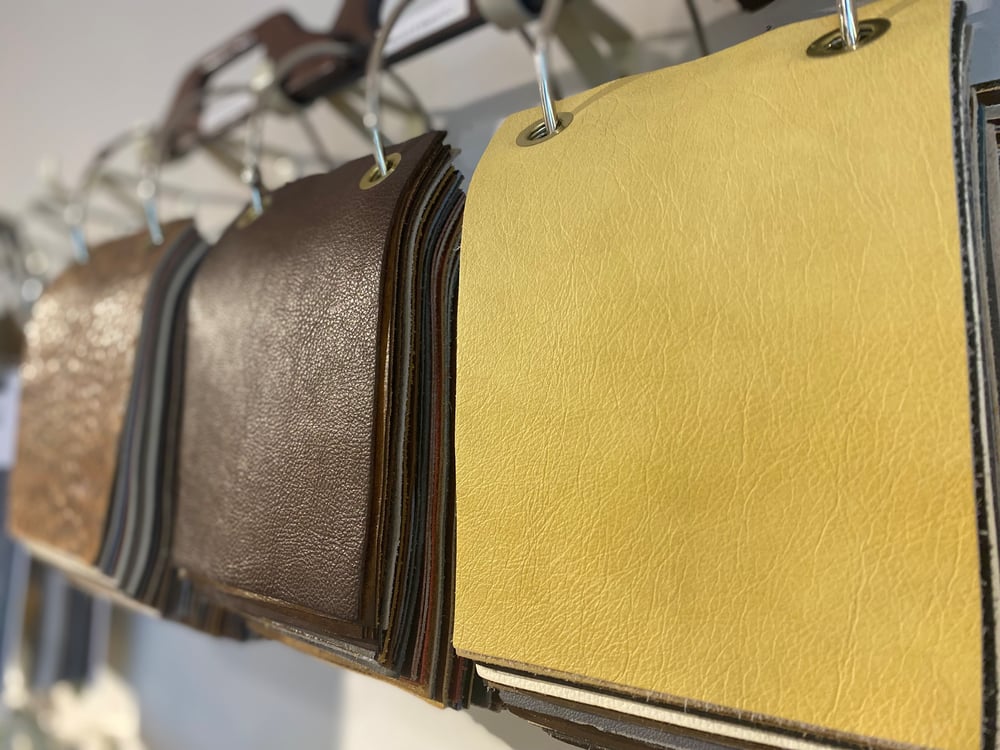 Aniline
Aniline leather is coloured with soluble dyes without the use of additional pigments or protectants. The hide is placed in a vat and dyed until it is completely saturated leaving the leather feeling soft and porous. The natural characteristics and imperfections of the leather are still able to shine through after the aniline dying process.
Because aniline leathers do not have a protective coating of any sort, they are more susceptible to scratches and stains.
Semi-aniline
Semi-aniline is rather similar to aniline leathers, but there are a couple of differences.
First of all, with the semi-aniline process, the dye does not penetrate the leather as much as it does with aniline-dyed leather.
Then, a protective topcoat is applied to the leather's surface. This gives the leather a more uniform look and added protection, but it can also take away from the overall softness. Because of this dying method, semi-aniline leather sometimes feels more processed than other leathers.
Nubuck
Nubuck is created by buffing or sanding aniline leather to give it an almost suede-like look and feel. Nubuck is stronger than suede but is prone to fading and stains. A patina will develop over time, too, so be prepared to eventually see imperfections and inconsistencies in colour.
Protected vs. corrected leather
If you're hearing or seeing both these terms while you're looking at leather, they do mean two different things, so we'll help you out with a couple of definitions:
Protected leather
Protected leather has a coating on it that has been added during the manufacturing process. This protective barrier gives the leather more durability and creates a more uniform look to the overall colour. Semi-aniline leather is an example of protected leather.
Corrected leather
Teresa points out that most leather is corrected to some extent because very few hides are without blemishes. When a piece of leather has been sanded or buffed to remove imperfections, like scarring, that leather is being corrected.
And sometimes, grains are stamped into the leather to emphasize the natural textures or create a different look altogether.
Full grain leather is not corrected, while top grain most often is.
Grain vs. grade
Are these words interchangeable? No, they're not.
In fact, one is much more important and, quite frankly, measurable than the other – and that is grain.
Grain refers to the texture of the leather and the properties that you can physically feel and see. Whereas grade is more of a classification system used by suppliers. It's not that leather grades don't mean anything, it's just that there are no universal standards, so leather grades aren't terribly accurate.

What kind of leather is going to work for me?
The main things to take into consideration as you mull over the best type of leather for you are:
Your lifestyle
Leather, especially high-quality leather, can be extremely durable, which is why it's so popular on furniture. Having said that, though, no material is impermeable.
If you expect to use your leather furniture quite often, it's probably best to go for protected leather, like semi-aniline. And you can further protect your furniture, too, with a furniture protection plan.
Your budget
Certain leathers are more expensive than others, like full and top grain. But you're getting quality, right? This usually means that you're able to enjoy your furniture longer, which could save you money in the long run.
It should be noted, though, that there are some very expensive leathers out there that are a little more on the delicate side, like nubuck. So, there are definitely instances where more money doesn't necessarily mean things will last longer.
And if you want leather now and you're on a tight budget, you may want to look at a cheaper option, like split, bonded, or even faux leather.
There's also furniture available that is not completely covered in leather. You may be able to find a sofa, for example, that is largely comprised of top grain leather, while sections like the back and side are bonded or faux leather. This brings down the overall quality of the piece, sure, but it could help you save some money.
The look you'd like to achieve
We've thrown around the word "patina" a couple of times in this article. And you know what? Patina is not for everybody.
Some people find the natural aging process of full-grain leather very appealing. This gives your furniture a rustic, distressed, unique, and perfectly imperfect look. You can also get this look with an aniline-dyed top grain leather
If you'd prefer your leather to look a little more uniform, pretty much any corrected leather can get you there. You can also achieve that style - though the quality will suffer - with faux or bonded leather.
How do I look after leather furniture?
Leather furniture is sought after for its durability and low maintenance. It's generally pretty easy to clean, too. But there is a little bit of upkeep that goes along with owning a piece of leather furniture. To find out what you're in for (and it's not much), check out Leather Furniture Maintenance.
And if you're ready to explore these different types of leather and see which one will work for you and your home, drop by McElheran's! If you're in the Edmonton area, one of our Design Guides would love to take you through our showroom so you can see all your leather options.