Leather Furniture: Is it Really the Best? (Benefits, Problems, Alternative Options)

Sasha Spencer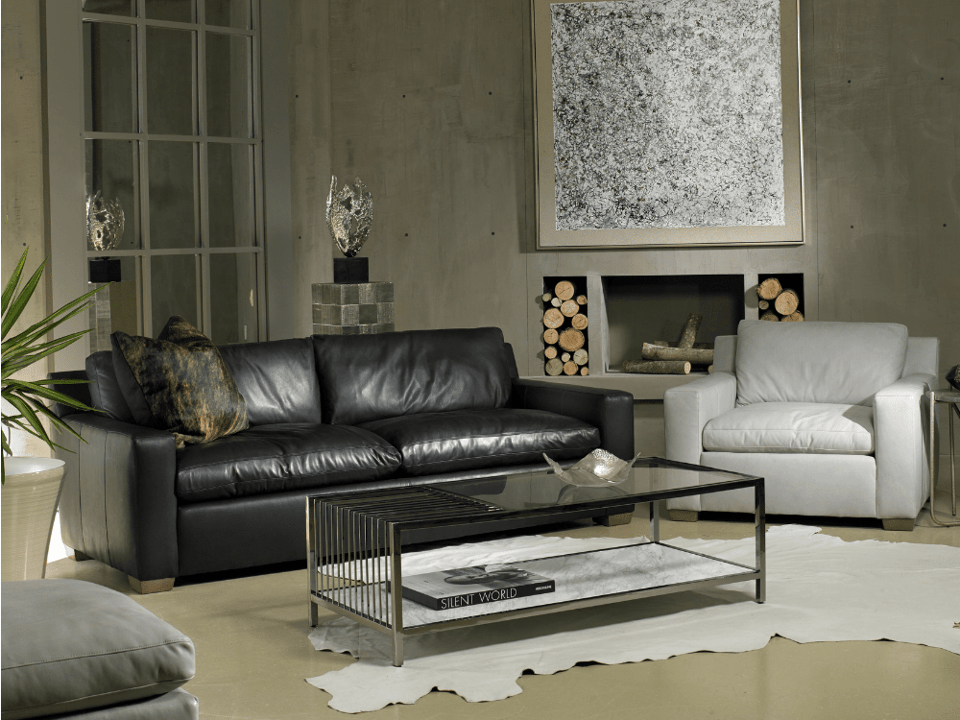 There was absolutely a time when leather was the hands-down, second-to-none, choice for upholstery on your furniture. And it's still up there, for sure, but is it the best choice for you? With upgrades on other materials, like polyester and other blends, leather may not be the obvious front-runner like it once was.
And having more selection is great, but now you're faced with figuring out which material will work best in your home.
Part of customizing your furniture is picking out the upholstery – and we offer an abundance of options for you at McElheran's Furniture + Design, in leather and fabric!
Our in-house designers, known as Design Guides, are well versed in the debate over whether leather is truly the best. We've had many people come into the showroom saying, "We've got kids and pets, so we need something durable!" (Oh, and they're usually looking for something that is easy to clean, too). And, more often than not, our customers immediately gravitate towards leather.
Now, we're not saying that leather is the wrong choice. In fact, quite the opposite – it can be the best choice for you and your home. We're just saying that it's not the be-all, end-all. There are other options out there that could be a much better fit for you than leather.
In this article, one of our Design Guides, Shelley, will take us through:
And if you decide to still go with leather – great! We just want you to know that there are other perfectly viable options out there that you may not have thought about before.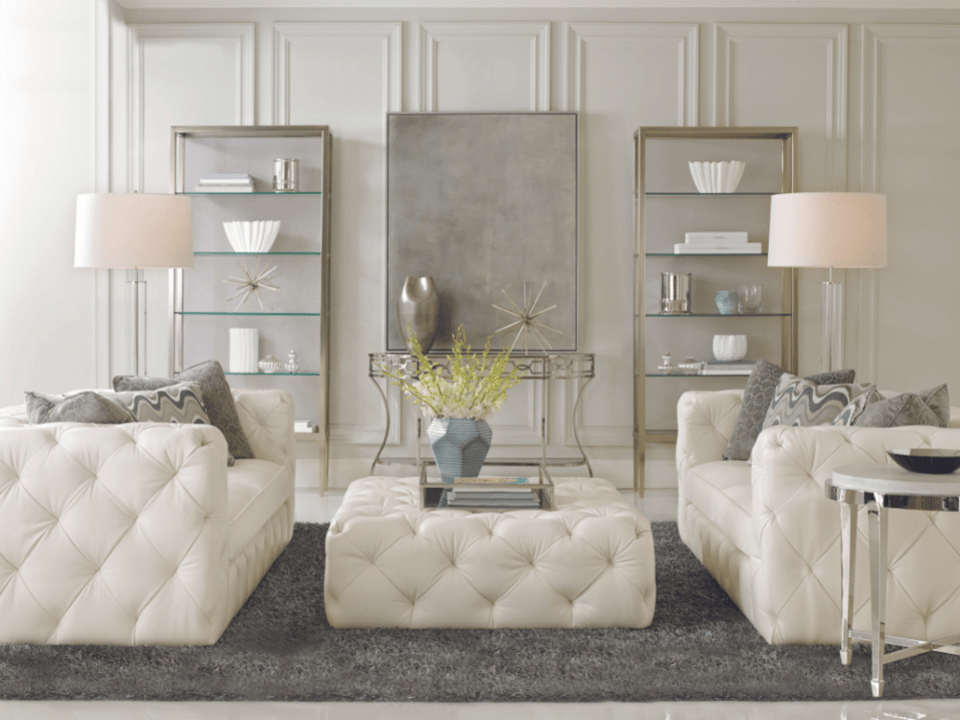 The common benefits of leather furniture
There is an assumption that leather is the superior option in furniture upholstery. And its price point reflects that! Our perception of quality is often determined by cost, and since leather is generally more expensive, we are led to believe it's more valuable.
And leather does offer some pretty strong benefits.
Durability
Leather has a long-standing reputation for being a tough and durable material, while still offering a comfortable feel. It comes from nature (it's literally an animal's skin) so, if it's able to withstand the elements, it's assumed that it should handle kids and pets or anything else that could cause damage.
Cleanability
A little spill here and there is usually a non-issue on leather furniture. And since it's an animal hide instead of a woven fabric, dirt and other matter are easily wiped away.
Versatility
Another great thing about leather is how flexible and versatile it is. That's why leather is commonly used in motion furniture. You'll also see leather on large, robust furniture or more petite and tailored pieces.
The problems with leather
It's not completely indestructible
This isn't really an issue with leather, it's a problem for all upholstery: it's not impervious to everything. Quite simply, you're never really going to find a material that will repel every stain and prevent every puncture, scratch, or tear.
---

Related Articles: Is the Guardsman Furniture Protection Plan Right for Me?
---
It's more difficult to rotate or flip the cushions
Parts of leather furniture, like the back pillows and seat cushions, are usually not completely covered in leather.
There are two main reasons for this:
If every inch of your sofa was completely covered in leather, the cushions would not stay in place. For lack of a better word, leather is a little slippery. Sections of fabric on the underside of cushions or on the base of the seat keep everything in place and allow for the addition of Velcro or zippers for an extra-strong hold.

The sections of fabric allow for better airflow when you sit down and get up from your seat. If your cushions were completely covered in leather, air would have a hard time escaping and it would almost feel like you were sitting on a slowly deflating balloon instead of a soft, comfortable seat.
The fabric component is important, but it does raise a little bit of a problem in leather furniture. It's more difficult to flip or rotate your cushions when they're not completely covered in the same material. And proper cushion rotation is a part of regular maintenance to extend the life of your furniture. Unfortunately, you're just not able to do it as easily with leather pieces.
It shows wear and tear
If you're using your leather furniture quite a bit, you're eventually going to see the wear and tear. Leather is prone to fading, and it can even crack, too. And if you're sitting in the same spot day in and day out, it will start to wear. This can happen with fabric, too, but it tends to be a little more noticeable in leather.
Dye transfer
Darker leathers are usually fine, but if your sofa or dining chairs are lighter in colour, you may have some issues with dye transfer. Particularly with blue or dark jeans, light coloured leathers may start to show some of the dye from your pants.
Higher price point
Putting leather on your furniture increases the price, which is pretty common for natural materials. Even if you really like the look and feel of leather, it could end up costing you more than you expected.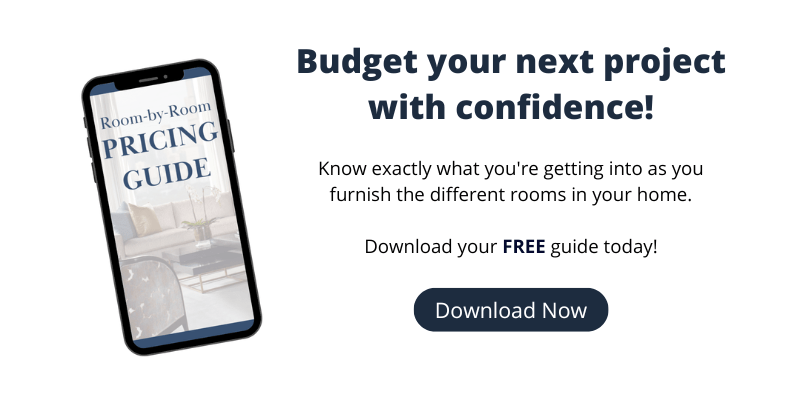 Who is leather not a good fit for?
If you want your furniture to have an absolutely pristine finish, leather may not be your first choice. Leather is a natural material, and Mother Nature is perfectly imperfect. You'll often see some scarring on leather, and the overall tanning could look a little uneven. It's part of the character of leather, actually, but the look isn't for everyone.
And you're ALWAYS going to have seams on your leather upholstery – especially on larger pieces of furniture because hides are only so big. So, if you want a sectional that is seamless on the backside, leather probably won't work for you.
If your pets like to go on the furniture, leather doesn't do well with sharp nails. Even if your pets are not intentionally scratching things, you may start to see small punctures and scratches in the leather from them, essentially, just living on your furniture.
And, of course, if it's important to you to not have anything in your home that came from an animal or made out of an animal by-product, you should definitely pass over leather.
Okay, so what other furniture upholstery should I consider?
There are a few high-quality options that would be just as good as leather, if not better, depending on what suits your needs.
One great option that is worth looking at: Polyester.
Unfortunately, polyester carries a bit of a reputation as being cheap and low-quality, but honestly, it's just not true! Not anymore, anyway.
Polyester is durable, stain-resistant, fade-resistant, soft to the touch, and can mimic other fabrics that may be more appealing to you, like leather. Plus, it's certainly not the most expensive fabric on the market.
Polyester has been around for a long time, and it's man-made, right? So, you know it's been perfected over the years. And any shortcomings that polyester might have, a blend can certainly make up for it and improve the overall fabric.
Furthermore, Crypton and Fibreguard are treatments that can be done to polyester (and other fabrics) to strengthen the material and make it stain-resistant.
Crypton
Due to its weaving and barrier design, Crypton is a treatment that gives fabric stain, odour, and moisure-resistance. It also makes it easy to clean. Crypton technology is smart and environmentally responsible, giving durability and livability to your fabric.
Fibreguard
Fibreguard is added to a fabric during the manufacturing process for further protection against stains. The addition of fibreguard increases the life span of your fabric, as well. Fibreguard technology was created with you in mind, so you could live your life freely without worrying about unpredictable mishaps and spills.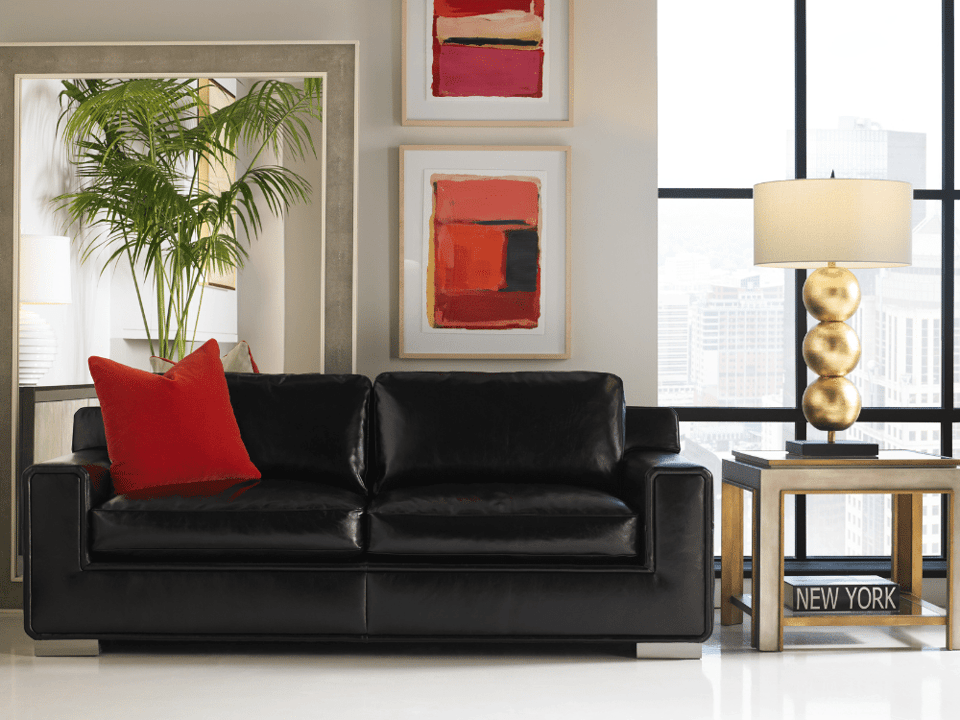 Leather or fabric: which should I choose for my furniture?
If you're seeing that fabric could be an alternative for you, let's take a look at your different fabric options! Have a look at How to Choose the Best Fabric for My Furniture.
And if you're still on team leather – and it's a good team to be on – browse our leather furniture to see which styles work for you!
Of course, our Design Guides would be happy to help you out with whatever upholstery you decide to go with – leather or fabric! The most important thing is that you're happy and comfortable with your final decision. Schedule a visit to McElheran's and we can take you through your many upholstery options.