How to Choose the Best Fabric For My Furniture

Sasha Spencer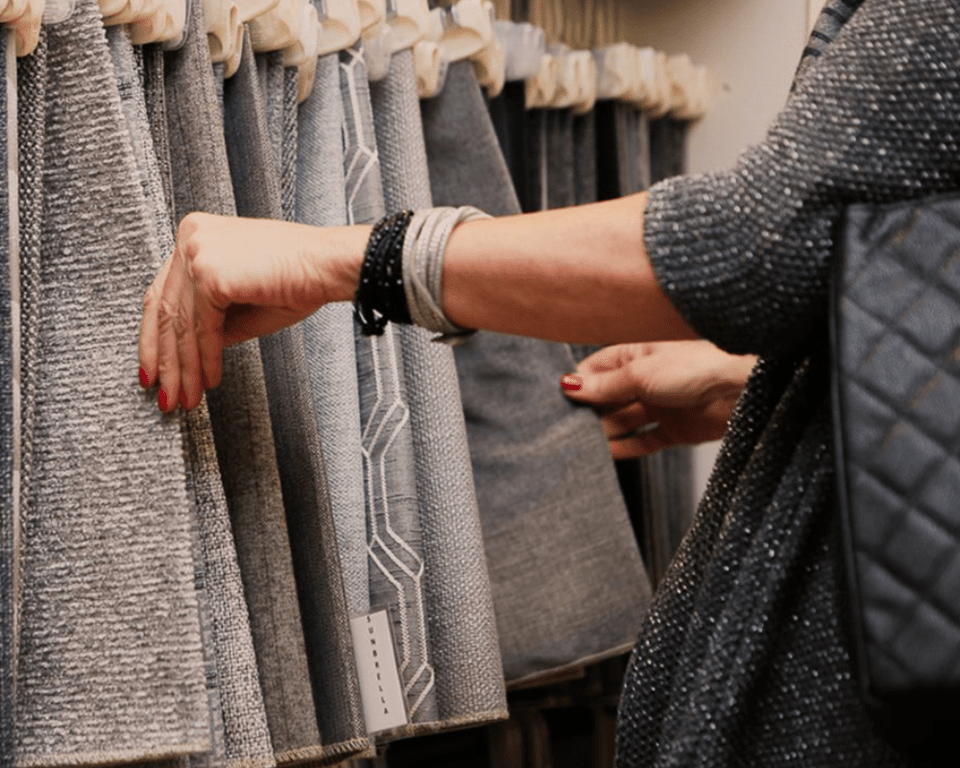 When you're shopping for new furniture, you can really get it just the way you like it, down to every detail. From the style, to the brand, to the size – there are so many variations! And one area that can really bring your whole look together and ensure that your furniture works with your lifestyle is the fabric you choose.
And again – so many variations! You can upholster your dining chairs or sofa in natural fibres, synthetics, and even blends. So how are you supposed to know which fabric is the best for your furniture? And what should you take into account so you know you're making the absolute best decision?
Our in-house designers at McElheran's Furniture + Design are known as Design Guides. They are here to guide you in finding that perfect piece of furniture and make sure that every detail is considered! That way, your final purchase will be made with 100% confidence – even if you end up finding the furniture of your dreams elsewhere.
With over 60 years of combined design experience, our Design Guides have learned that when it comes to the fabric on your furniture, the number one thing that you have to think about is your lifestyle. And they will help you find the material that will work within it!
In this article, our Design Guides will break down what you should consider when looking at fabric, we'll touch on blends, and we'll even give you our honest recommendations on what is best. To start things off, let's get into the most common types of fabric available for furniture.
Common fabric options for furniture
Cotton

Linen

Wool

Silk

Velvet

Polyester

Nylon

Acrylic

Rayon

Vinyl

Blends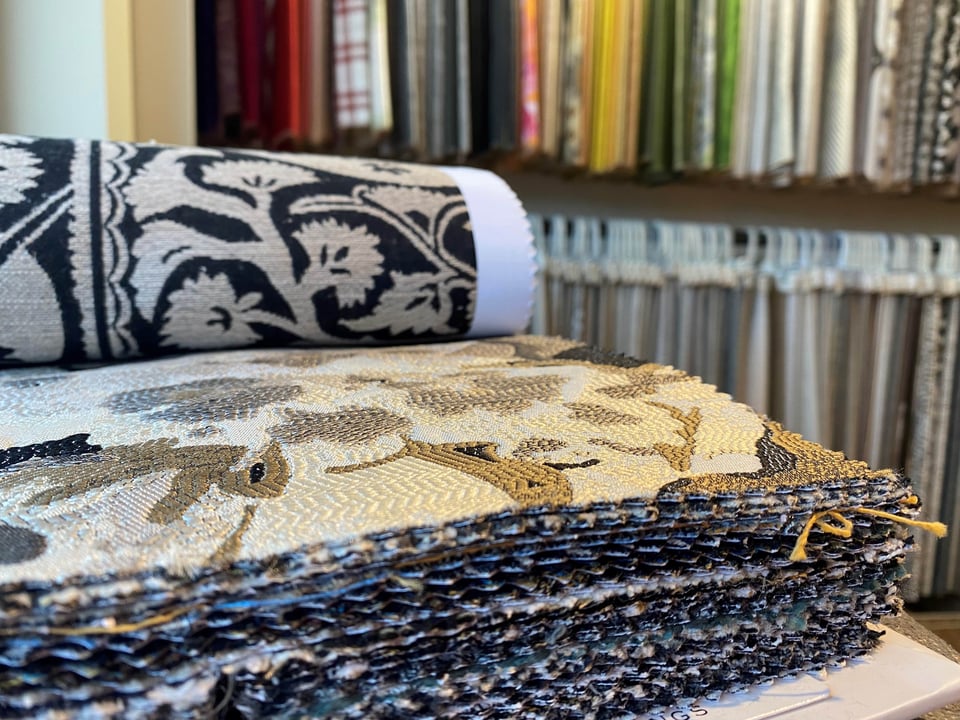 What should I consider when deciding on upholstery?
Durability
How much is your piece of furniture going to go through on a day-to-day basis? Does your lifestyle require a lot of integrity and durability from the fabrics on your furniture?
Durability can be determined by the content and tightness of the fabric's weave. Content-wise, fabrics may have Crypton or Fibreguard woven in during construction, which helps strengthen the material and make it stain resistant.
Some fabric is made with a backing, too, that helps repel stains and adds extra stability.
You can also look at a fabric's double rub, which measures the abrasion resistance of upholstery. The information isn't critical, and it isn't always available, but if you see it, 10,000 to 30,000 double rubs are common in home furnishing fabrics.
Natural vs. Synthetic
No matter what each type of fabric offers; you may just have a personal preference for where the material comes from and how it's made.
If you don't want animal products or by-products in your home, you should definitely steer clear of wool and most other natural fibres.
There may be an allergy issue, too. Sometimes swapping out wool for a synthetic look-a-like, like acrylic, can alleviate any potential discomforts due to allergens.
And if you're okay with the synthetic route, many synthetic materials mimic natural ones, too, like rayon in place of silk.
Aesthetic
Think about the kind of look you are going for in your home. For a more casual, light, and airy aesthetic, cotton and linen are appropriate choices. Cotton, linen, and rayon also absorb colour very well, and you can end up with vibrantly coloured furniture and beautifully curated patterns and designs.
For a more sleek look, velvet and tightly woven, solid polyesters can provide more of a striking and structured appearance.
Stain Resistance
A very common statement that we hear at McElheran's is, "We'll get nicer furniture once the kids are out of the house."
And that's fair. Kids can be unpredictable and often sticky for some reason…? Anyway, that doesn't mean you shouldn't be able to enjoy high-quality furniture now. You just need a fabric that's strong and easy to clean.
Same goes for pets. A couple of furry little friends shouldn't keep you from getting the furniture of your dreams - you just need to take a little extra time when figuring out the right type of fabric.
So, with kids and pets, polyester and synthetic blends are great options. They're relatively stain resistant, durable, and easy to clean, as needed.
Budget
A general rule of thumb is that natural materials are more expensive.
Take a look at your budget and see which materials can fit into that. On the higher end of cost, you're looking at wool and silk, with the less expensive options coming from rayon and polyester.
Something to keep in mind, too, the durability of fabric doesn't necessarily reflect the price - it's more about the actual fibre used.
Silk, for instance, is a pretty delicate fibre, but it is often more expensive than others.
Comfort
Shot in the dark, but I'm assuming you'd want to feel comfortable in whatever fabric you choose.
Some people aren't big on wool and wool blends because they feel too itchy. Or, you may not like the slippery feeling of sitting on a silk chair.
If you're able to, it's definitely worth coming into a showroom, sitting on some furniture, and truly getting a feel for what materials you prefer and can see yourself enjoying.
It's just one of the advantages of shopping in-store instead of online - you can experience your furniture before you buy.
Maintenance
So, how much upkeep are you willing to put into your furniture to keep it looking like new?
Quite honestly, if you're putting high-quality upholstery on a well-made piece of furniture, it should be relatively low maintenance.
There are materials that do wrinkle, though, like cotton, linen, and silk. Those may require a little extra attention to keep them in pristine condition.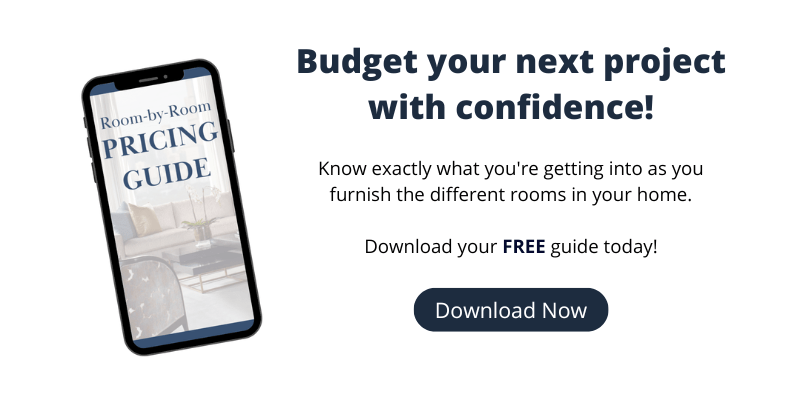 What about blends in fabric?
The really amazing thing about blends is that wherever a fibre is lacking, it can mix with another to make a much stronger material. Common blends in upholstery are cotton polyester, linen polyester, and rayon cotton polyester.
And just an FYI, most fabric you're looking at for furniture, usually has some type of blend.
Our honest recommendation for upholstery on your furniture
Okay, before we get into this, we just want to hit home that you have to look at your lifestyle before you choose the fabric for your furniture. It's not a one-size-fits-all kind of thing!
For instance, one of our Design Guides, Kirsti, loves the opportunity for colour found with cotton and linen upholstery. Plus, it's very soft and comfortable. However - not the best choice for her because of her cat.
But where you really can't go wrong:
Polyester.
There's a bit of a stigma with polyester, unfortunately, and there shouldn't be! Polyester is commonly associated with words like cheap, tacky, and low-quality, but that's simply not true. Not anymore, anyway.
Think about it: polyester has been around for a long time, and since it's man-made, it's been perfected over the years! Polyester and polyblends can do virtually everything you would need from your upholstery. And can make up for the quality where certain materials fall short.
Polyester is durable, stain-resistant, fade-resistant, soft to the touch, and can mimic other fabrics that may be more appealing to you. Plus, it's certainly not the most expensive fabric on the market.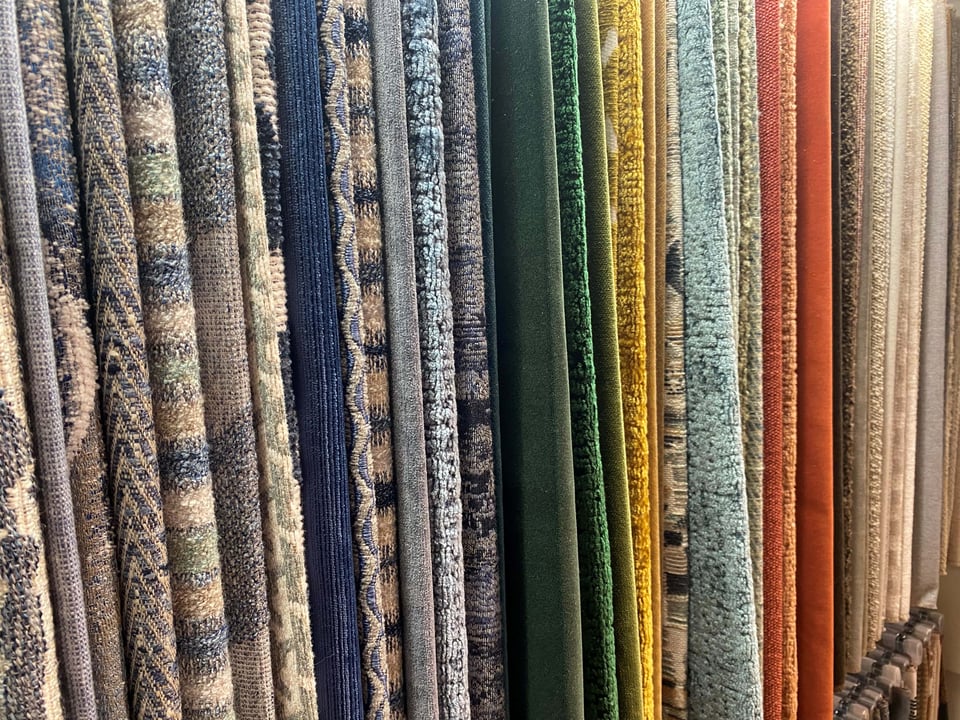 Can I change the fabric on my current furniture?
Perhaps now you're thinking, "Maybe I don't need new furniture, I just need better fabric!" Okay, we can help you work through that. Check out Should I Reupholster My Furniture Or Buy New to see which option is best for you.
And if you're ready to get something completely new and with high-quality fabric, schedule a visit to McElheran's so we can set you up with a piece of furniture that fits in with your lifestyle.