Floor Model Furniture: Is It a Bad Idea to Buy Furniture off the Showroom Floor?

Sasha Spencer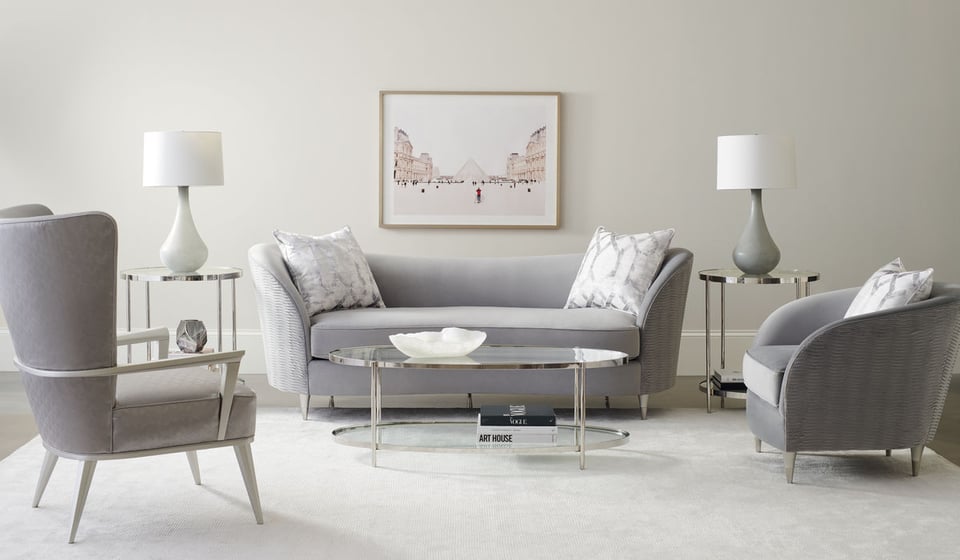 You've been shopping around for furniture and found that exact cocktail table you've been looking for, that beautiful piece of art, that incomparable accent chair. And it's right off the showroom floor? That sure makes it easier! And yet… almost too easy. Maybe it's too good to be true.
Perhaps we've been a little jaded in the past about floor models in a showroom. In some industries, sure, floor models are priced to clear because it seems that no one wants them, or the product is faulty in some way. But you know what? That's not always the case.
In fact, a lot of times, floor models are simply there to showcase an amazingly well-made product that you wouldn't otherwise be able to experience if it's not out in the open!
At McElheran's Furniture + Design, we've been serving Edmonton since 1994. Within four years of opening, we moved to a larger, three-story showroom to give you the best selection possible. Everything in our showroom has been specially selected and hand-picked with you in mind.
We're proud of the product we display, and you deserve that same sense of pride in the furniture you purchase for your home. So, if there isn't a piece of furniture that speaks to you – floor model or not – we would never want you to compromise and buy something you're not going to absolutely love.
Should inspiration strike, you may want to custom order your furniture so you can design it down to every detail, but buying a floor model is a great option, too – especially if you find exactly what you've been looking for! The only problem is, there seem to be a few misconceptions about purchasing a piece of furniture right off the showroom floor – and there shouldn't be!
In this article, our in-house designers (Design Guides) will go over these misconceptions about floor model furniture – because they've definitely heard these concerns! And we figured it was about time to address them to eliminate any uncertainty and to help you move forward with finding the right furniture for you.
Before we debunk these myths, here's a little inside baseball on what it means when you see floor models being sold right off the showroom floor.
Why do floor models become available for immediate purchase?
Makes room for new releases: Furniture companies are releasing new products all the time. It's good to have a steady flow of newer furniture coming in and selling long-standing floor models can help to achieve that.
Freshen up the look of the showroom: Change is always a good thing, and it can breathe new life into a showroom. As floor models are sold, it creates space for trendy and fresh furniture and décor.
A promotional sale is going on: On top of the incentive to buy because of lower prices, it's even more enticing to buy furniture that is available immediately – right off the showroom floor.
A product or product feature is discontinued: If a company is no longer making a piece of furniture, shipping it, or providing certain customizations (like with a fabric or a finish), it's best to get that model off the floor as soon as possible.
Longer lead times: In order to combat the long wait times that are currently affecting much of the furniture industry, many businesses (including McElheran's) are selling more products off the floor, so you can get your desired furniture faster.
You're buying accessories, art, lamps, or décor: In general, these items are easier to package and move, and you can usually take them home immediately after your purchase.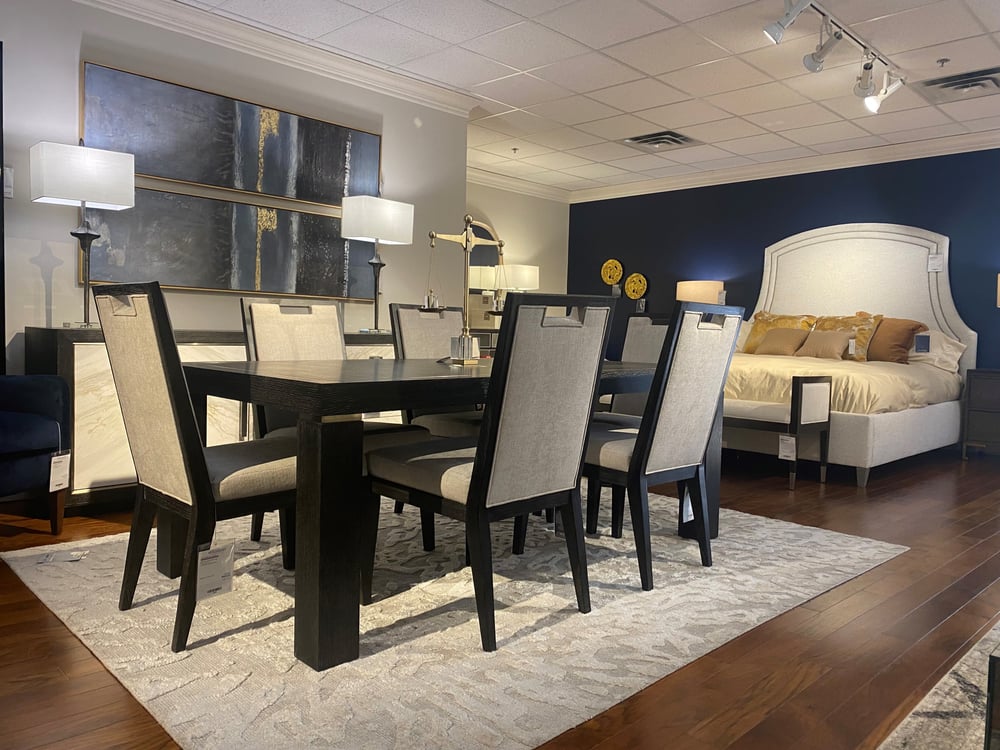 4 myths about buying furniture off the showroom floor
Furniture showrooms are there to inspire you. Furniture and accessories are staged in such a way to help you see the different options available and to highlight new trends and design styles.
As you walk through a showroom and look at different displays, you'll get a better idea of what you like. And hey, you might even find something that's perfect just the way it is.
Unfortunately, doubt can creep in when it comes to buying furniture off the showroom floor. So, let's get into these floor model myths before you pass up an opportunity to buy a great piece of furniture just because it's been out on a showroom floor.
1. "There must be something wrong with it"
When you see an item on the showroom floor – particularly for a discounted price – you might think that the store is just trying to clear it out because it's damaged. When in reality, these floor models are just there to show you a great product that is in no way defective! It's just been in the showroom for a while and it's time to make room for newer pieces.
But it's never a bad idea to give furniture a good, hard look before you purchase it off the floor. Sometimes when we see something that we love, we put on our rose-coloured glasses and ignore imperfections. That's not necessarily a bad thing, but when you're investing in furniture, it's good to make sure you're getting a product that is going to make you happy for years to come – not just when you're glancing at it on a showroom floor.
And if you really feel like the floor model is "too good to be true," there's no harm in asking if the product is faulty in any way. That's all part of being a responsible, well-informed buyer and it's a totally fair question to ask!
2. "It's been used and touched too much"
There's no denying that floor models, yes, have probably been sat on, looked at, or touched a little bit. But the likelihood of furniture in a showroom going through daily abuse is quite low. If it's a sofa, for instance, most customers just sit for a few minutes at a time – nothing that a high-quality piece of furniture can't handle.
Since floor models sit in the showroom day in and day out, there's always staff there to ensure that the furniture is holding up and not getting overused or damaged.
And at McElheran's, everything is thoroughly inspected before it goes off the floor to ensure that it's in the best condition possible when it arrives at your home.
3. "The warranty on the furniture is void"
When you're buying something that isn't fresh out of the box, are you still going to be covered under the manufacturer's warranty? Most often, yes.
Even if it's been out on a showroom floor for a bit, you are still the furniture's original owner; therefore, eligible for warranty coverage.
There are rare instances within the furniture industry where floor models are no longer under warranty, but we have found that these circumstances are few and far between.
4. "It must be priced to go"
Sure, sometimes floor models are a part of a big sale or there's an added push to move merchandise, but that doesn't necessarily mean that the furniture will be heavily discounted.
It's on display because it's a great product and it deserves to be seen - you deserve to know it's available! It may have a lower price, but if it's a high-quality, well-made piece of furniture that's in perfect condition, you're more likely to pay the regular price.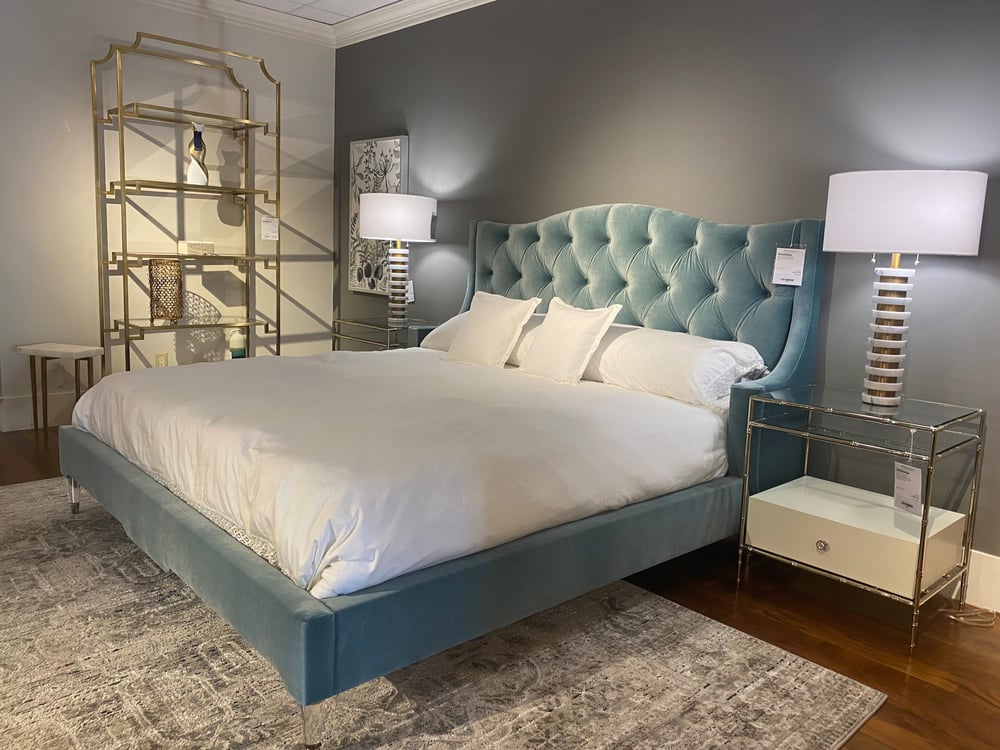 Should I buy furniture right off the showroom floor?
There are certainly reasons to do either – buy a floor model or order another piece of furniture. It really comes down to your comfort level, how long you're willing to wait, and how much you want to customize your furniture!
Floor model furniture is a good fit for you if:
You want your furniture right away
You like that all the design decisions are already made
You want to know exactly what you're getting
Floor model furniture is not a good fit for you if:
You want to customize your furniture
You want your furniture to be brand new and fresh out of the box
The floor model is not exactly what you want
And really, if you're okay with waiting for your custom furniture, but you're not quite sure how long it will take, check out "How Long Will It Take for Custom Furniture to Arrive in 2022," to see if it's worth the wait.
Or if the idea of getting something sooner, right off the showroom floor, seems to be your best option right now, schedule a visit if you're in the Edmonton area! Our Design Guides can take you through our three-story showroom to see the selection of furniture that is available right away.