Using a Battery Pack for a Power Recliner

Sasha Spencer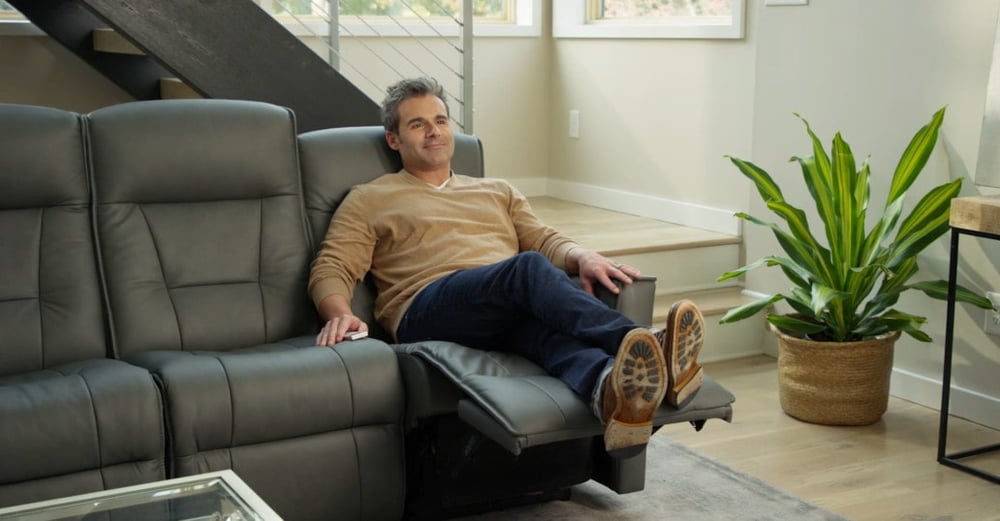 A power recliner can offer you so many things, like comfort, versatility, and convenience, but there's that one little thing about this type of motion furniture that can cause a bit of a hurdle for some. And yeah, it's the power component. If your furniture needs to be plugged in all the time, that can really limit your style and layout.
But the truth is, power reclining furniture – so chairs, sofas, and sectionals – are not as limiting as you may think. Most models can accommodate a battery pack, which can really open a whole new world of options when you're looking for something that will work in your space.
At McElheran's Furniture + Design, we've been providing the Edmonton area with high-quality furniture - including powered options - since 1994. And with an emphasis on design, we're here to help you find that perfect piece of furniture that makes sense for your space. And if you have any questions along the way, our in-house designers (Design Guides) and the rest of our staff are here to help!
In this article, McElheran's administrator (that takes all your calls and questions), Danielle, will chat about using a battery pack for your powered motion furniture. We also consulted with Hancock & Moore's Parts Specialist, Denise Kassner, and John Robinette from Klaussner Home Furnishings.
Why should I get a battery pack for a power recliner?
Well, first of all, you don't have to get a battery pack if you don't want to.
If you're planning on setting up your power recliner close to an outlet and you can't see yourself moving it far from that spot, it sounds like you're all set!
But the nice thing about having a battery pack for your power furniture is that it gives you more freedom to put your furniture wherever you want. You simply charge up the battery and attach it underneath your power recliner – no need for a cord. When you use a battery pack, you're not tied down to where a power source is.
Remember how freeing it was when cordless phones were invented, and we were able to talk on the phone from any room!? It's exactly like that, but with furniture!
With a battery pack, you don't need to place your recliner near a wall with an outlet or call an electrician to install an in-floor power source.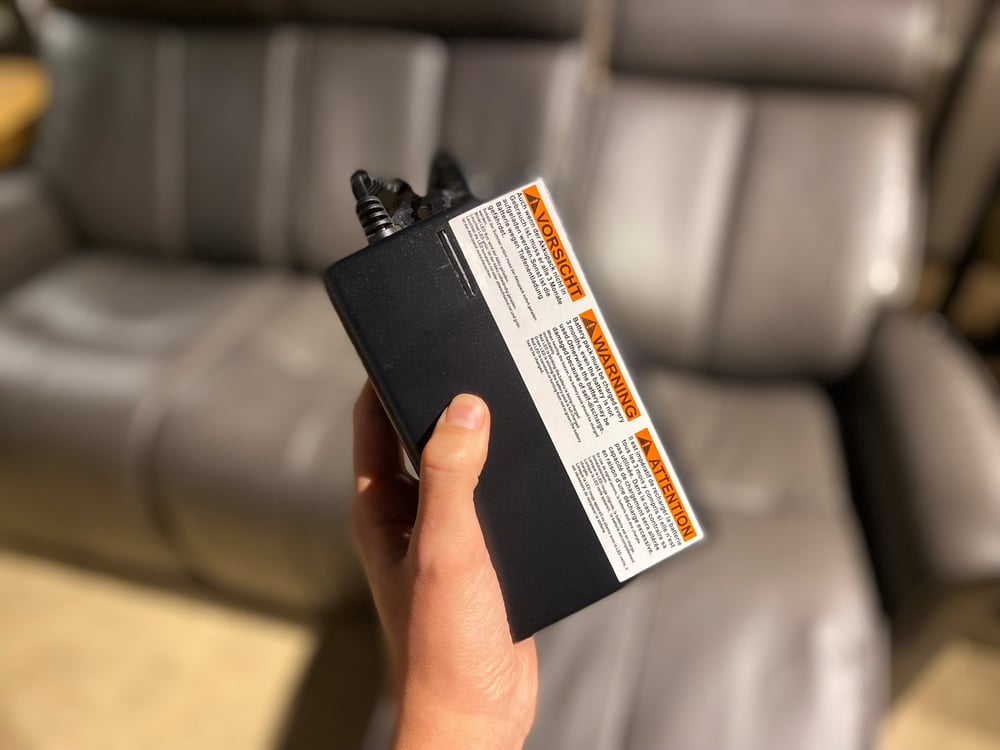 How long does a charge usually last for a power recliner's battery?
As with pretty much anything that holds a charge, how long it lasts usually comes down to usage. The average battery source for your powered motion furniture should last you around 150 to 250 recline revolutions.
However, if you're asking more out of the power from your furniture, like through USB hook-ups, a mobile headrest, or mechanical lumbar support, your battery will drain much faster.
How often should I charge the battery for a power recliner?
Again, this definitely depends on how much your power recliner is being used, but a good indicator that it's time for a charge is when the reclining mechanism starts to get sluggish. Perhaps it doesn't recline as quickly as it used to, or it stutters during certain movements – that's how you know it's time for a charge.
And, if you're able to take a quick look at your battery pack, a light will generally turn on to indicate a low battery.
If you're looking for a more consistent solution to charging the battery, once every three months should be good. But if you don't use your powered motion furniture that often, you can definitely charge it less frequently, like once every six months.
How long does it take to charge a power recliner?
If your battery is completely out of 'juice,' it is recommended to charge it for seven hours. Or, what a lot of people do – pick a night and charge it while you're sleeping. After those seven hours, the battery should be full and ready to use.
It may take longer to fully charge your battery if you use your power furniture while charging. If you want to get to a full battery faster, it's best to avoid operating your power recliner while you're charging it.
A light (usually green, like below) should turn on when your battery pack is fully charged and ready to go.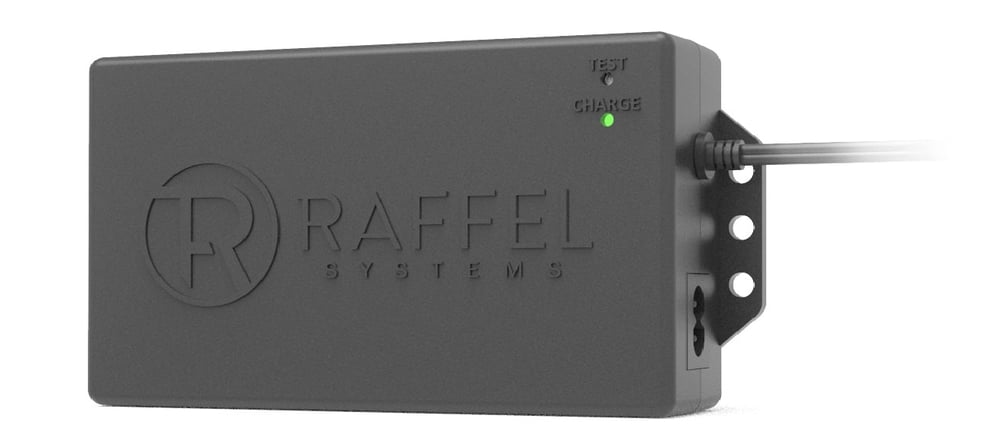 How can I extend the power recliner's battery life?
Once you notice the battery is getting low (perhaps the mechanism isn't operating as smoothly as it usually does), that's a good time to charge it. If you're constantly waiting for the battery to completely die, that will reduce the life of your battery pack.
Also, do not leave your battery plugged in once it's fully charged. It's kind of like leaving your cell phone plugged in for too long - it actually drains the battery faster.
So, if you have a battery pack, but want to keep your power motion furniture plugged in at all times, make sure your furniture - and not the battery pack - is directly plugged into the outlet. Doing it this way is like keeping your battery on reserve in the event you won't be near an outlet. It's good to have it ready, but, as we said, leaving the battery plugged in once it's charged is not a good idea.
You should also know that keeping your battery plugged in once it's fully charged can void the warranty since you're actively contributing to decreasing the life of the battery pack.
What are my other options with motion furniture?
If you're at a point where you're thinking, "Maybe the power thing isn't for me," you can still find recliners and other motion furniture that don't require power and operate manually!
It's just good to know you have options, right? Check out Motion Furniture (Pros, Cons, Misconceptions, and Alternatives) to see what else could work for you.
But if you're ready to look into the world of power recliners – and the battery packs available – drop by our showroom in Edmonton! We would love to show you how the different mechanisms work and take you through all the power reclining options we have at McElheran's.