Bermex: Quality Canadian Wood Furniture

Sasha Spencer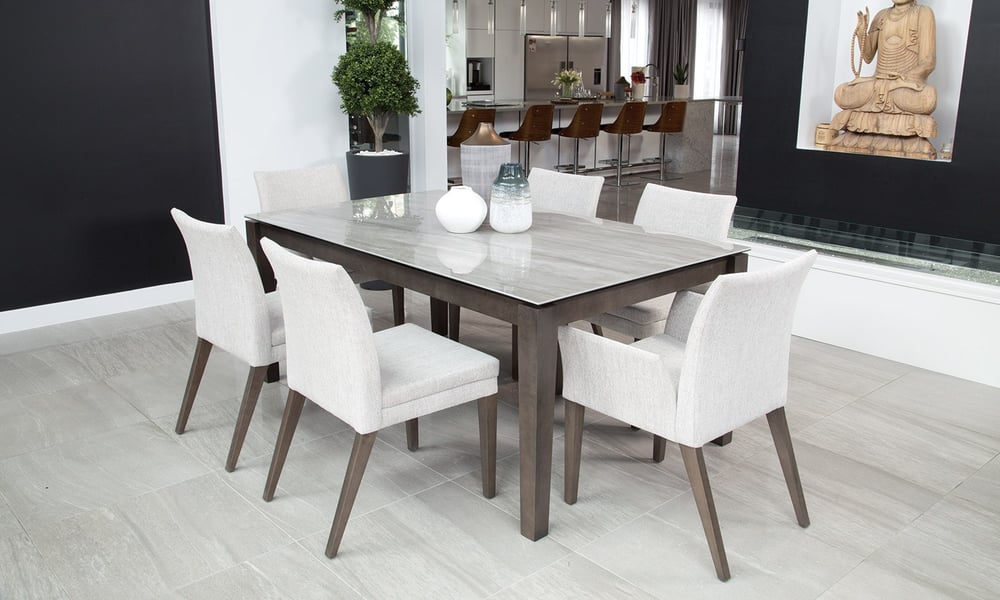 In your search for quality dining room furniture, you've probably run across the name Bermex once or twice – especially if you're looking for something Canadian-made. There's no doubt that this solid wood furniture is well-made and sturdy, but is Bermex going to help you achieve your desired look at an attractive price point? And what about the quality?
How do you know if Bermex is really going to give you the best furniture for your home?
Since opening in 1994, you've come to expect quality, style, and the utmost value from McElheran's Furniture + Design, and with Bermex, it's no different. We understand that Bermex is not for everyone - that's why other options are available – but if you're already considering it, we want you to feel confident in your purchase.
In this article, our in-house designers (Design Guides) will speak to this Canadian brand of solid wood furniture. During this overview of Bermex, we'll dive into:
Finally, we'll discuss who Bermex is a good fit for – and maybe it's you! That way, you can make an informed decision on whether you should go with Bermex for your next furniture purchase.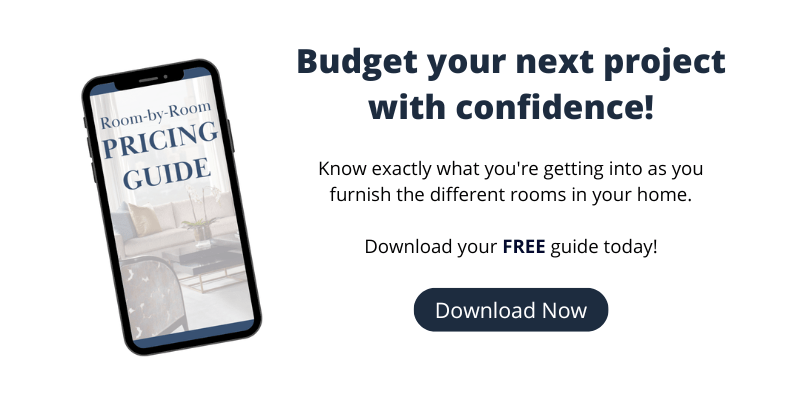 Bermex: A brief history
Bermex was founded in 1983 in Maskinongé, Quebec, as a complementary brand of BDM + Furniture. They are family-owned, specializing in solid wood dining furniture.
Bermex furniture is predominantly made of birch grown in North American forests, so you know your wood pieces are well adapted to our climate. With Bermex, you'll find the perfect balance of style and sturdiness in the furniture you customize for your home.
Every tree is unique, which means every piece of solid wood used for your furniture has its own distinct look. You're getting a beautifully crafted one-of-a-kind piece to be a part of your home for years – even generations.
Bermex lists "respect for the environment" as one of its core values, adopting procedures that efficiently use resources while reducing its ecological footprint.
Furthermore, solid wood itself is already sustainable. Well-made, high-quality, durable solid wood furniture should last in your home for decades without the need for replacement.
What sets Bermex apart from other furniture companies?
There's a certain quality and sturdiness that you get from Bermex that is hard to find from other manufacturers. On top of that, depending on the pieces you choose and the customizations you make, you could really find something at a very attractive price point.
And you can't talk about Bermex without noting all the options you have available – 18,000 options to be exact. Between size, colour, finishes, legs, bases, stains, upholstery… you really have a wide selection of possibilities to play around with.
Bermex offers a lot of visual tools to help you design your furniture, too. With their Design It online program, you can mix and match different pieces and try out a variety of finishes to create the perfect style for you.
One of our Design Guides, Teresa, points out the advantages of Bermaguard – a catalyzed varnish exclusive to Bermex. Bermaguard is a baked-on treatment that will protect your table from most stains and spills, giving you extra peace of mind when customizing your new furniture.
Click below to see a video of the catalyzing process and gain access to other manufacturing videos from Bermex, too!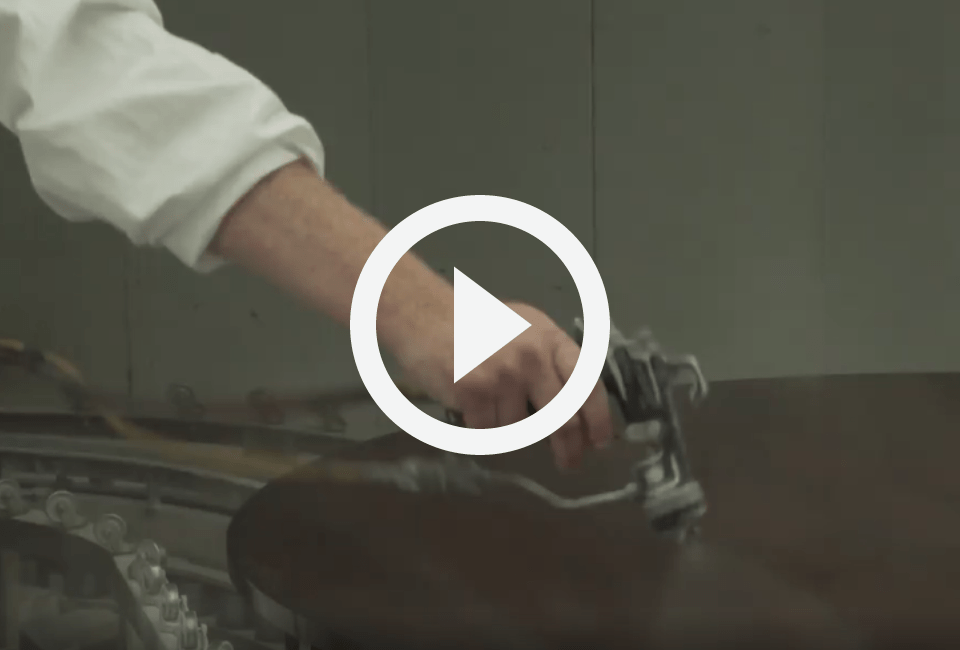 Because of their broad selection (with basically everything!), Bermex is a great choice when you're looking to match something with existing furniture or fixtures in your home. If you want your new counter stool to match the cabinetry in your kitchen, you'll likely find a solution with Bermex.
Another Design Guide, Shelley, is also impressed that Bermex still offers a buffet and hutch option. As dining rooms become less prominent – especially in smaller homes – there is less of a need for dining furniture that provides storage. If a buffet and hutch are exactly what you're looking for, Bermex is one of the few makers that still offers that.
Bermex price points
To give you a better idea of what you're getting into with the cost of Bermex products, we'll break down a few key items for you:
Dining table (for 6-8 people): $2500+
Chair or stool with an un-upholstered back: $600+
Fully upholstered chair or stool: $700+
All wood chair or stool: $600+
Buffet: $3600+
Bench: $700+
Bermex warranty information
All furniture from Bermex is covered for one year against any manufacturing defects. Chairs also come with a ten-year limited warranty in case of manufacturing defects on the frame's construction.
Warranty can sometimes be an indicator of quality and longevity, and with a 10-year warranty on Bermex chairs, that's a pretty good sign that your furniture is built to last.
Where is Bermex furniture made?
Bermex furniture is made right here in Canada. The company employs more than 350 employees in its six factories in the country.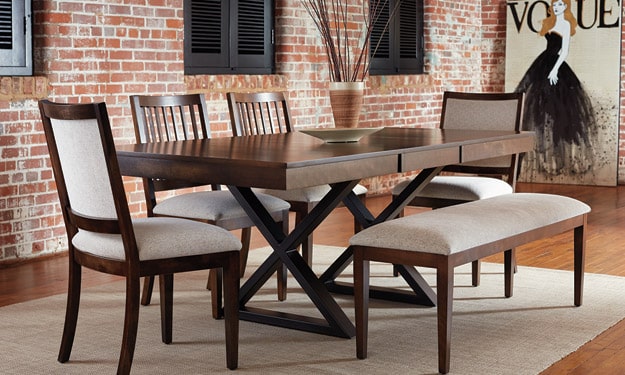 Who is a good fit for Bermex?
If you're looking for a durable and solid piece of furniture, Bermex is right up your alley. Especially if you like to be pretty hands-on in the customization process. With the Design It program, you really do have the freedom to design your furniture right down to the smallest of details.
The number of options Bermex offers is also extremely helpful if you're trying to match your Bermex pieces to existing furniture or other elements in your home. A colour, finish, or stain match can often be found within the Bermex line.
The options don't stop at size, either. If you're particular about the size of a bench, chair, or any other piece of furniture, Bermex can likely give you the size options you need.
And, of course, if you're someone that takes a lot of pride in filling their home with Canadian-made products then Bermex will certainly fill that need.
Who is not a good fit for Bermex?
The number of options that Bermex presents can be a wonderful thing, but for some – it can be pretty overwhelming. If you're someone that's a little on the indecisive side, Bermex may not be the right choice for you.
Bermex specializes in stable and sturdy furniture. That's not to say they don't offer more glamourous options, but Bermex tends to lean a bit more on the basic side. On that note, because Bermex furniture is made from solid wood, you're not going to find super ornate inlay patterns, as you might see on a veneered piece of wood.
Should I buy Bermex furniture?
Since Bermex furniture is largely made from Canadian solid wood, it might help you to check out 5 Reasons to Buy Canadian-Made Solid Wood Furniture to see if that's truly going to work for you.
And if that's what you want to do – perfect! Browse the Bermex products we currently have at McElheran's and if you're in the Edmonton area, drop by our showroom. Our Design Guides are ready to answer any Bermex questions you might have and help you design your next piece of furniture.