What Size of Mattress Do I Need? 7 Things to Consider Before Buying

Sasha Spencer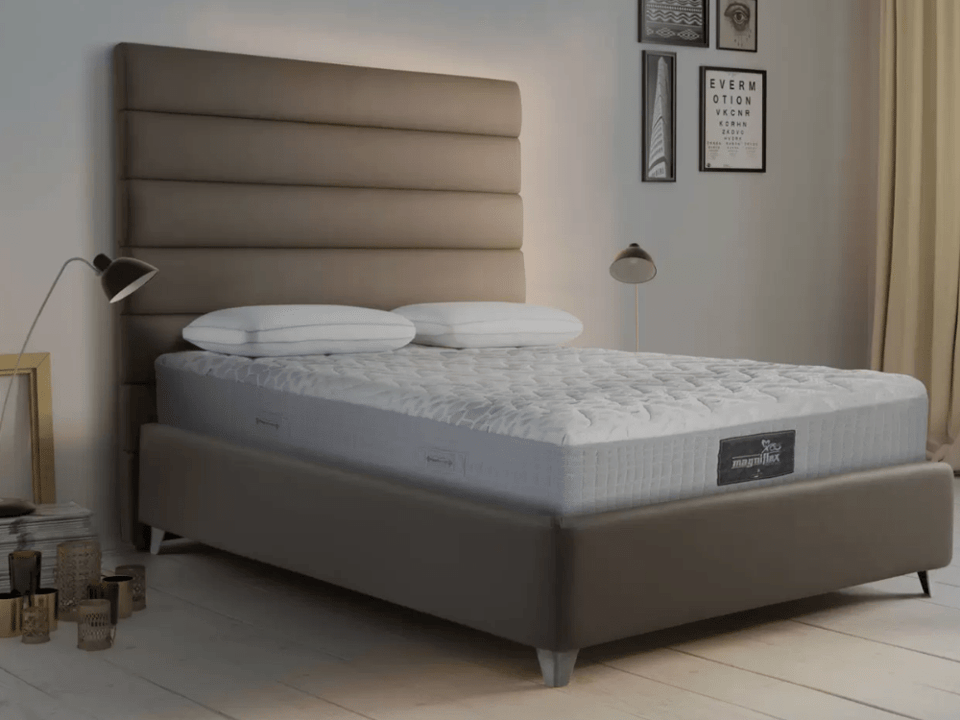 Your mattress is such an important piece in your home – you sleep on it every night! You could even argue it's the most important, considering how much of our lives we spend sleeping! Of course you want something comfortable with the quality that will last you for years to come. But what about the size? That must be big deal, too, right?
Of course!
This is one of those instances where - in terms of comfort - size really does matter.At McElheran's Furniture + Design, we've been furnishing rooms for life since 1994. And a big part of your life is - you know it - sleeping! We understand that there are several considerations when it comes to picking out a mattress and you don't want to compromise on such an important part of your home.
In this article, our in-house Designers, known as Design Guides, will chat about those very considerations you should go through so you can find that perfect mattress size for you. That way, you, and anyone else you may share your bed with will be as comfortable as possible.
Oh, and by the way, full and double-sized mattresses are the same thing, and we'll be using both terms interchangeably throughout the article.
To start things off, let's take a look at how big each standard mattress is:
What are the standard mattress sizes and dimensions? (W x L)
Twin: 38″ x 74.5″, Twin XL: 38" x 79.5", Full: 53" x 74.5", Queen: 60" x 79.5", King: 76" x 79.5", California King: 72" x 83.5"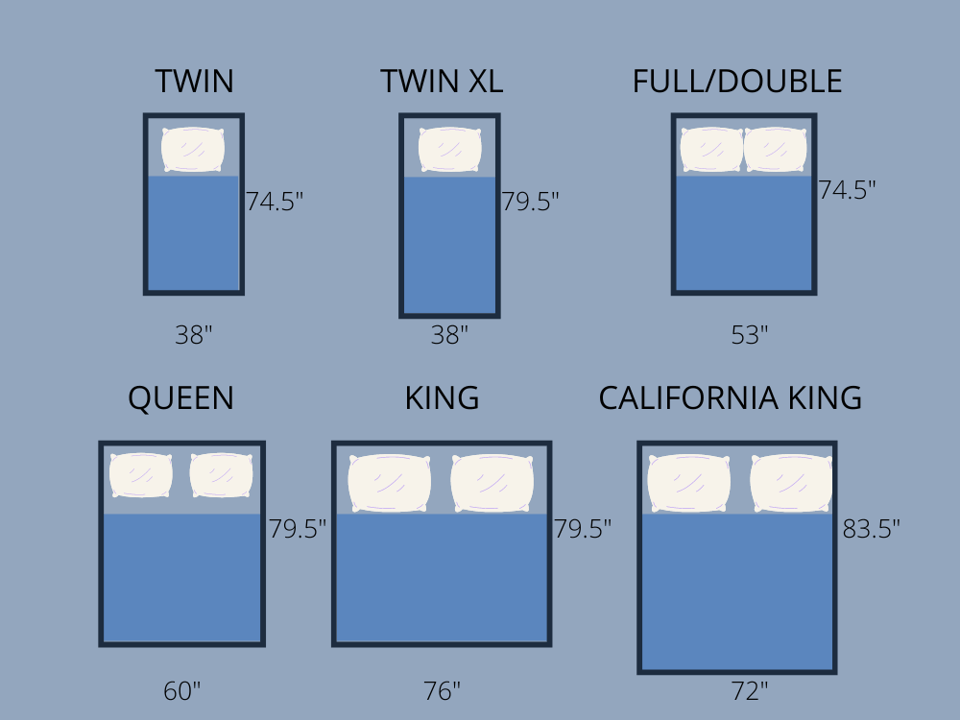 The 7 things you should consider before choosing the size of your mattress
1. Who is using the mattress?
If you're the only person sleeping on the mattress, then the only needs you have to account for are your own! Obviously, you'll want a large enough bed to sleep comfortably, but you may not need as big of a bed if it's just for you – a double or queen mattress may be perfect!
For younger children, a twin mattress would certainly suffice. Not to say that adults can't sleep on one from time to time, but twin mattresses are generally used for kids – unless there are other factors at play, like a small bedroom size.
If there are two of you in a bed, both of you will need enough room to be comfortable, plus some space in between, and can likely achieve that with something like a king or California king mattress.
The most important thing here is to recognize that everyone needs their own personal space to truly be comfortable. Even if you're fitting ten people and seven pets in the bed, everyone should be able to have enough room to move, adjust and sleep comfortably.
2. What are the height requirements of those using the

mattress?
Out of the more standard bed sizes, twin and full mattresses are on the shorter side at 74.5 inches in length but would accommodate most people of average height. Twin XL, queen, and king mattresses give five more inches of leg room, and a California king is great for the really tall people in your life at 83.5 inches in length.
So, really, this emphasizes the previous point of who is using the bed. If you're on the taller size, don't make yourself uncomfortable and disrupt your sleep by getting a mattress that you simply won't fit in.
3. How do you like to sleep?
Some people are sprawlers when they sleep and love to just flop into bed, starfish out, and enjoy the night. Others like to curl up into little balls and take up very little space.
And perhaps you're quite active when you sleep, too, with limbs flailing and arms akimbo. Or you pick a position and stay in it for most of the night.
Oh, and of course, there's the cuddlers and the… not-so-cuddly sleepers, too.
Figuring out the type of sleeper you are – and whoever you share your bed with – will help to determine the appropriate size of the mattress.
For instance, if you're a single sleeper and don't move much during the night, you might be fine with a full-sized mattress or queen. But if you and a partner are both quite active when you sleep, take up a lot of space, and don't really like cuddling, a king-sized mattress is your best bet. And it will likely prevent some bad middle-of-the-night arguments, too!
4. How much are you willing to spend?
As with most things, the bigger you go, the more money it will be. If you're looking within a particular line of mattresses, a king will always cost more than a twin.
And keep in mind that if you're sizing up or down from the mattress you have now, you'll probably have to find some new pieces that correspond to your new mattress size. So, if it's more in your budget to keep your existing box spring and bed frame, you can still get a new mattress, but you'll likely have to keep it the same size as what you currently have.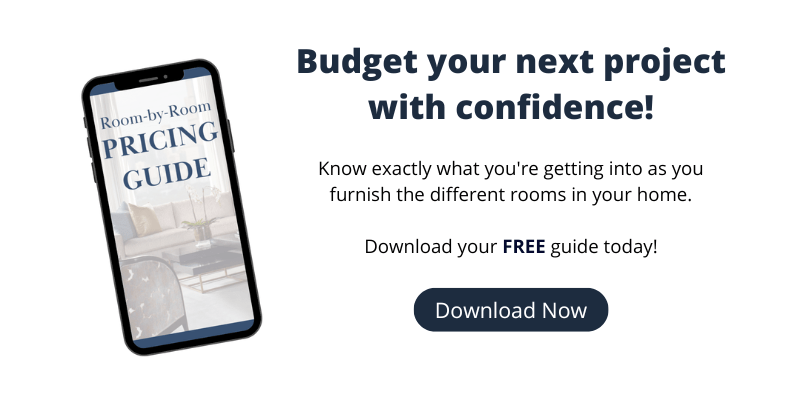 5. How big is your bedroom?
As with furnishing any room in your home, the size of your space tends to dictate what you're able to put inside it.
You may find that based on your needs, a California king would be the perfect mattress for you. Unfortunately, it might not fit in your space.
And if you're sharing your bed, both of you should be able to easily get in and out of your bed, meaning, there should be an exit point on either side. If you're shoving your king-sized bed into a corner just to get it to fit, it might be better to size down to a queen to allow for more room on either side.
6. What are you willing to compromise on?
If your bedroom is leaving you with a pretty tight squeeze, is there some furniture you could get in a smaller size or even do without?
For instance, if you would really like a larger bed, maybe one nightstand is enough for you, instead of two. Or perhaps you don't really need that dresser because you have enough storage space in your closet.
You may be able to move a couple of things around in your room in order to get the mattress that fits you perfectly, instead of trying to fit it perfectly in the room.
7. When should you size up?
Most of McElheran's visitors come into our showroom looking for a queen or king-sized bed, but there are occasional customers looking for a full/double-sized mattress.
Our honest recommendation when it comes to a full-sized mattress: SIZE UP! Especially if it's for two people. And here's why:
It is much easier to find queen or king-sized bedding and accessories. Not to say that it's impossible to track down a sheet set for your double bed, but since queen and king mattresses are more commonly purchased, it's just easier to find everything you need because the demand is there.
Why wouldn't you want more room to sleep?! Again, if your bedroom simply does not have the space for anything bigger than a full-sized mattress, then that's going to be your best option. But if you can go bigger – for your comfort's sake – do it!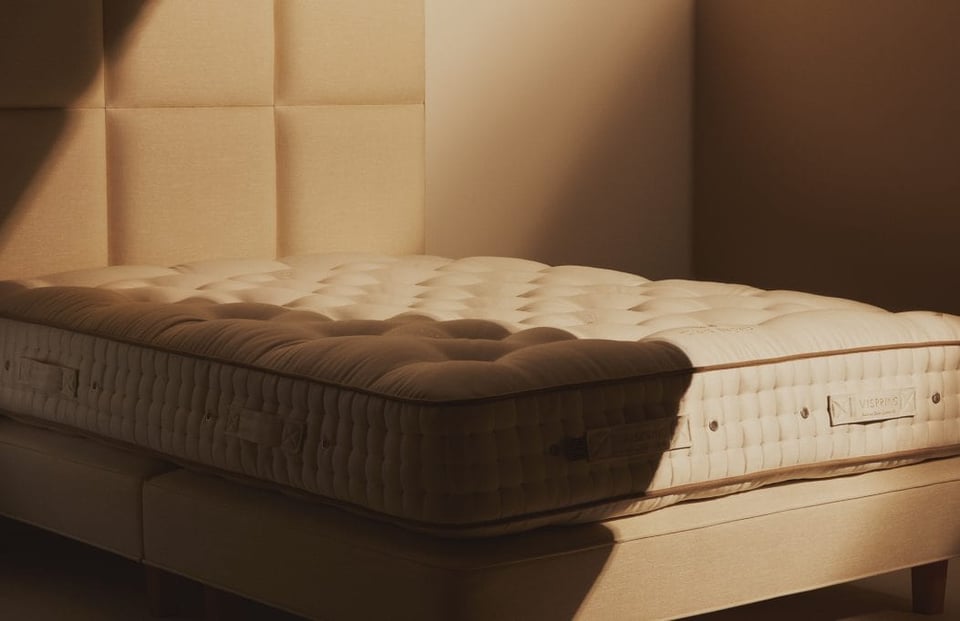 What about a box spring for my mattress?
So, now you know which mattress size will work for you. And maybe that's all you need! Or wait… what about the box spring? Do you even need one? Or is your mattress going to be fine on its own? Especially since you're getting the perfect size for you!
Take a look at Do I Need a Box Spring for My Bed? to see if that's the next step to making sure your mattress is not only the right size but comfortable for you, too!
And if you're in the Edmonton area, drop by our showroom at McElheran's. Our Design Guides can't wait to show you our selection of mattresses and help you find the correct size that will keep you and anyone else using your bed happy and comfortable.