Fjords vs. Stressless

Sasha Spencer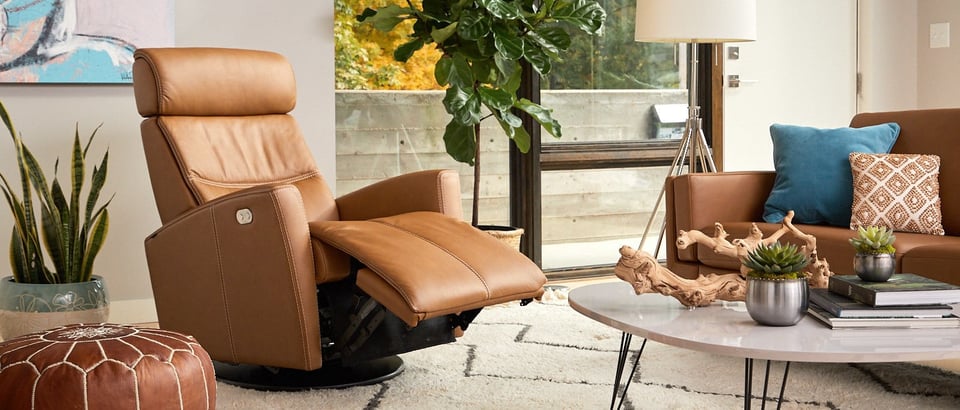 Fjords by Hjellegjerde and Stressless by Ekornes are two furniture companies that specialize in accent chairs and recliners. And you know what? They're strikingly similar - both offer high-quality, versatile furniture with many different options. When you're comparing the two, it can be frustrating when you don't know which one is which. Furthermore, how are you expected to know which one is better for you if they're so similar?
As a long-time provider of high-quality furniture, McElheran's Furniture + Design is committed to giving you accurate and honest information as you decide on your next purchase. We've heard all the questions when it comes to Fjords and Stressless. "What's the difference," "Which one is better," "Which brand is the least expensive?" "Is Fjords the same as Stressless?"
Before we get into this and answer all those questions, it should be noted that we don't actually carry Stressless at McElheran's. However, in the interest of saving you time and energy, we wanted to offer you a comprehensive look at both brands so you can make an informed decision - no matter which way you decide to go.
What is the difference between Fjords and Stressless?
The most blatant difference between the two: COST. You really can't go wrong with either company, but if price is a major concern for you, you should know that Fjords products are more affordable - sitting around 30-40% less

 than Stressless. 

Stressless has a wider variety of products than Fjords, so you can furnish more rooms in your home. Both brands carry chairs, ottomans, recliners, and sofas, but Stressless also manufactures office and dining chairs. 

Both brands have a few patented reclining systems that offer different advantages. Fjords' Active Release System automatically gives you back and neck support. With a single movement, you can easily adjust your recliner for optimal comfort.

With Stressless, the Plus System has a functional skeleton of springs that adapts to your movement. This helps with lumbar and back support.

Stressless also has the Glide System, which adjusts to your body's weight and shape for unrestricted movement, and an easy and natural recline.

The warranty on both products is similar (more details below), but Fjords does offer a two-year warranty on their fabric upholstery and leather, while Stressless only offers one.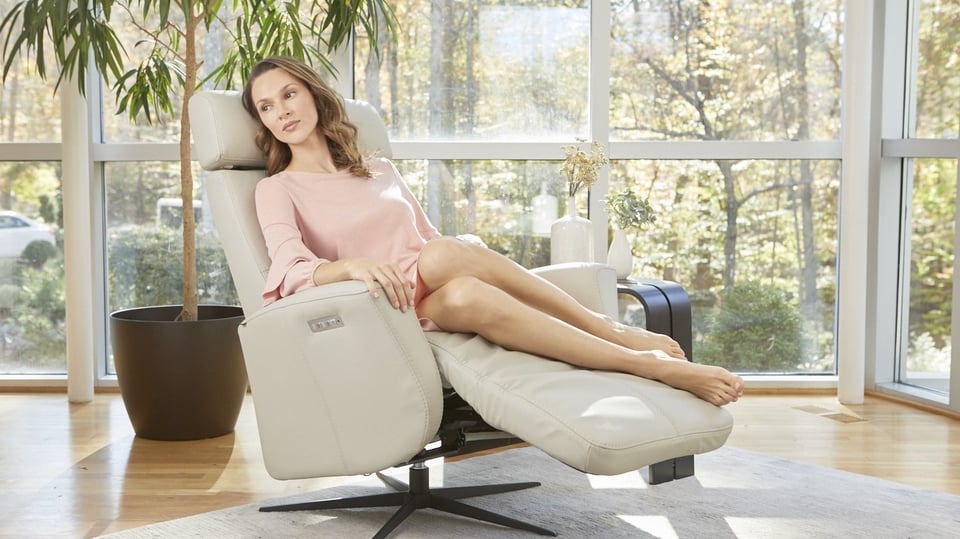 More about Fjords
Fjords is in the business of improving your life with its creations. This company firmly believes that comfort is essential to your well-being and should not be overlooked.
From the steel mountings to cold cured foam padding, to the durability of their leather and textiles, Fjords products are among the best in ergonomic support. Fjords' chairs, recliners, and sofas bring together the best of both worlds – tradition and innovation – all with your comfort at top-of-mind.
Fjords realizes that there's an intricate science behind relaxing. Beyond comfort, your body should feel supported in any position. Fjords takes into account that lumbar supports and headrests need to be able to move with you and that these adjustments should be seamless.
With the height-adjustable neck support on most Fjords models, your comfort is guaranteed at any position. Resting, reading, watching TV, dozing off – the neck support moves with you for a more personalized and supported fit.
Although Fjords is laser-focused when it comes to ergonomics and comfort, style is definitely not an afterthought. All Fjords products offer various leather and fabric grades, base designs, and different wood colouring options. Relaxation meets sophistication with Fjords, so you can pick a product that speaks to your style and supports you in the best way possible.
More about Stressless
Stressless has found that perfect combination between technology and comfort and they continue to innovate their products to appease their clientele. This company has a firm understanding of how to make furniture fit into your lifestyle and satisfy your needs. 
With all their new designs, Stressless takes inspiration from what they've seen globally, yet still manages to come up with a unique piece of furniture. You're getting a product that will stand out from the rest without skimping out on the patented Stressless features that bring you optimal comfort.
Many Stressless pieces have headrests that work with your movement. If you're reclining back, the headrest can tilt forward so you maintain your eyeline – perfect if you're watching TV. But, if it's nap time, that headrest can release, too, so you can relax.
Stressless has also made it a priority to minimize its ecological footprint, through more efficient production practices that reduce energy and waste. 100% of the power used by Stressless factories comes from hydropower, a renewable energy source. 
How are Fjords and Stressless similar?
Norwegian based

Modern, Scandinavian aesthetic

Ergonomically driven design

Different size options

Many fabric and leather options

All recliners feature 360-degree swivel ability

Superior comfort and durability

Cushioned with cold cure foam

10-year warranty on the frame and internal mechanisms

5-year warranty on the base, foam, and powered functions
Which is the better furniture brand? Fjords or Stressless?
Because the two brands are so alike, it is difficult to really say which one is best – especially because it depends on what you're in the market for. I mean, if you're looking for dining or office chairs, well, you'd have to go with Stressless simply by default. (Fjords doesn't manufacture either of those products).
McElheran's owner, Jeff McElheran, also feels that Stressless takes the win when it comes to the chair and ottoman combination. Fjords builds a great reclining chair and ottoman as well, but Stressless has a slight advantage. They're easier to operate, the mechanism is smoother, and there's more selection. Essentially, if you have the room for a chair and an ottoman, or just like the look and have the budget, Stressless might be your best bet.
On the other hand, if recliners are more of interest to you (or you don't have the room for a chair and ottoman), Fjords is a great choice. You're getting a broader selection and way more options with recliners from Fjords.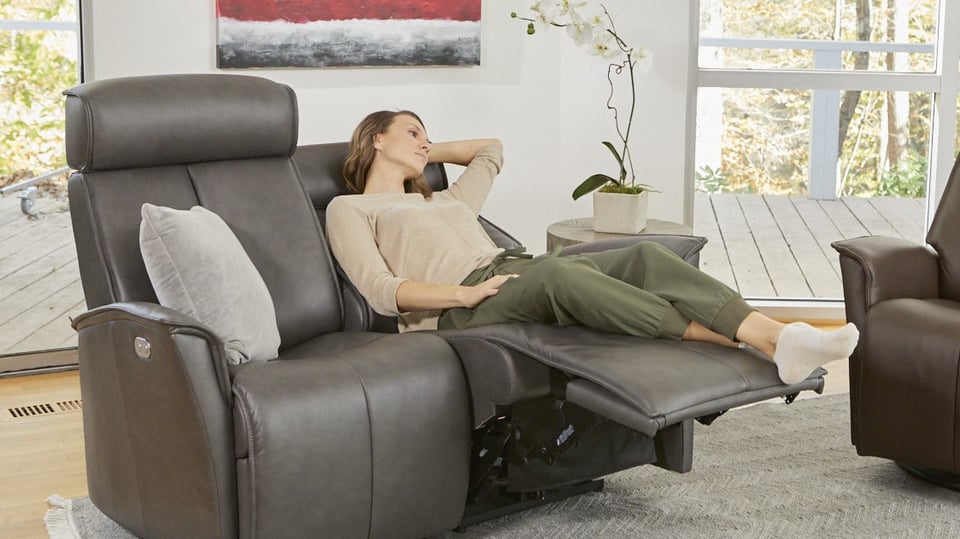 Which brand is the best choice for me?
Both Fjords and Stressless put a strong focus on comfort. Not just a focus actually – more like a deep determination to ensure their products enhance your life and well-being while offering the very best in quality. Stressless and Fjords have been able to successfully merge aesthetics and comfort, which is obvious when you sit in any one of their products.
The two brands do have their differences. So, which is going to be the best choice for you?
You might want to take some time to think about what your priorities are. If you're more influenced by cost or want a better selection of recliners, Fjords will give you a more affordable option. If sustainability and a wider range of products are important to you, go with Stressless.
Neither brand is the wrong choice, but now you can at least see a difference between the two and feel more confident in your next furniture purchase.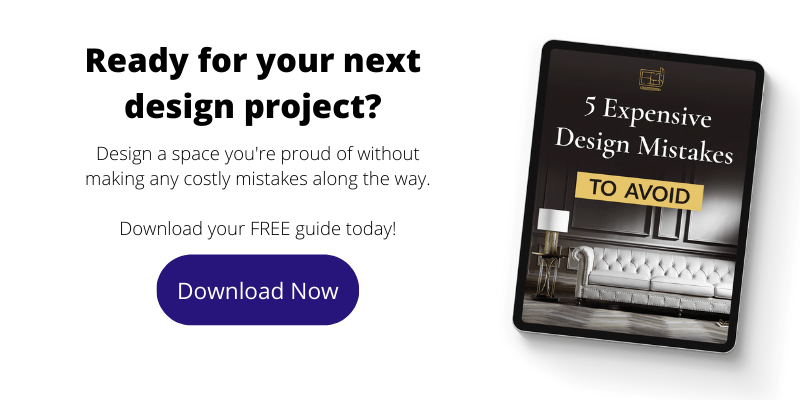 Space planning can help with your decision
Along with comfort and style, functionality is also a big consideration when it comes to buying furniture.  One brand's products may just fit in your space better than the other. Space planning is a step in the right direction to making sure your next purchase (whether it's Fjords or Stressless) is the right one for you!
It's also extremely beneficial to "test drive" furniture before you buy. If you're in the Edmonton area, we welcome you to drop by McElheran's and try out that recliner, chair, or sofa you've had your eye on. Bring a book, relax, and let us bring you a coffee while you settle in and get comfortable. We don't mind! And it really is the best way to get a feel for your new furniture.