What Size of Dining Table Do I Need?

Sasha Spencer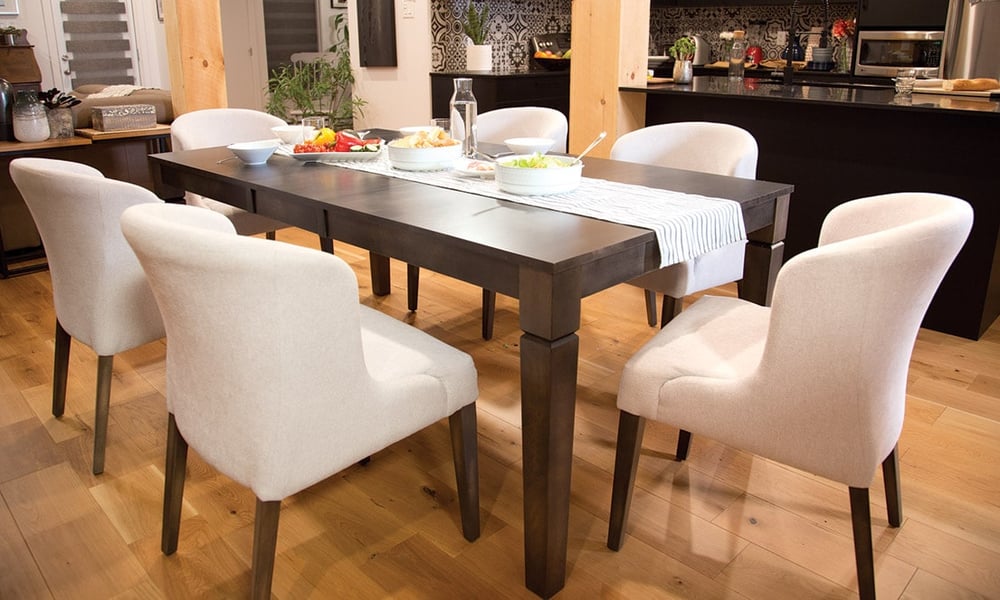 A dining room table is an interesting piece of furniture, isn't it? In some homes, it's rarely used - kept in a formal room only to be sat around once or twice a year. And in other homes, it's more of a well-loved piece of furniture. But regardless of how often you use it, your dining table is a place for family and friends to gather and reconnect with one another.
Whether you have the family over every Sunday to catch up or come together during holidays, like Thanksgiving or Christmas, do you know if you can fit everybody at your dining table? And what size of table do you actually need?
At McElheran's Furniture + Design, we've been furnishing rooms for life since 1994 – including dining rooms! And as a family-owned business, we understand the importance of getting together with loved ones. That quality time can be a wonderful thing, but it can also be stressful if you're not sure you can accommodate everyone.
So even if you don't end up buying a dining table from us, we at least want to help you figure out which size is going to work for you – so you can entertain everyone without feeling stressed out!
In this article, one of our in-house designers (Design Guides), Shelley, will help you determine the best dining table size for your space. We'll go over common table sizes and some measurements to ensure your guests are comfortable while they dine.
And hey, no one's going to fault you for bringing out the kiddie table to squeeze in a few extra guests. But if you want everyone to be comfortable and keep their elbows out of their neighbour's mashed potatoes, there are a few things you can look at to find that perfectly sized dining table.
What is the right size dining table for my space?
Well, there isn't really a one-size-fits-all answer for this because there isn't a one-size-fits-all dining room! But we can look at a few different factors that will help to narrow down an appropriate size for you.
The size of the dining room
When you're furnishing any room, in any home, anywhere … size is one of the biggest factors. Even if you want a dining table fit for 30 people, your studio apartment in downtown Edmonton probably won't be able to accommodate that.
And, of course, even if you can get a large table in your space, you still want to make sure people can dine comfortably without feeling cramped or stuck in their seats. Your best bet is to get a table that fits well and functions in your space. Otherwise, you'll end up regretting a purchase you can't even use.
The size of nearby furniture
This comes down to proportion and how your dining table looks in relation to the other elements in the room. If you have an oversized, rustic buffet, for instance, getting a similarly large dining table will create a more cohesive look.
How many are sitting at your table?
Consider the number of people that would normally use your table and factor in those that may come around from time to time, too. Is it always going to be your family of four or do six more people join you during special occasions? A dining room table suited for ten people may be the best option for you.
How flexible do you need the size of your table to be?
If you live in a small space but have frequent, large dinner parties, you may want to look at an expandable table.
Or, if you can't quite pin down the number of seats because it changes so often, that's another great opportunity for an expandable table.
These types of tables either have foldable sections or leaves that you can add in and take out at your leisure. And, typically, by adding a leaf you'll gain two extra seats!

Common sizes of dining tables
Shelley points out that there isn't really a standard dining table size, but there are some ballpark measurements that may help. It really comes down to the number of people you'd like to seat and the capacity your room allows.
Most formal dining tables are rectangular, fit for two host seats at both ends and multiple chairs on the longer sides. The width of dining tables can range, but they're usually around 40 to 44 inches.
Height-wise, dining tables are generally 28 to 30 inches tall. And because of that, an appropriate seat height for a dining chair is about 19 inches.
As for the length of dining tables, that really depends on how many people you're hoping to fit in! But we can definitely look at a few numbers here: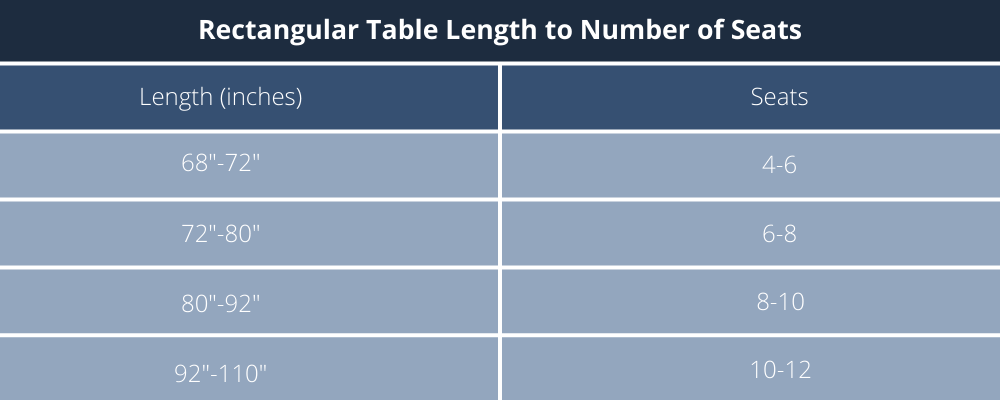 If you're thinking that you'd like to fit a round table in your space – well, round tables are a bit of a different beast since you're mainly looking at a table's diameter in relation to the number of seats. We'll go more into round tables in a bit, but for now, here are some measurements that can help you determine the size of your table.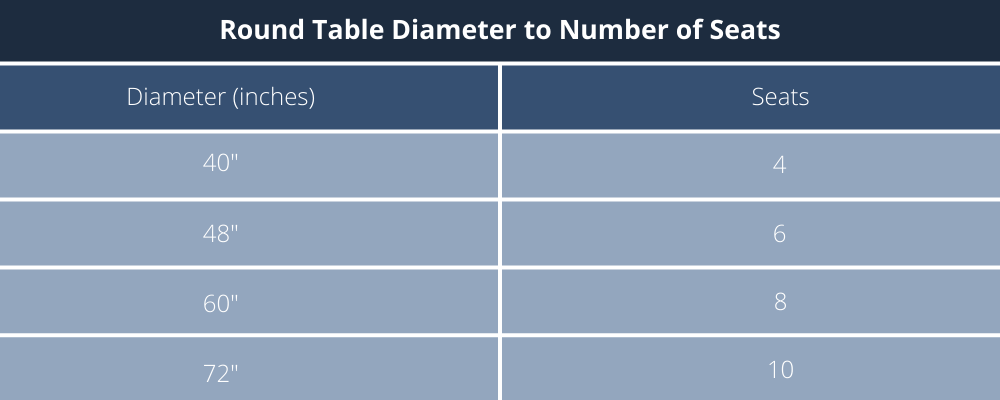 How much space is needed to pull out dining chairs?
It's not just about fitting a table into a space, right? You also need to consider the chairs and how your guests are able to maneuver them.
From the edge of the dining table to the wall or other furniture (like a buffet or sideboard), you should allow 36 inches. This will ensure your guests can get in and out of their seats easily.
And if you want more space - maybe for a walking path around the dining area - shoot for 42 inches from the edge of the table to the wall or nearby furniture. That way, guests can walk behind those sitting down without the need for anyone to squeeze in closer to the table.
How much dining space should each guest have?
So that everyone can eat, drink, and be merry comfortably, there is something called the "24-inch rule" that you can follow. Within this rule, there should be 24 inches (or two feet) from the centre of one plate to the centre of the next plate. This ideal amount of space will give each guest plenty of elbow room and real estate for silverware and drinking glasses.
How can I maximize the space in my dining room?
If you're limited in space in your dining room, but still want to keep your guests happy and comfortable, there are a few things you can do to free up some room.
Buffets, servers, and sideboards
Buffets, servers, and sideboards are a great addition to any dining space – if you have the room, of course. These pieces can hold dishes, stemware, and silverware inside, and they provide a surface for food, too.
You can serve a buffet-style dinner, so you won't busy up your dining table with food dishes, or when dishes are no longer needed on the table, you can temporarily store them on your buffet or server.
Bench seating
Bench seating is another great way to squeeze in a few extra bodies, allowing people to create their own dining space since they're not restricted to a singular seat. A bench gives off a more casual feel - which is not necessarily a bad thing – but if you're having a more formal dinner party, your guests may prefer a designated space for themselves.
Go for a round table
Round tables can nestle into small spaces better than long, rectangular tables. They also fit well into square-shaped rooms or rooms with a slight curve in the architecture – potentially from a bay window. And since round tables curve away when you're seated, it's easier to slide in and out of your dining space.
Plus, they're great for social events! It's easier to get involved in conversations since everyone can see and talk to everyone else around the table.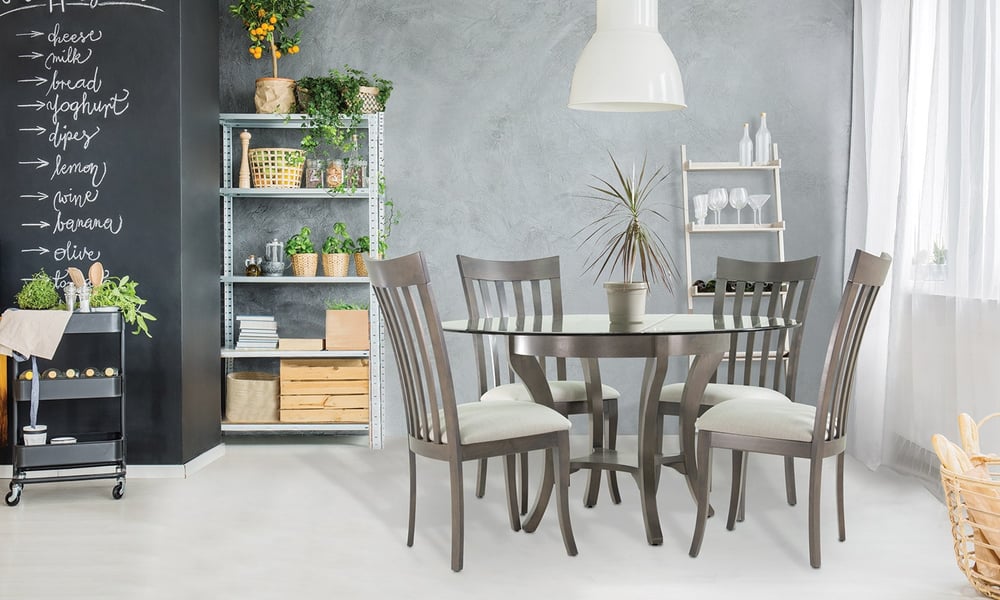 Make sure the dining chairs fit with the table
Now, you don't have to buy an entire dining package if you don't want to, but you do run the risk of your table and chairs not fitting well together if they're not a set.
What can end up happening sometimes is the arms of your chairs may be too high for the table, and you won't be able to tuck your chairs in. Or the base and legs of your table could impede some chairs from tucking in.
And more from a comfort standpoint, some of your guests may end up straddling a table leg while they sit, which can make for an awkward dining experience.
If you don't want to buy an entire dining set at once, just make sure you take appropriate measurements so you know all your chairs will tuck under the table and your guests can dine comfortably.
How much will a dining room table cost me?
If you're thinking your current table's size is not going to cut it – or maybe you don't have one yet – a high-quality, well-made dining table can cost you anywhere from $1,500 - $15,000.
And if you're looking to furnish an entire dining room, check out "Dining Room Furniture: How Much Does It Cost" to help with budgeting your project.
Browse McElheran's dining room tables for some inspiration and if you're in the Edmonton area, schedule a visit to our showroom. Our Design Guides would be more than happy to help you find that perfectly sized dining room table for your next get-together!