How to Choose the Right Size of Coffee Table for My Space

Sasha Spencer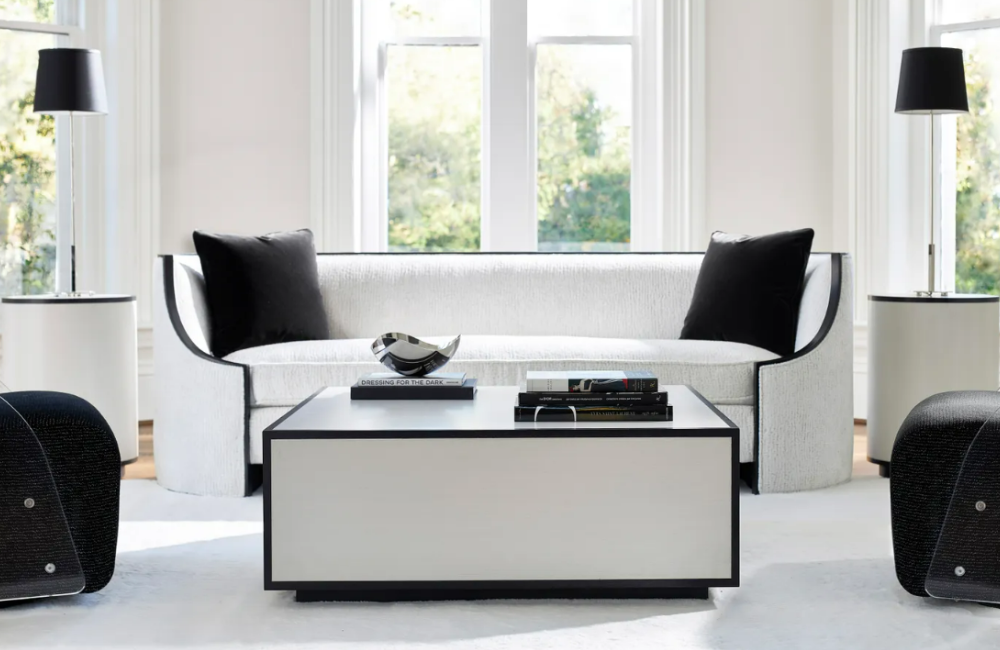 A coffee table, also known as a cocktail table, serves many functions in the home. It's not just a place to hold your remote or decorate with books, it can really ground your entire space! And that's why it's so important to get the size right with coffee tables. Because if you're not quite able to prop up your feet or easily grab that glass of wine, your table isn't really able to function like it's supposed to.
Our in-house designers at McElheran's Furniture + Design are known as Design Guides. With over 60 years of combined experience, they understand the importance of cocktail tables and how much your entire space can be thrown off if that table isn't quite right.
This is where form meets function, right? Your table is there for storage, as a landing surface, and as a place to put your feet up if you choose. But it also grounds the space, gives a seating area a centre point, and completes an entire look!
That's why size matters with your coffee table. And that's why we're going to help you figure that out! Even if you don't end up buying your table from us, at least you'll know which size is going to work for your space.
In this article, our Design Guides will go over the biggest considerations you'll face as you look for an appropriately sized coffee table. We'll go over alternative options, how your seating dictates your table, and help you out with some measurements, too!
Having said that, keep in mind that when it comes to design – rules can be broken! So even if you see that your "coffee table should be 18 inches from the edge of your seat," hey, if you try that and it just doesn't seem to work for you, don't do it!
But sometimes it helps just to have a starting point and build from there, right? So, let's look at a few of these measurements.
Height
Your cocktail or coffee table should be between 16 and 18 inches from the floor to tabletop. This is a suitable height range for an average-sized adult, allowing them to sit comfortably while using the table. And it's generally a good height for anyone that might want to put their feet up on the table while they relax in their seat.
That being said, your coffee table's height should relate to the seating it will serve. And you should consider how much you sink into your seat when you sit down – that could affect the seat's height by an inch or two depending on the firmness of your cushions.
Which brings us to another helpful measurement for you: The tabletop should be one to two inches lower than the height of the seat cushion. If you have a sofa that has a particularly low profile and the seat is only, say, 16 inches off the ground, then your cocktail table should be 14 or 15 inches high.
Length
The length of your coffee table should also relate to the seats you're catering to. One of our Design Guides, Kirsti, suggests measuring the length of the bench of the sofa (don't take the arms into account) and then look for a table that is close to that measurement. That way, it's guaranteed that every seat will have an available landing surface.
You can also consider the "two-thirds rule." Meaning, your cocktail table's length should be two-thirds the length of the seating it serves. So, for an 84-inch sofa, you should look for a table that's 56 inches long.
What else should I consider to find the right size coffee table?
Scale
Scale is all about how well furniture and décor fit into your space. It can make a small room go from feeling cozy to cramped, or a large room from feeling airy and spacious to empty and unfinished. It's all dependent on the size of the pieces you choose to fill out a room.
So, if your space is rather small, you might want to opt for a more unassuming and sleek coffee table. Because if your table is too big, it could end up overwhelming the space and adding too much visual weight.
Proportion
While scale is based on how objects fit in a room, proportion is how things (like furniture) relate to each other in accordance with their size. You're looking for the most attractive relationship between the size of the different elements in a room.
For example, an oversized, rustic, re-purposed trunk-turned-coffee-table would throw off the proportion of a living room if it was placed near a small, compact, modern-style sofa.
Clearance from other objects
So you can get in and out of your furniture easily, it's best to position your coffee table 18 inches from the edge of your seat. And bear in mind that if your furniture has the option for an elevated footrest, you'll need to make sure you have enough space for the mechanism to work and lift properly.
A cocktail table is meant to be a helpful part of your space, not an obstacle. For ease of traffic, you should allow 24 to 30 inches of open space between your coffee table and other pieces of furniture.
How many seats are in your space?
Another one of our Design Guides, Shelley, points out the importance of having a landing surface for every seat in your space. This ensures that every person sitting will have access to a flat surface, should they need to put anything down, like a coffee cup or glass of wine.
If you have a large seating area that accommodates a lot of people, your cocktail table should be big enough that it's within reach for everyone. Unless, of course, you have other landing surfaces available.
---
Related articles: Space Planning: The 3 Most Common Mistakes
---
How many end tables are included in your space
Your coffee table may not have to span as far or work as hard to provide a landing surface for every seat if you have a couple of end tables involved in your space.
You would still want your cocktail table to be in proportion with the rest of the seating area, but it may not have to be as big if there are other tables around.
The type of seating in your space
What kind of seating are you looking at for your cocktail table - sofa, sofa chaise, or maybe a sectional? Different types of seating offer different options when it comes to your coffee or cocktail table selection.
Sofa
A sofa offers a pretty straightforward solution. You can base your measurements on that sofa and find a cocktail table that corresponds with it. As mentioned before, you can either find a table that is nearly as long as the bench part of the sofa or use the two-thirds rule.
Sofa chaise
With a sofa chaise, the length of your coffee table should be in relation to the sofa part only. Where the chaise comes into play is when you're figuring out the width of your table. The coffee table should not stick out into the room any further than the chaise. There are exceptions, of course, since some chaise can be quite short.
And keep in mind, too, the previous rule of thumb about your coffee table being 18 inches from the edge of your seat. That way, you can get in and out of your sofa chaise easily.
Sectional
For a sectional, you can take the length of both sections into consideration to come up with appropriate dimensions for a cocktail table – almost as if you're measuring two sofas. For instance, if one section is 84 inches long and the other is 72 inches, a reasonable table size would have a length of 56 inches and a width of 48 inches (based on the two-thirds rule.) Not that those measurements have to be exact, by any means!
As long as the cocktail table isn't extending passed any parts of the sectional and is well scaled and proportioned to the rest of the space, you've found yourself a good size. Especially if the table is within reach for everyone sitting on the sectional.
Other coffee table options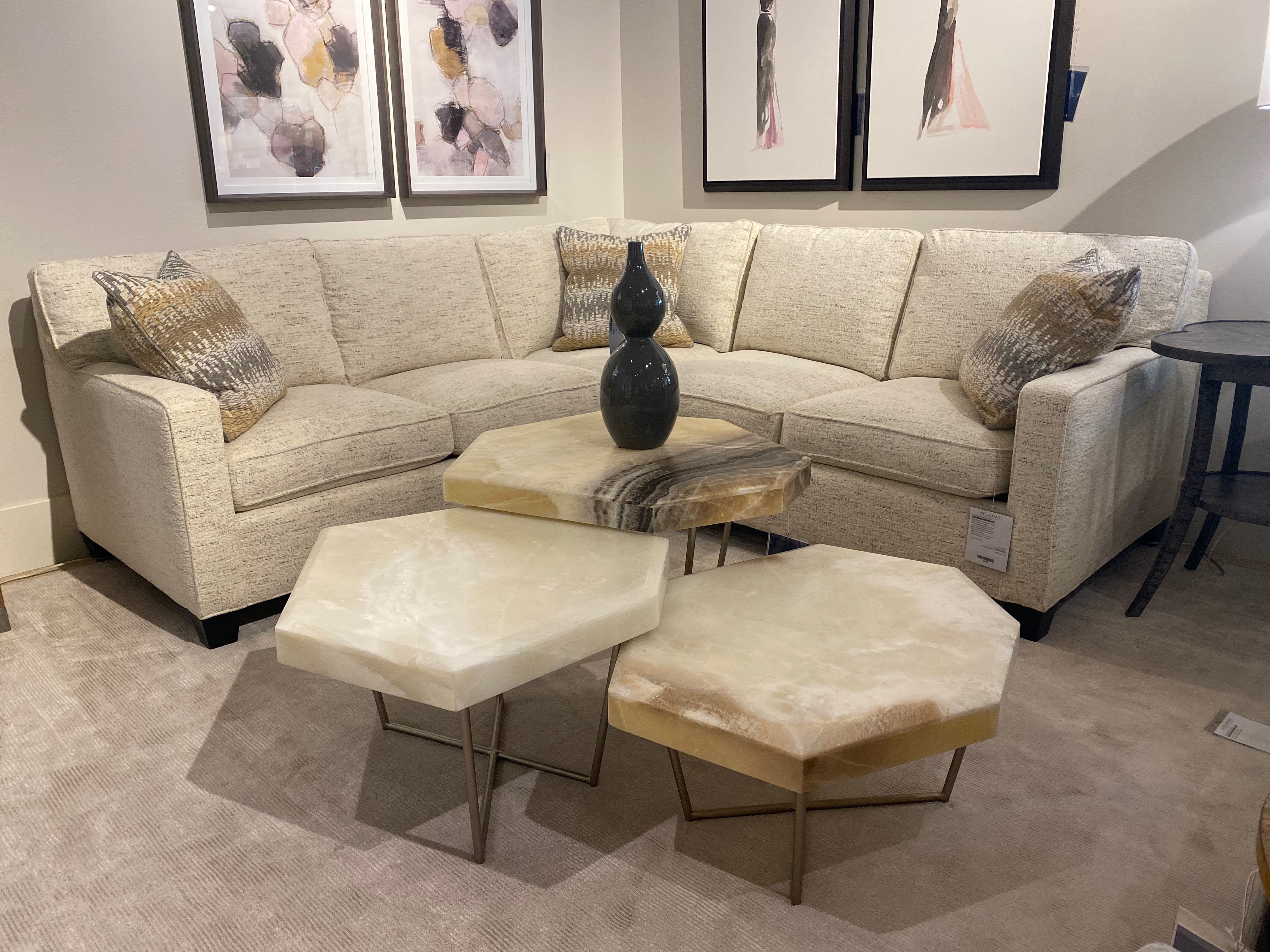 If you feel like you're not a one-size-fits-all kind of person – and you may need a different-sized table depending on your activity, have you thought about multi-tiered or nesting tables? Or even clustering smaller tables together in your living space? Because that's certainly an option!
Multi-tiered coffee tables offer a variety of heights in a single piece of furniture. Maybe one tier is better for propping up your feet and another is a better laptop surface – how perfect is that?
And with nesting tables, because they're designed to fit inside one another, you can always move each individual table around to accommodate your needs. Or, stack all the tables inside each other to free up some space when you need it!
Similar to multi-tiered and nesting tables, clustering different occasional tables together is a great way to give yourself options while creating visual interest in your room.
Space planning: Your key to the right size coffee table
We've been talking a lot about scale, proportion, and the size of your cocktail table in relation to the seating in your space. You know what really helps with figuring all that out? Space planning, yes!
Read more on space planning and the do's and don'ts to help you find the right size of coffee table – and the right size of other furniture, too!
And since tables are such a big part of any room, they're definitely worth having a look at to see if they'll work in your space! Browse our coffee tables and schedule a visit with one of our Design Guides today. They can take you through McElheran's to find the best cocktail table for you. And they can even help with a complimentary space plan, too, so you'll really know that you're getting the right size for your space.