Area Rug Care: Tips for Looking After the Rugs in Your Home

Sasha Spencer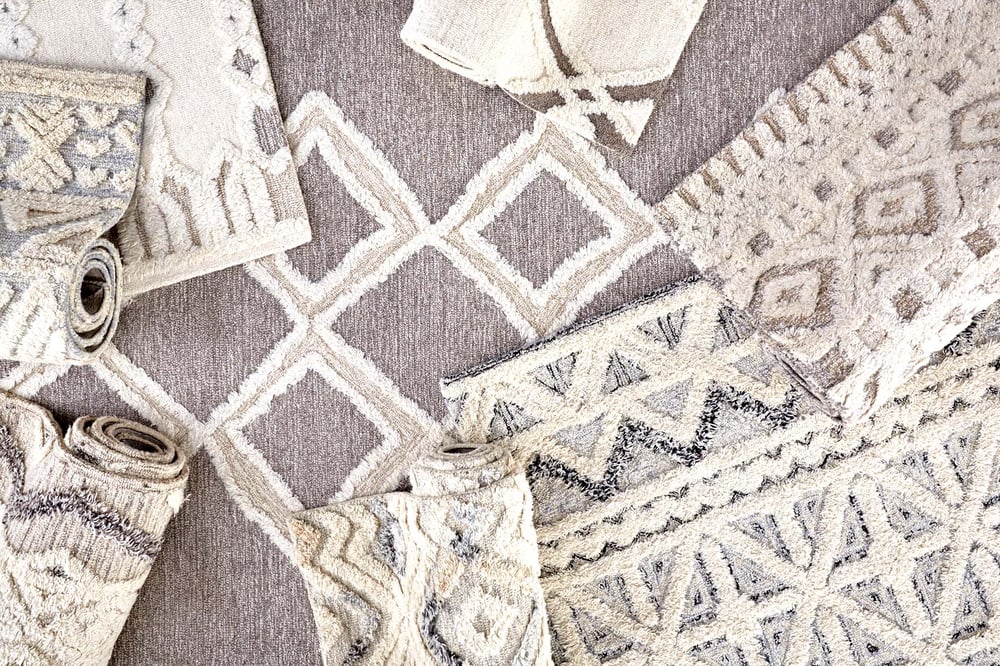 Area rugs serve many functions in the home. And because of their versatility and importance, they can end up being quite the investment piece – especially when they are literal works of art! So how can you keep that intricately woven and beautifully made area rug in the best shape possible?
At McElheran's Furniture + Design, we've been furnishing rooms for life since 1994. And yes, we do have plenty of area rugs in our showroom (actually, we have a whole rug centre upstairs!), but you're already set in that department, aren't you? We'll definitely be here when you want to make your next furniture or rug purchase, but for right now, we just want to make sure that you get the most out of what you already have!
With the help of our in-house designers – known as Design Guides – we'll take you through how to look after your area rugs so they can last in your home for years to come. There are things you can do for regular maintenance, some helpful tips to extend the life of your rugs, and a few external factors to be mindful of that can affect your area rug's longevity.
Now, most of these maintenance methods are helpful and beneficial to your rug no matter the material it's made out of. However, there are certain exceptions or subtle care differences – and we'll be sure to point those out along the way.
What should I do on a regular basis to take care of my area rug?
Vacuum your area rug
Most rugs, especially ones that are large and difficult to hang up or shake out, can benefit from regular vacuuming. There is one big, giant rule about vacuuming rugs made from quality fibres though – you ready?
DO NOT use the beater bar attachment.
Beater bars can actually work the dirt further into the rug and pull apart the delicate fibres. And, if your beater bar hasn't been cleaned in a while, it can also transfer more damaging particles into your rug.
It's better to use the attachments that are meant for upholstery or drapery. Even if your rug is made from a durable fibre, like wool, it's always wise to air on the side of gentle when you're caring for your quality area rugs.
See if you can adjust the height of your vacuum, too, and get it to correspond with the needs of your area rug. Height options vary depending on the brand and model of your vacuum, but if it's a multi-surface vacuum, it should be able to clean everything from bare floors to a high-pile (thick) area rug or carpet.
If your area rug is made primarily from viscose, a semi-synthetic silk-like material, you can still vacuum it, as long as you vacuum with the nap of the rug. The nap is determined by the direction that the fibres naturally fall. So, avoid going back and forth with your vacuum.
Another option with more delicate materials, like viscose – or its more natural sister, silk – is a non-electric carpet sweeper or a soft broom.
Shake or beat out your area rug
If your area rug isn't too cumbersome, you can take it outside for a quick shake to remove any loose dirt or debris. You can also hang it up – perhaps over a balcony railing or clothesline – and gently beat the rug to get rid of any dirt that has built up over time.
Rotate your area rug
Moving your rug into different positions or rotating it on a regular basis is a great way to make sure that your rug has equal wear. When you do this, different parts of your rug will take turns being under furniture, in occasional sunlight, or in heavier traffic.
We would recommend rotating your area rug at least every six months, especially if it's in a well-used area of your home.
By the way, if you notice that parts of your rug have been compressed from, say, being under the leg of a chair, you can always revive those sections with a fork. Seriously! Take a fork (gently, of course) and fluff up the dented sections of your rug to breathe new life into it.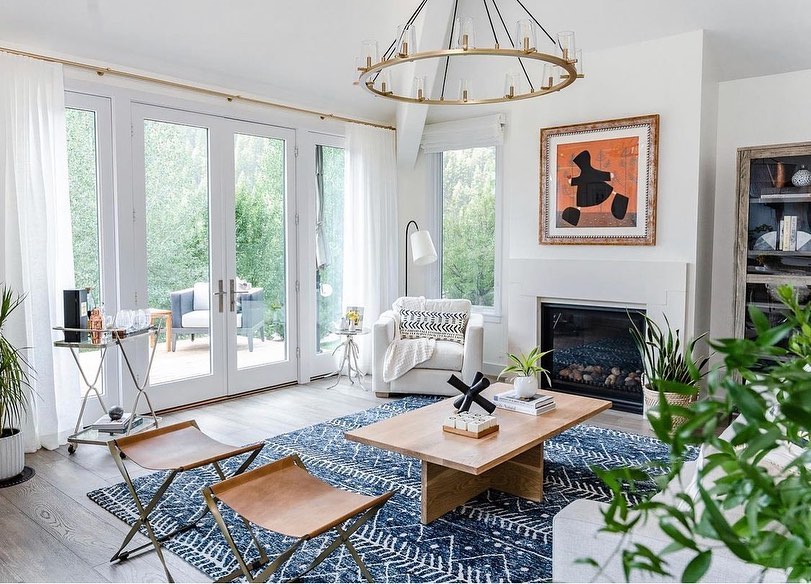 What else can I do for area rug maintenance?
Check the label
This is one of the most important things to do! Checking the label of your area rug will tell you exactly what it's made of and how to care for those specific fibres. The label will give you cleaning instructions, warranty information (if applicable), and further tips on maintenance.
The label will also let you know what not to do since certain materials should not be exposed to moisture or cleaned with water – like wool, silk, viscose, and cotton.
If you do have a little mishap and spill on your area rug, the blotting technique will be your best friend with most rug fibres – as long as you catch the stain right away.
Take off your shoes
Hey, we get it, the role of some rugs in your home is for wiping off your feet and giving your shoes a spot when you take them off. Those are more of your heavy-duty, industrial-grade, outdoor rugs.
But for those area rugs that anchor your living room or add interest and texture to your primary suite, you might want to take off your shoes before walking all over them. Even the cleanest of shoes could bring along dirt and damaging debris.
Don't drag anything across your area rug
If you're moving some furniture around your living space, it's always best to lift and not drag. And if that furniture is on top of an area rug, definitely lift it up! This will prevent the furniture from catching on the rug's fibres or snagging a woven part of the rug.
Move your area rug to a different area
If your beloved rug is starting to wear more than you'd like, it might just be time to move it to a quieter area in your home. Instead of having it in your entryway where it sees a lot of traffic, you could move it to a secondary bedroom or an occasionally used sitting area.
Roll up your area rug
In the event you want to temporarily store away your area rug, be sure to roll it up instead of folding it. Folding it, particularly if your rug has a stiff backing, could leave a crease that may never settle out.
Put a pad underneath your area rug
If your area rug is a bit on the lighter side and it sits atop a rather slippery floor, a rug pad could help to keep it in place. Rug pads are not always necessary though. If your area rug is under a few pieces of furniture, like in a living room, it will likely stay in place on its own.
When in doubt, call a professional
As we mentioned before, one of the most important things you can do for rug maintenance is to read the label. And most labels will encourage you to seek professional assistance for any sort of major maintenance or cleaning. A reputable carpet or upholstery cleaner, like Al-Care Carpet & Upholstery or Kodiak Carpet Care in the Edmonton area, would have the knowledge to care for your rug.
If your rug was hand-made, it could have taken several months to make. You don't want to ruin it in seconds by tackling a problem or stain that you're simply not experienced enough to repair. Letting a professional assist you is definitely a worthwhile investment!
What are the external factors can wear on my area rug?
Sunlight
If your area rug is set up by an uncovered window with the sun beating down on it all day, it's going to dull the colour. It would be better to move the rug away from the window or perhaps close your blinds during the hot and sunny hours of the day – especially if your rug is intricately detailed with a variety of materials, patterns, and colour.
If you're really worried about fading, a polypropylene rug would be a great option for you. Polypropylene is a synthetic material that is less susceptible to fading. No material is 100% fade-proof, but polypropylene is much more fade resistant than other popular rug fibres.
Foot traffic
As with most things, the more you use something, the more it will wear out. And, depending on where your area rug is, it could get stepped on a lot! Area rugs are constructed to hold furniture and withstand foot traffic, but with overuse, your rug will start to wear.
Pets
Ahh yes, pets. They are so adorable and perfect in every way – except for the fact that they can be really hard on furniture and other accessories in your home. Pet waste, dander, fur, the dirt they track in … that can all affect your once pristine area rug. Not to mention the fact that pets can also use our most prized possessions as chew toys and scratching mats.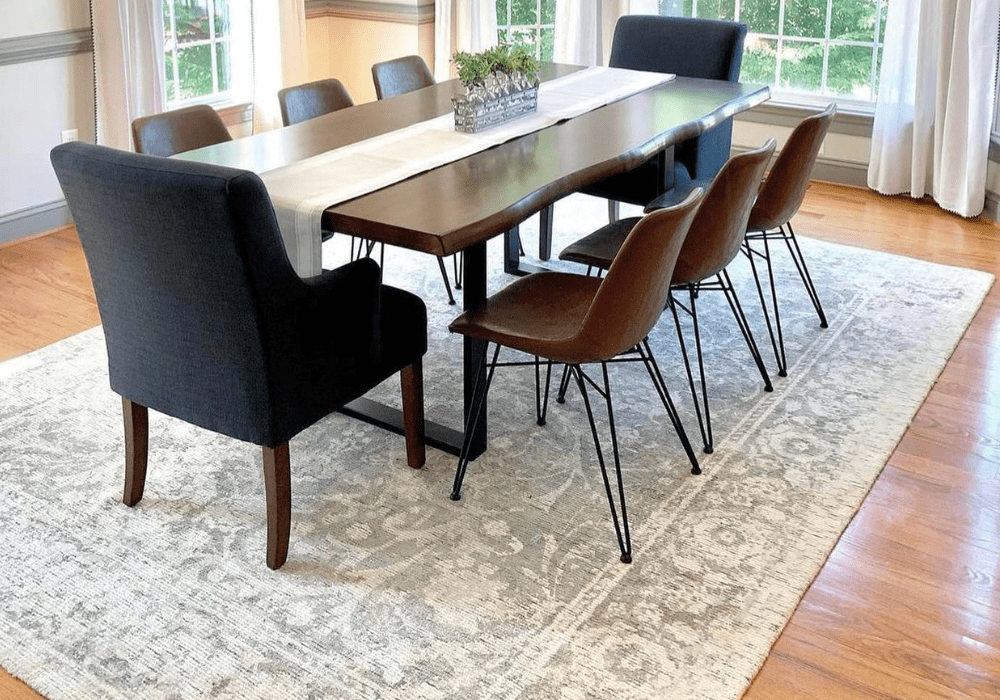 The takeaway: Looking after my area rug
Taking care of an area rug is not meant to be an overly intense endeavour. These are the main takeaways when it comes to extending the life of the rugs in your home:
Read the label on your area rug
Vacuum (gently) regularly
Rotate your area rug
Call a professional for major issues
Those are the big ones, anyway. The rest of the tips are more like helpful suggestions so you can get the most out of the area rugs you already own.
Why is it important to look after my area rug?
Area rugs do a lot for your space. They offer comfort and warmth, and they can be a wonderful piece of art, as well. Not to mention the fact that they can work in so many different rooms in your home. Oh, and particularly in open concept layouts, area rugs help to zone and distinguish a space.
As such a versatile piece that can really make or break a room (depending on the look you're going for) looking after your area rug is certainly worth the time and effort.
If you're thinking about redecorating or changing up the layout of a room, your area rug will give you a great starting point for space planning, since it can really anchor an area. Find out more about space planning and the do's and don'ts by reading Space Planning: The 3 Most Common Mistakes.
And when the time is right for you to update your area rug or just get another one, schedule a visit to McElheran's. Our Design Guides look forward to guiding you through your next rug or furniture purchase when you're ready.